VoxelX's mission is to revolutionize the multidisciplinary learning by creating a blockchain powered online DICOM-platform to simulate medical learning. VoxelX's team is one of the few that is working since 2013 in implementing DICOM-images in medical e-learning specially in radiology field.
Why Investing In VoxelX?
With VoxelX (
https://voxelx.io/
) you are not kick-starting a project, but rather you are kick-finishing it and start profiting. You are not investing in an idea, but rather in a beta product that will revolutionize the multidisciplinary learning. VoxelX will be launching a token called GRAY and it will be used mainly to finance building the content of the DICOM-Platform.
VoxelX: The Online DICOM-Platform
DICOM-platform (
http://www.voxelx.com/
) is built to simulate radiology learning. It is purely interactive and educative. One of its main features is the ability to annotate and link structures and pathologies in the DICOM-images directly with all possible knowledge resources on the web.
VoxelX platform is stuffed with many tools that enables the medical learner and the radiologist to interact easily with the DICOM-Images. Among these tools are innovative drawing tools that have made it possible to connect and link the structures and diseases on the images with all recognised knowledge resources on the web (
https://voxelx.io/
).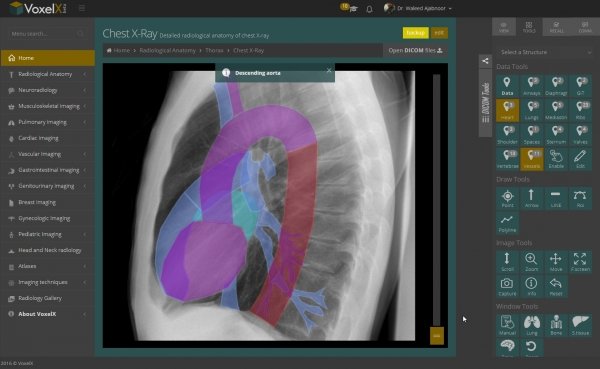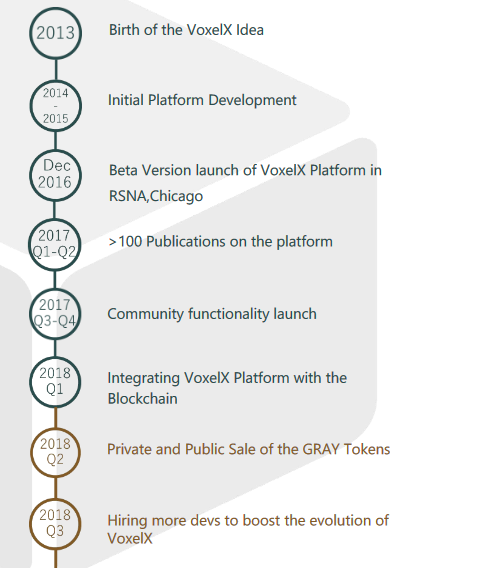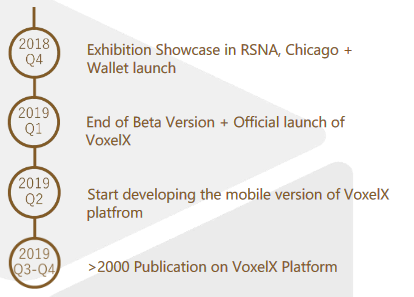 VoxelX Wallet & GRAY Token
Every VoxelX registered user will have a wallet created and linked to their account. Unlike traditional cryptocurrency wallets on the market, the VoxelX wallet will be linked with ranking system in the Platform, the more you contribute to the platform the more you get GRAY, the better you are ranked.
GRAY coins are Ethereum's ERC-20 tokens that enabled us to design rewards algorithm that pays radiologists for every single even tiny submission and update of the contents and images of the platform. With GRAY coins we are able to monetize the online content and create incentives to encourage radiologists both as publishers and validators in building and expanding the community of the platform.
GRAY Token Sale
The total supply of VoxelX GRAY tokens that will ever be created is 10,000,000,000 (10 billion). The initial token amount is large in order to set a suitable price for microtransactions which occur on the platform. All GRAY tokens will be generated in a seed block and distributed as follows: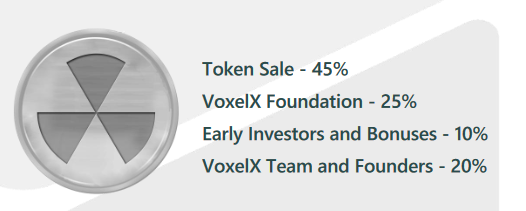 [Token Sale]
45% of GRAY tokens will be sold in the initial GRAY token sale. The token sale will be composed of a private pre-ICO round for strategic and early investors followed by a public offering. Tokens sold during the private and pre-ICO rounds will be discounted but subject to certain lockup restrictions.
The GRAY Private/Pre- sale 0:30:00 Pacific Time on April 20th and will end on May 10th.
In the Private/Pre Sale the ETH to GRAY conversion ratio is 1 : 200,000.
Bonus GRAY will be given for larger purchases.
[VoxelX Foundation]
25% of GRAY tokens will be held by the VoxelX Foundation. These tokens will be used to finance and encourage the community of VoxelX to build the content of the platform through a rewards algorithm using the GRAY coins.
[Early Investors and Bonuses]
10% of GRAY tokens will be held by early investors and bonuses for large purchases. Most of these tokens will be subject to lockup restrictions and release over time.
[VoxelX Team and Founders]
20% of GRAY tokens will be retained by VoxelX and reserved for founders, team members. 20% of these tokens will be available after the initial offer with 20% being unlocked every 6 months thereafter.
Team Members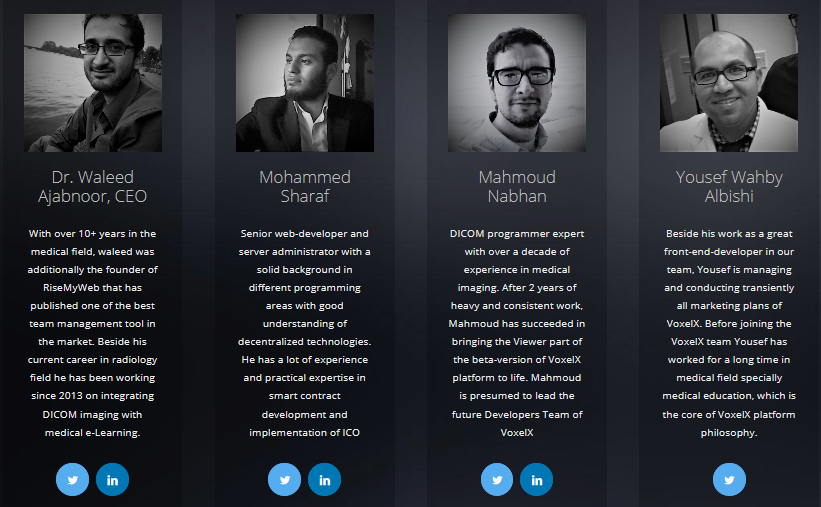 With over 10+ years in the medical field, waleed was additionally the founder of RiseMyWeb that has published one of the best team management tool in the market.
Senior web-developer and server administrator with a solid background in different programming areas with good understanding of decentralized technologies.
DICOM programmer expert with over a decade of experience in medical imaging. After 2 years of heavy and consistent work, Mahmoud has succeeded in bringing the Viewer part of the beta-version of VoxelX platform to life.
Beside his work as a great front-end-developer in our team, Yousef is managing and conducting transiently all marketing plans of VoxelX. Before joining the VoxelX team Yousef has worked for a long time in medical field specially medical education, which is the core of VoxelX platform philosophy.
VoxeIX is Listed in

For More Information: