VOXELX: BLOCKCHAIN POWERED DICOM-PLATFORM


Greetings everyone! Today I will be talking about a project that I'm very passionate about because it has to do with health, and that is the VoxelX project. Multidisciplinary learning as you probably know already fully covers an idea, topic or text, by integrating multiple knowledge domains. It goes beyond the boundaries of a discipline or curriculum in order to enhance the scope and depth of learning. However, when it comes to the medical world, multidisciplinary learning is quite a challenge on all levels, with even increasing demands on it.
VoxelX is a project created to enhance the use of radiology learning and studies, as well as sharing and saving medical images and reports. The Digital Imaging and Communications in Medicine (DICOM) platform was employed to carry out this task.
Members can publicly (or privately) share their pre-validated knowledge or cases on the VoxelX platform freely because it is community based. Built upon the blockchain technology, the team will be able to monetize the online content and create incentives to encourage radiologists both as publishers and validators in building and expanding the community of the platform. With the help of Ethereum's ERC-20 tokens the team was also able to design rewards algorithm that pays radiologists for every single even tiny submission and update of the contents and images of the platform. VoxelX will be launching a token called GRAY and it will be used mainly to finance building the content of
Mission Statement
To revolutionize the multidisciplinary learning by creating an online DICOM-platform to stimulate medical learning.
THE DICOM (Digital Imaging and Communications in Medicine)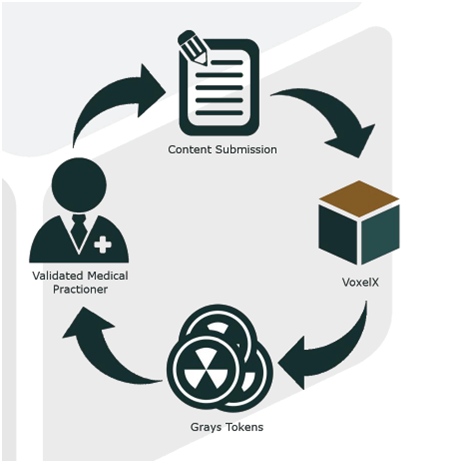 DICOM (Digital Imaging and Communications in Medicine) is standard for storing and transmitting medical images which will enable the integration of medical imaging devices such as scanners, servers, workstations, printers, network hardware, and picture archiving and communication systems (PACS) from multiple manufacturers. It has been widely adopted these days by hospitals, and is making inroads into smaller applications like dentists' and doctors' offices.
VoxelX Community
The VoxelX community will be comprised of earners, publishers and validators. The community will be an interrelated community where all stand together. All interacting privately and publicly.
VoxelX Wallet
The platform is designed to create wallets for every user on the VoxelX wallet which is linked to the user's account. Also, it uses proof of work, which shows that the more contribution on the platform, the more tokens you get, coupled with the ranking system where users get rank according to their impact and contribution.
Why VoxelX?
You get a product that with absolute potential of revolutionizing the multidisciplinary learning
VoxelX has a rather small team who are very focused, and has moved from promising to proven
With VoxelX you are not kick-startting a project, but rather you are kick-finishing it and start profiting.
Token Details
Symbol: GRAY
Pre-sale (live) = 1.071055 ETH
Private sale (live) = 93.5 ETH
Public sale (Not started)
Total sale = 94.571055 ETH
Token Distribution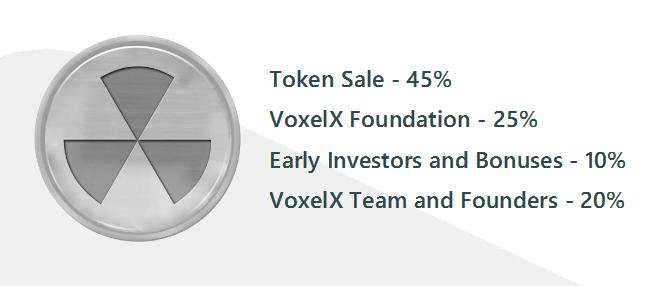 Token Sale – 45%
VoxelX Foundation – 25%
Early Investors and Bonuses – 10%
VoxelX Team and Founders – 20%

Content Building: 40%
Platform Development: 35%
Marketing: 20%
Legal and Contingency reserves: 5%
ROADMAP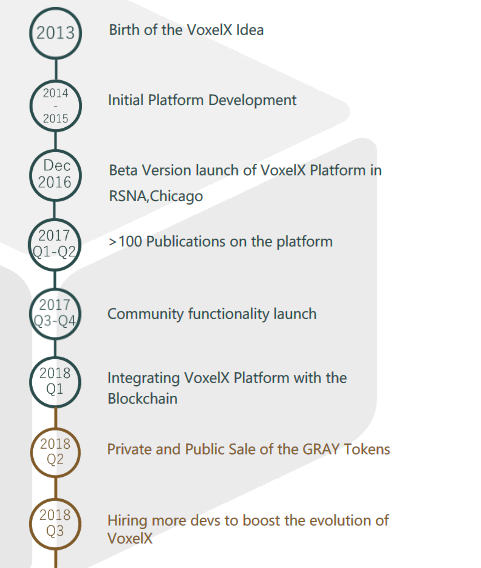 • 2013
Birth of the VoxelX Idea
• 2014 – 2015
Initial Platform Development
• December 2016
Beta Version launch of VoxelX Platform in RSNA,Chicago
• 2017 Q1 – Q2
100 Publications on the platform
• 2017 Q3 – Q4
Community functionality launch
• 2018 Q1
Integrating VoxelX Platform with the Blockchain
• 2018 Q2
Private and Public Sale of the GRAY Tokens
• 2018 Q3
Hiring more devs to boost the evolution of VoxelX
• 2018 Q4
Exhibition Showcase in RSNA, Chicago + Wallet launch
• 2019 Q1
End of Beta Version + Official launch of VoxelX
• 2019 Q2
Start developing the mobile version of VoxelX platform
• 2019 Q3 – Q4
2000 Publication on VoxelX Platform
The Team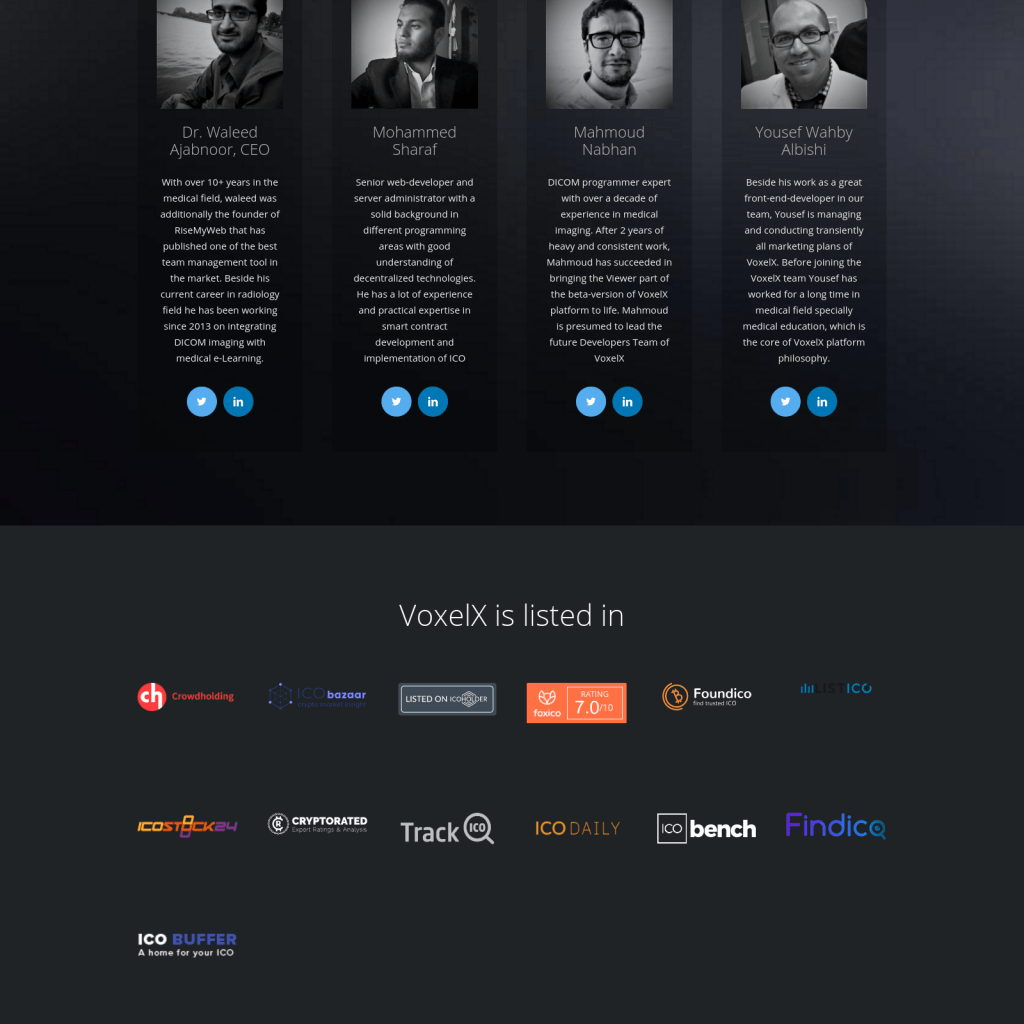 Conclusion
VoxelX is the profound solution for the medical world, making possible what has been denied it for donkey years. Amongst numerous benefits that this project proposes, 10% of GRAY tokens will be held by early investors and bonuses for large purchases. Most of these tokens will be subject to lockup restrictions and release over time. So waste no time further in joining this revolution; to do that and for more information, please do well to follow the links provided below.
Reference Links
Website: https://voxelx.io/
Whitepaper: https://voxelx.io/white-paper
Twitter: https://twitter.com/Voxel_X
Telegram: https://t.me/voxelx
Reddit: https://www.reddit.com/r/voxelx/
Bitcointalk thread: https://bitcointalk.org/index.php?topic=3242811
Authored by: Davison
Bitcointalk url: https://bitcointalk.org/index.php?action=profile;u=2075838
Wallet: 0xcd3AA411AAF6Ab5017394e00Ad49eCF6B39Ee84B