VR MED – VR SOLUTIONS FIRST MEDTECH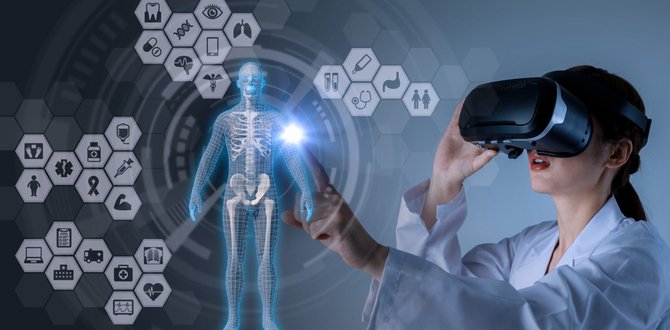 VR MED is the world's first medical device using VR technology for a variety of purposes. This system has great success not only in ophthalmology, but also in neurology and rehabilitation. All you need to convert is to install the appropriate software and configure the system. Do not replace the device itself. Only one set of equipment covers most of the needs in the clinic with the help of VR technology.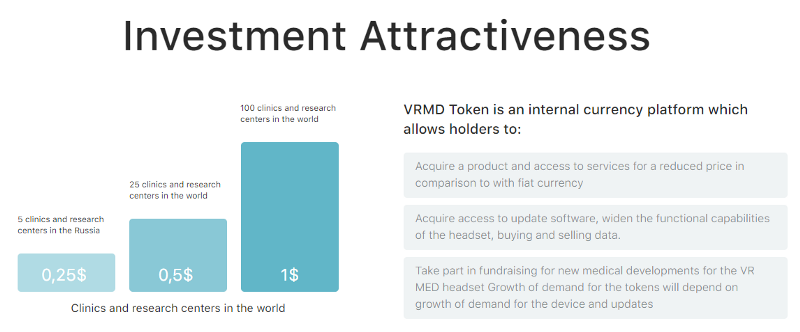 The development of a new approach to diagnosis and treatment of patients continues. Patented technology. The VRMD token will become the domestic currency of the platform, which will allow users to purchase software to expand the functionality of gadgets and support a new development on the platform. 




VR MED software and hardware for screening in the field of ophthalmology were tested at the Institute of Eye Diseases of the Russian Academy of Sciences and the University of Applied Sciences in Germany. Currently, VR helmets can replace 40% of the equipment of the ophthalmologic cabinet, which cost less than six times compared to traditional instruments.

The VR MED headset provides a visual field analysis that allows doctors to diagnose the early stage of glaucoma. The initial test on hearing, completed at the University of Applied Sciences Fah Aachen, confirmed the uniqueness and innovation of this product. This device is tested at the Eye Institute of the Russian Academy of Sciences. VR MED is integrated into a headset with an ergonomic design that is different from competitors, offering greater accuracy in fast speed. This allows you to use the flexibility of the headset in various medical conditions.

Blockchain is the foundation of the platform. VRMD token is an internal means of payment that provides interaction between the participants. Contract for the automation of payments between clinics and developers. In addition, they will allow to establish relationships between developers and investors, to prepare financial statements, as well as conditions for the distribution of profits and profits from these funds. Therefore, the blockchain VR MED eliminates unnecessary intermediaries and creates the necessary infrastructure for maximum efficiency of ecosystem development.
The open platform VR MED assumes additional risks associated with information about the security of the project. The VR MED team claims that they will do everything possible so that potential hackers do not attack the system, but will not be held responsible for any damages caused by such malicious acts. In addition, project codecs will be presented on the Etherium platform, and failures in their actions can have a significant negative impact on the performance of VRMD tokens.
Name of the token – VRMD

The price of the token is 1 VRMD = $ 0.25

Type of the token – ERC-20

Accepted currencies – BTC ETH USD

Total tokens for sale – 24,000,000 VRMD
Why is it worth supporting this project:
VR MED team, absolutely all its employees work for the benefit of the company and are always ready to help in any matter. They are always in touch and do not lose sight of. Indeed, at the current moment, when we are talking about ICO projects, this fact is very important.

All the prototypes made by the VR MED development team are publicly available, right now you can read and try this system.

VR MED participates in every possible crypto, blocking forums, making serious contracts.

The project team:





After reading this blog, you probably will have questions. Be sure to ask them in official VR MED sources: 




Website




Telegram




Facebook




Twitter




Whitepaper




Ann

Profile link: https://bitcointalk.org/index.php?action=profile;u=1728064