Welcome to an Extraordinary Exchange Platform


Introduction to EOSex Exchange Platform
EOSex is a Blockchain technology exchange platform that offers trading of BTC, ETH, XRP, LTC, Gold, Silver, Platinum, Palladium, Wheat, Soybeans, Oats, Corn, Copper, Aluminum, Crude Oil, Natural Gas, Coffee, Cocoa, Sugar, and equities and indexes of South America, Europe and Asia.
EOSex Exchange platform Plan
EOSex exchange platform aim to offer digital asset spot trading, CFD trading, and on-chain trading. EOSex exhchange platform will issue exchange tokens, called EXP (EOSex Proof). As soon as EXP tokens have been issued, the platform will no longer be an independent blockchain entity, but rather a distributed company controlled by its community, by EXP token holders, and by the EOSex foundation. Every EXP token holders will share in the gains made on platform. Therefore, EOSex will become a community-based platform that will work together across all of its members and partners to create a global one-stop platform for quality digital assets.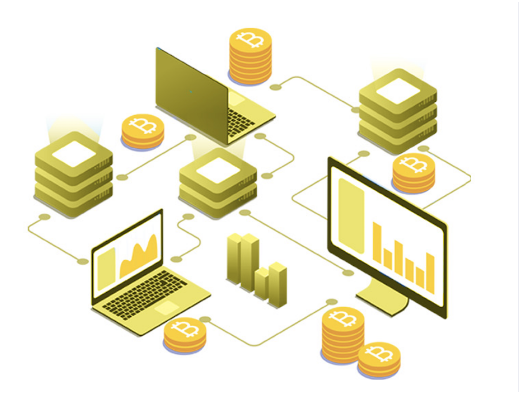 EOSex project Highlights
Facilitation of Trade for Financial products
The new financial products, for trading in the underlying-based equities, such as: forex, commodities and tokenized currencies. Thus, EOSex will pave way in becoming a global exchange for a full range of trading products.
Mining
The whole fees generated on the EOsex Platform, namely by coin-to-coin trades, will generate a steady inflow for the funding investors. All these fees will be converted to the exact EXP amount, and distributed among the investors.
Profit Sharing Formula
A daily 70% profits will be shared among the EXP token holders based on the number of EXP tokens held by them on the exchange.
Buy-Back Mechanism
Daily, EOsex will use 30% of profits to buy back EXP tokens from the open market. The buy backed tokens will be burned by the team, to gradually reduce the total supply. The reduction of the total supply will lead to EOSex Exp token price appreciation.
EOSex Exchange Distinguished Characteristic
Decentralised "trustless" transactions: The platform enables secure interactions between parties without a need for direct third-party, intermediaries or oversight.
Authorised users: users have full control over their data and transactions.
High-quality data: the platform supports more complete data with greater consistency; that is more instantaneous, accurate and broadly accessible.
Durability, reliability and resilience: the decentralization nature of it means that there is no single locus of vulnerability, hence precluding malicious attacks.
Transparency and permanence: By eliminating third- party authority, users are assured that transactions will be reliably executed according to a mutual agreement.
Simplification of the ecosystem: the Inclusion of every transaction in the public ledger reduces the inconsistencies and complexities of maintaining multiple sets of records.
Low transaction costs: Due to its decentralised structure, EOSex exchange reduces or eliminates transactional fees associated with transactions.
Benefits of Trading on EOSex Exchange Platform:
100x Leverage Available!
EOSex exchange platform maintains large funding reserves to provide deep margin support, unlike other exchanges platform that offer futures contracts or continuous futures contracts, but which often run into liquidity shortages. With EOSex exchange, traders can easily go long or short from any price point.
Deposit of USDT to use as Margin
The platform will not only give its user's access to the top cryptocurrencies rather gives access to these products via internationally recognized assets.
Availability of diverse range of tradable products
EOSex exchange give its users leverage to trade the world's major equities, key equity indexes, commodities such as crude oil, gold, etc., bitcoin, Ethereum, and any other asset class that attracts capital flows.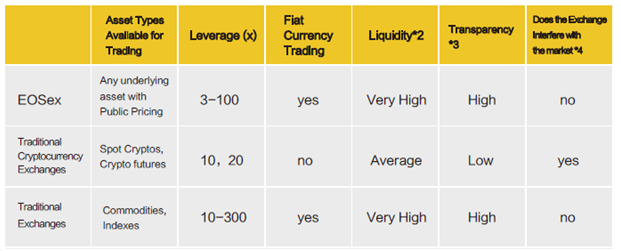 EOSex Exchange Platform Comparison Table
The exchange platform cannot be compared to other platforms; the below comparison table shows it clear. Investing or trading on EOSex platform is the real deal.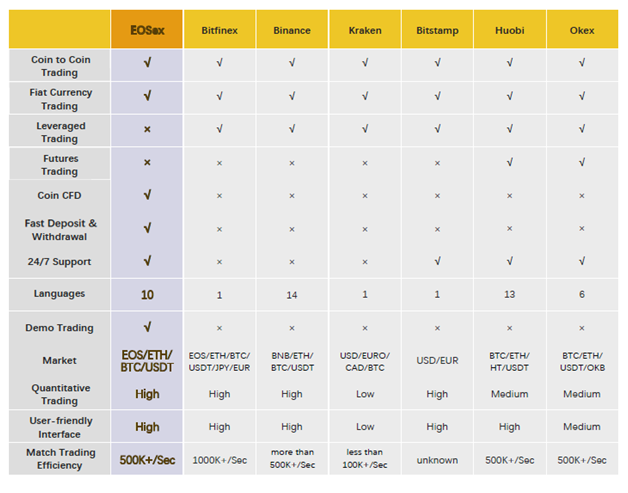 EOSex Exchange Values
Based on the problems that riddle other exchange platforms, EOSex experts will use advanced modelling technology to create a high quality, a high-performance trading platform for the users. The project development team is committed to creating a user-centric platform that brings a sense of loyalty from the first time it is used.
EOSex (EXP) Token Information
The total of 10,000,000,000 ESOex Proof (EXP) tokens will be issued among Private Sale Investors, the Project Team (locked up), and among the EOSex community.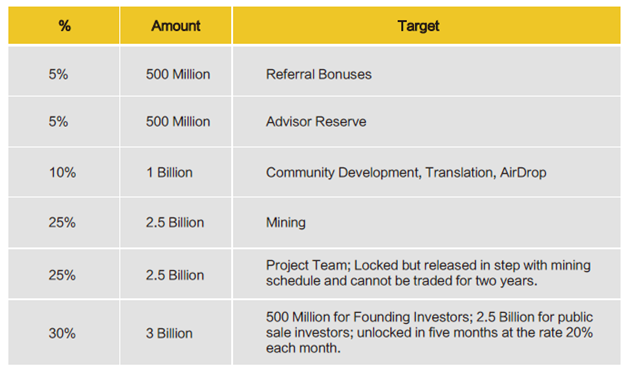 EOSex Platform Sources Revenue
Trading Fees: 0.01%
Overnight Carrying Charge on CFDs: 0.02% – 0.04%
On-chain transfer fee: 0.01%
Withdrawal Fees
EOSex Platform Road Map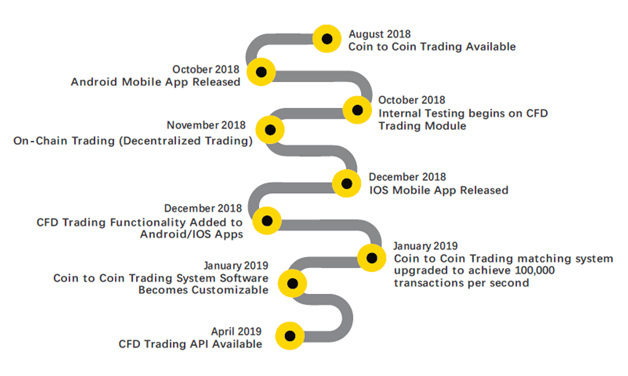 Investors Partners EOSex


Industrial Partners of EOSex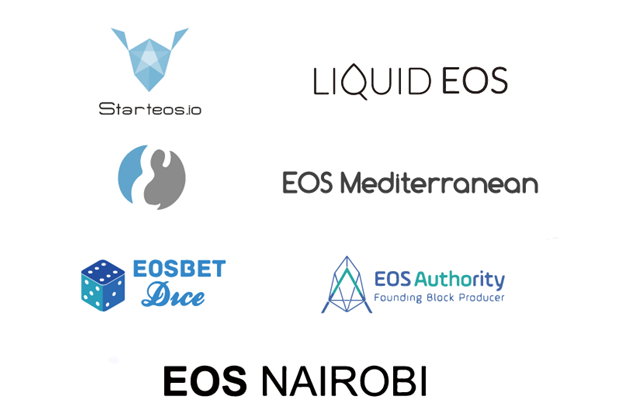 Technical Partners of EOSex


EOSex Team Members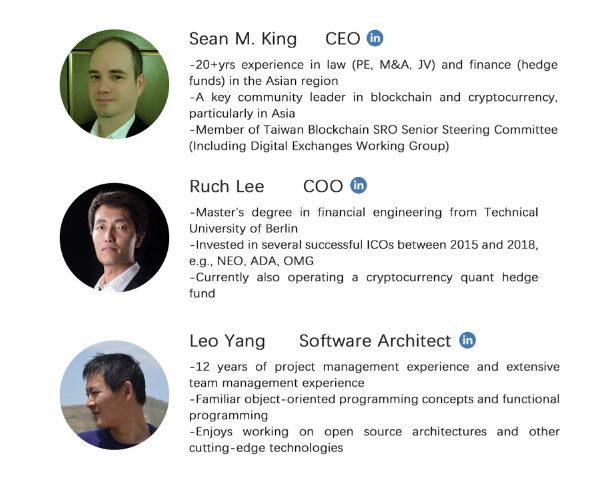 For additional information, registration and Investment on EOSex exchange Platform, visit these helpful sites:
Website: http://www.eosex.com/
White Paper: https://eosex.com/files/whitepaper_en.pdf
Bitcointalk ANN: https://bitcointalk.org/index.php?topic=5052625
Twitter: https://twitter.com/eosexcom
Discord: https://discord.gg/GYDsubS
Telegram: https://t.me/EOSexOfficial
Bitcointalk URL: https://bitcointalk.org/index.php?action=profile;u=1994989