What is CryptoMarketCloud Project?
What is CryptoMarketCloud Project?
Crypto Market Cloud is building a first of it's kind blockchain self contained ecosystem, complete with a own blockchain, cryptocurrency exchange and crowdfunding platform. No gimmicks and promises of moons and lambos, we are a company that has a clear vision, of what product it wants to develop, how to implement and create usability, with legitimacy, transparency and fair business practice.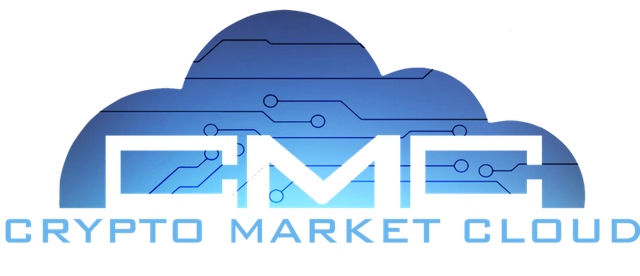 We can't undo the damage that has already been done, nobody can! No Shilling Fomo or any other form of promotion can bring back the 600 billion that have been erased of investor's portfolios. What we can do is the following; Ensure that the future of your investments is safe, a solid ROI (Return on investment) and your investment won't depend on speculation, marketing, fomo or shilling but rather on good, genuine and honest business practice. How? We are glad you asked! Crypto Market Cloud has a clear vision, of what product it wants to develop, how to implement and create usability, with legitimacy and fair business practice. Furthermore we know exactly our strategic position and importance in the industry, we are the first of our kind.
THE PRODUCT: Crypto Market Cloud has already a developed and working product which is, our Ico, Crypto Directory, Crypto, Blockchain and News hosting platform, but now we are going for a full on product, we are building a full self contained Eco-System, our own Blockchain, our own Cryptocurrency Exchange, which will only accept and focus on token generation and listing for Security and Equity tokens.
The CMC Eco-System: You have those brilliant disruptive ideas? you start by creating your Security or Equity token on our Blockchain, (every time a token is created a total of 5% will be reserved for the original CMC token holders) after which your STO will be listed on our platform Crypto Market Cloud for fund raising, during that cycle we will promote your STO to all our subscribers through all our media channels (currently just over 40K subscribers), once you successfully complete the funding round a guarantied exchange listing will follow on our native Crypto Currency exchange.
3 Main Products of CMC Ecosystem:
CMC – ICO Platform
CMC – Blockchain (C-Chain)
CMC – Crypto Currency Exchange
How will the investor benefit from our ecosystem: CMC blockchain as per our POC has a protocol in place which rewards all CMC holders 20% from all network fees and every company that will create their smart contracts on C-Chain, the protocol that is built in will reserve 5% of the companies total for the CMC holder
Additionally CMC will become a full STO which like any traditionally business the CMC holders and investors is entitled to revenue and voting rights
CMC will not only provide the service and support to already existing blockchain companies but also to already existing mainstream companies
Being a full ecosystem, all services are in place, starting from token creation on our platform, then we can offer full ICO support, to help collect funds for the companies as well promotional packages and once their Sto's have finished, they will list on our cryptocurrency exchange.
Why Crypto Market Cloud?
Crypto Market Cloud has an advanced and running product that is already Ico, Crypto Directory, Crypto, Blockchain and News hosting platform. But now, we have produced a complete Ecosystem. Crypto Market Cloud is a product that has already been developed and operated. The Crypto Market Cloud team is trying to build a self-sufficient ecosystem. The Cryptogram exchange of the platform will focus on listing only for token creation, Security and Equality tokens.
You can start by creating your security or equality token in the block chain of the platform. When a token is always created, the original CMC token holders will be reserved for a total of 5%. Your STO will then be listed on the platform's Crypto Market Cloud to collect donations. During this cycle, the platform will introduce your STO to all subscribers with the help of all media channels. After successfully completing the financing round, a guaranteed stock exchange list will be followed on the local Crypto currency exchange.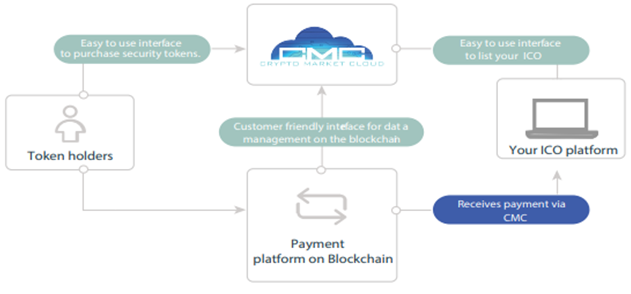 Crypto Market Cloud Feature:
CMC will build on the advantages of an ICO (Initial Coin OŽerings) to create an ecosystem bringing the next big change in the global capital markets. CMC will enable decentralization of pre-seed investments by adopting unique capabilities of blockchain technology and providing a legal way to purchase security tokens. tokenization of existing assets, creating of a total of 5% which will be reserved for the original CMC token holders with revenue streams, or other hybrid security tokens.
Team:
Roadmap:
Q1 2018
Idea for CryptoMarketCloud and team Assembly.
Q2 2018
Development of CryptoMarketCloud begins.
Q2-Q3 2018
CryptoMarketCloud Launch.
Q3 2018
CryptoMarketCloud becomes a viable and successful ico platform;
CryptoMarketCloud Develops its own Token and team development.
Q4 2018
Preparation For own Ico Launch, team assembly, white paper and website design.
ICO Launch.
Q1 2019
ICO completion.
CMC token Listing on Exchange's;
Work and developing own Blockchain starts.
Q2 2019
Own Blockchain completed and deployed;
Creation of smart contracts possible on own Blockchain;
Work on developing own CryptoCurrency Exchange starts.
Q3-Q4 2019
Cryptocurency Exchange finished and deployed.
Q4 2019
Listing of top 10 currencies on our exchange;
Full CryptoMarketcloud Eco-System developed, deployed and fully functioning.
Q1 2020
New projects and additions products introduced to CryptoMarketCloud Eco-System.
Token Sale Detail:
Token: CMC
PreICO Price: 1 CMC = 0.5 USD
Price: 1 CMC = 0.6 USD
Bonus: Available
Bounty: Available
MVP/Prototype: Available
Platform: Ethereum
Hard cap: 42000000 USD
Country: UK
Whitelist/KYC: KYC & Whitelist
Restricted areas: None
For more information:
Website: https://cryptomarketcloud.com/
Whitepaper: https://cryptomarketcloud.com/BusinessPlan.php
ANN Thread: https://bitcointalk.org/index.php?topic=5061387.0
Telegram: https://t.me/Cryptomarketcloud
Twitter: https://twitter.com/cryptomktcloud