What is Everest Project?
What is Everest Project?
Everest is a decentralized platform for a new economy, incorporating a massively scalable payment solution with a multi-currency wallet, and digital + biometric identity.
Everest provides its users a universal identity and consequently access to all services to sustain life. The identity network is decentralized and autonomous and allows users to protect their identity data across platforms like licenses, voting Ids, and biometric ids that is cryptographically secured at the granular level. Creating global access to financial services and allowing total financial inclusion enables Everest to unlock the huge economy of the emerging markets. People across the world will be empowered and have more economic opportunities.
How Does Everest Work?
EverID has created a universal digital identity network that will raise the whole of humanity to the global market, providing access to a robust range of services to improve livelihood and promote economic development.
The identity network will be an autonomous, non-supportable, decentralized network, owned by no one, functioning forever and incorporating the principles of identification for Sustainable Development Goals (SDGs) 6 into its software.
It gives individuals the tools to manage and protect their own identity data through a decentralized identity platform and a value transfer solution based on blockchain technology.
Multiple types of biometric information for each identity are recorded and stored in the identity network. Legacy identity documents, including national identity cards, driver's licenses, passports, voter's identity cards, etc. are recorded, as well as third-party certificates by cryptographically signing these confirmations of claims.
If a person does not have the technology, an agent system allows them to be enrolled via the EverID Agent DApp. Public Access Devices (PADs) are used for EverID validation, use and update. PADs use a Software Development Kit (SDK) to add identity validation to devices for banking, government services, healthcare and more. The Bridge service allows a user to securely access his data and use it on another device that he does not own.
The Principles of EVERID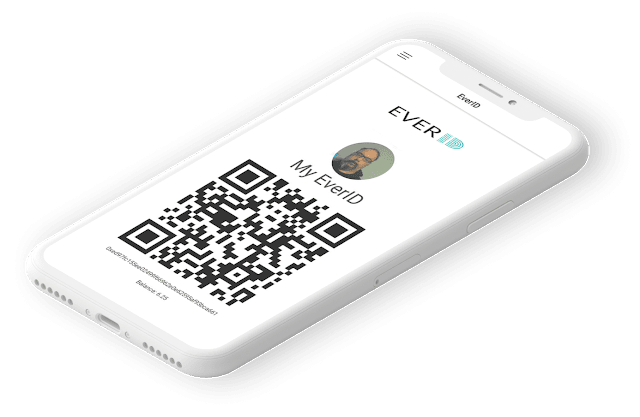 Everest Use Cases:
Everest expects to revolutionize many sectors with the main idea being to allow for a scalable payment solutions. Some of its major use cases include:
Cash Transfer: The platform intends to facilitate cash transfers between parties, validating the money sent 100% since the participants will have been biometrically verified.
Remittance: Everest will offer an easy and cost-effective way for various banks and financial institutions to help them offer better money transfer services.
Micro-Finance: The platform will also offer a full solution to lend money to SMEs as well as billions of people across the globe.
Micro-Insurance: Everest will allow the collection of documents and biometrically signing contracts with or without devices.
ID Verification: All users in Everest will be verified through third party attestations, government IDs, and biometrics
Medical Records: The platform will enable better management of medical records, hosting the documents in device or the cloud to allow seamless tracking of healthcare.
Land: With Everest, it will also be possible to combine titles, identities to banks and GPS coordinates in order to secure land.
Everest Team:
The Everest team is made up of individuals experienced in IPO's, blockchain, and startups. The team is led by Co-founders Bob Reid (CEO) and Brad Witteman (CPO) who have both held senior positions at BitTorrent, and Mike Kali (CTO) who has worked at Yahoo and Netflix. The team is also assisted by a board of advisors like Aya Miyaguchi of the Ethereum foundation, Atsushi Taira CGO of Mistletoe, former President of Estonia Toomas Hendrik, and Dr. Virgil Griffith of CalTech.
Advisors:
Roadmap and Traction:
Token Sales Detail:
Token Symbol: ID
Token Sale Date: Aug 13, 2018 — Oct 12, 2018
Token Price: 1 ID = 0.09 USD
Accepted Payment Method: ETH, BTC
Hard Cap: 20,000,000 USD
For more information:
Website : https://everest.org/
Whitepaper : https://everest.org/wp-content/uploads/2018/08/Everest_whitepaper.pdf
Telegram : https://t.me/Everestdotorg
Twitter : https://twitter.com/everestdotorg
Medium : https://medium.com/@EverestDotOrg
Reddit : https://www.reddit.com/r/EverestDotOrg/
Bounty Thread : https://bitcointalk.org/index.php?topic=4782378
Author: tinhkhuat
Bitcointalk Profile: https://bitcointalk.org/index.php?action=profile;u=1885373