Why Bitcomo is better than all other Systems?
Bitcomo has introduced an innovative decentralized system to provide the best solutions being faced by advertisers and customers. The biggest challenge is that the ads must be shown to the targeted audience only. Bitcomo helps with its analysis tools in this regard by collecting the web data of users and analyze it for advertisers to prepare customized offers only for targeted audience rather than showing ads to everyone online. This ad model will not only help to enhance the impact of advertisement campaign but also cut down extra expenditures, helping the investors to invest wisely and profitably. Knowing the needs of our valuable clients is the key concept of our team and we are working to provide you with the best possible professional services. The vision of KYC ("Know Your Client") has ensured that Bitcomo takes care of all the needs of its collaborators, partners and customers by collecting enough information and details about them. Using these details, our experienced publishers use these information resources and other technical facilities of platform to target the specific online audience to present them the best possible offer with advertisement. This helps in narrowing down the web users and to present the item effectively to those who are interested in purchasing that type of item.
Another issue with the existing platforms is the late or fraud payments. Many business models have been tried to sort out the problems but none of them worked effectively to make all parties satisfied with their performance. Bitcomo has introduced smart-contracts anchored with blockchain technology to eradicate all types of fraud payments to ensure maximum transparency. Why Bitcomo claims to be the best in the market compared to all other traditional platforms? The answer lies in certain reasons enlisted below.
Bitcomo is Efficient: In traditional CPA networks, business models comprise of larger interactions chains involving many intermediaries including operators, affiliates and the payment system.
Bitcomo is Reliable: Traditional CPA networks involve a lot of steps increasing risks of information loss. Bitcomo has eliminated all middlemen reducing the chances of human errors and cuts off extra expenses.
Bitcomo saves Time: With Bitcomo, publishers receive immediate reward for their advertising efforts without any delay. The payment is made as soon as the smart contract is confirmed (https://ico.bitcomo.com/).
The primary objective of Bitcomo is to ensure transparency and efficiency at one platform. The aim was fulfilled using blockchain technology combined with smart contracts (pre-defined terms and conditions) through which users of Bitcomo can keep a record of each activity of a potential client. This innovative model allowed to establish a fool-proof system to eradicate the possibility of any fraud. Smart Contracts allow direct interactions between advertisers and publishers to define a proper and transparent commercial relationship. The smart-contract agreement allows a smother business process with complete confidence.
Our Roadmap depicts our future plans and we are on our way to fulfill our commitments within given period of time. Our system has attracted huge number of users from all around the world but still there is a long way to go.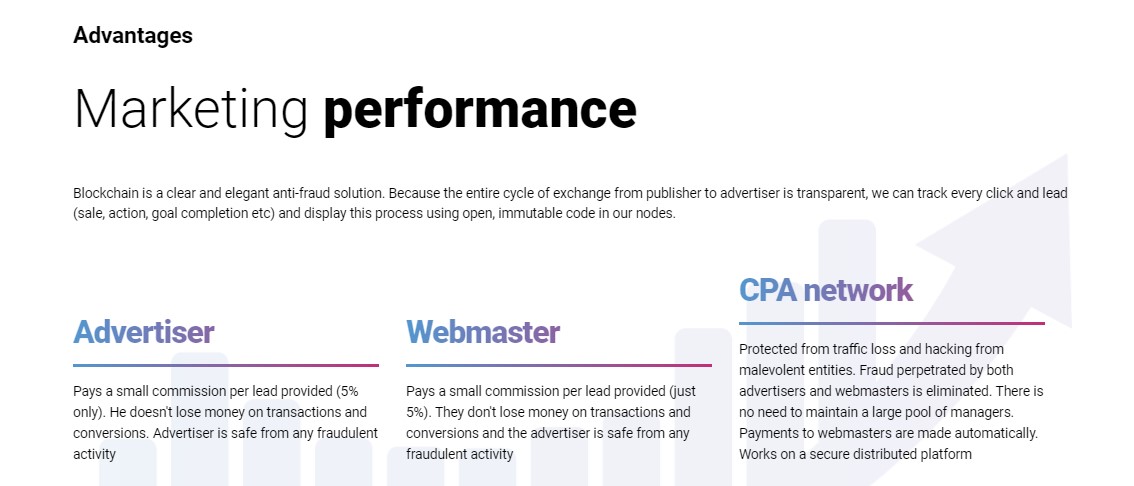 Currently an ICO project named "Bitcomo" is present to facilitate us in membagun network affiliansi business. Bitcomo is a decentralized affiliate marketing network, where blockchain technology is ideal for online advertising, as it allows companies to better analyze the data collected from web users. This gives them an opportunity for us to get large-scale target audience at a much lower cost than traditional marketing.
Bitcomo works in a CPA network for marketing. Where advertisers only pay when they see results and internet marketers and are rewarded for each visitor or customer earned through their own marketing efforts. This method gives advertisers and advertisers the same incentives and rewards. This is certainly in line with Bitcomo's goal of creating an affiliate marketing network that is completely resistant to fraudulent advertising and payment issues.
Blockchain technology on Bitcomo will be a proof and transparency that does not change until the moment it is given. Of course it will ensure the security of each user's data, while simplifying the interaction between the two. Blockchain also eliminates unnecessary intermediaries between the company and its target audience. With few steps in associating advertisers and potential clients on this platform.
Not only that, companies can also easily invest their advertising budget more wisely and profitable. Part of the generation CPA network that Bitcomo is designed to help businesses reduce their advertising costs while increasing their impact. With this platform we not only know how to use blockchain technology to its full potential, but we can also develop an infrastructure that will make the process as smooth as possible for the business we are going to live.
The existence of KYC ("Know-Your-Client") procedure on Bitcomo will ensure that any partner data information will be easily understood. Companies and users will also have adequate information about them. Our publishers use their information resources and technological knowledge to target their products and services to the right audience. Bitcomo is the solution, where Affiliates runs ads only for certain audiences that are interested in purchasing products or services advertised.
The problem of late payment becomes a daunting part of doing this affiliate business. But that does not apply to Bitcomo. Because Bitcomo solve the problem by applying instant payments and verified smart contracts on the one hand and holding
budget merchant affiliate program (advertiser) in escrow on the other side. This goal is achieved by using a blockchain based solution offered by an intelligent contract where the user can track every click and every action performed by a prospective client. so that cheating can be avoided entirely.
Bitcomo provides benefits for anyone who wants to be part of them, which is divided into three parts, among others:
For Advertisers, payments are made on commission or a small cost per lead provided (only 5%). We will not lose our money in any existing transactions and conversions.
For Webmasters, will be protected from dishonest advertisers. Where payments will be made, and the cost of remuneration for lead is much higher than in traditional BPA. Have access to statistics that can not be forged
For the CPA Network, it will be protected from traffic loss and hacking from survivors. cheats that are excluded from advertisers and webmasters. No need to retain great manager staff. Payment to the webmaster is done automatically. Works on a secure distributed platform.
Bitcomo comes in the form of a digital currency named with a BM token. Token BM will go on sale in the Pre-ICO period on 28 October 2018 until 5 December 2017 and ICO on February 16, 2018 at a price of 1 BM equivalent to 0.30 $. Purchases can be made in foreign currency such as Bitcoin and Ethereum.
BM tokens can be exchanged for real money and disbursed, but to motivate investors to store their tokens on the Bitcomo platform, we will offer additional benefits. BM tokens can also be used to purchase platform services. From the beginning the project focused on the ICO market and is ready to offer to other beginners Bitcomo services but with payment in their tokens as well.
Website: https://ico.bitcomo.com/
Whitepaper: https://ico.bitcomo.com/storage/source/1/SGw7HeEcWWleZrmZ6I1brn93wi2WbfRl.pdf
My Bitcointalk:https://bitcointalk.org/index.php?action=profile;u=367891