WINIOTO ICO / Bounty Firma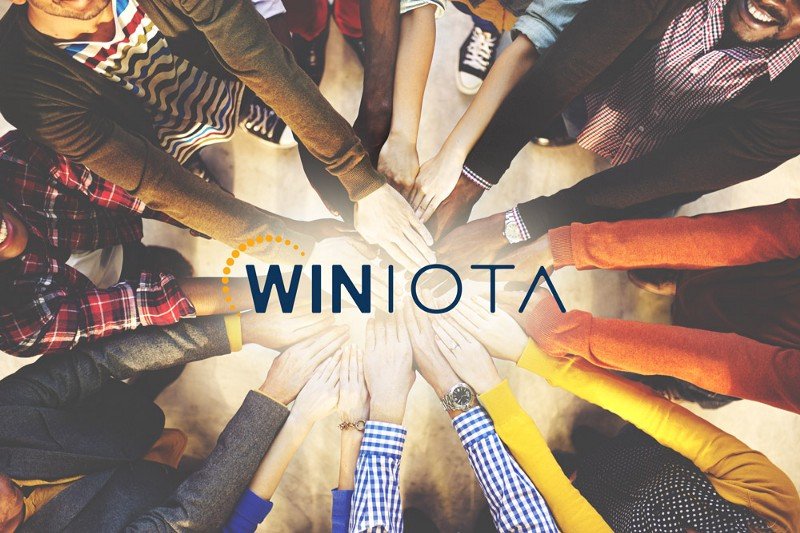 Über das Unternehmen
WINIOTA entwickelt eine Community basierend auf dem On-Tangle Provably Fair Casino & Artificial Intelligence, einer verbesserten Plattform für Sportwetten. Ziel von WINIOTA ist es, weltweit führend in einer innovativen dezentralen Spiel- und Wettbranche zu sein, die sich auf transparente und faire Technologien konzentriert. Die Plattform basiert auf transparenter, fast sofortiger Peer-to-Peer-Open-Blockchain-Technologie – Iota-Kanälen und Iota-Kanälen.
Anders als die meisten Crypto Casinos verwendet WINiota die IOTA-Kommunikationsumgebung, nicht die Blockchain. Der Vorteil für die Community von WINiota ist von großer Bedeutung: Micro-Rates und Highspeed-Gameplay durch Iota Flash Channels revolutionieren die Erfahrung von Online-Casinos.
WINIOTA möchte, dass sich jeder der Spielergemeinschaft von WIriota anschließt. Deshalb bieten sie flexible Mikrotransaktionen an. Das WIniota-Team besteht aus Experten für Online-Glücksspiele mit nachweisbaren Arbeitsaufzeichnungen in den Top 5 der Online-Glücksspielunternehmen. IT-Spezialisten und Blockchain an Iota-Projekten beteiligt; und erfahrene Unternehmer in den Bereichen Marketing, Finanzen und Recht. Um den Regeln und Vorschriften zu entsprechen, erhält WINiota eine Lizenz für Gibraltar Gambling.
Information
Offizielle Seite
ANN BitcoinTalk
Kopfgeld BitcoinTalk
Weißes Papier
ICO Details
Allgemeine Information
Token: WIT
Plattform: ERC-20
Standard: Ethereum
Menge: 1.000.000.000 WIT
Preis: 1 ETH = 22.000 WIT
Zahlung: IOTA, ETH, BCH, LTC, BTC, NEO, XRP und USD
Soft Cap: 2.400 ETH
Hard Cap: 24.000 ETH
PreICO
Anzahl: 5.300 ETH
Beginn: 01.06.2018
Ende: 14.06.2018
Bonus: 15%ICO
Menge: Vor Hard Cap
Beginn: 01/07/2018
Fertigstellung: 01.08.2018
Bonus: 1 Tag – 6%, 2-4 Tage – 3%, 5-20 Tage – 2%Befehl :
Shane O'Neil
Co Gründer, General Manager Senior Buchmacher mit umfangreichen Kenntnissen in allen Sportarten, sowie im Casino. 10-jährige Erfahrung in führenden Gaming-Unternehmen in Gibraltar. Steuert mehrere Fusionen in der Branche.
Friedrich Endlicher
Co is a founder, developer of CTO Core, game programming, a Full Stack programmer with 8 years of experience in leading teams for developing websites and mobile devices. Developer of the UCL Trinity wallet
Bastian Fritsche
Co, founder of CFO CRM Manager at bwin. Auditor officer and hotel director, including Alltours / Thomas Cook for more than 10 years.
Pontus Persson
User Experience Lead Lead UX designer with more than 10 years of experience in creating digital products for the industry's leading brands. He worked on the HUGE, perhaps leading UX designer on the multi-award-winning (Cannes, Clios, Campaign, etc.) Appendix Adidas Glitch.
Karen Mareš
Head of the game design for leading gaming and television companies working both online and print media for companies such as NetEnt, Odobo, Playtech and Ladbrokes Coral, as well as Discovery Channel, National Geographic, BBC and Sky.
Anton Natarov
Full Stack Developer Game programming, a robotics engineer with more than 10 years of experience. Co-founder of goodgame.ru.
Scott Malsbury
Head of Communications Senior Quality and business management, previous experience with multibillion projects around the world. Head of Communications in Etlande.
Shalini Wood
PR and public relations manager More than 10 years of experience. He worked in the forecast markets of Delphy, Honeywell, Sheraton Hotels, Grand Hyatt Hotels.
Ulf Karlsson
Head of Affiliate Marketing Specializes in content marketing, SEO, social networking. More than 10 years of experience in games. I worked for GTech, Workation.
Patrick Soh
Relations with investors and the community manager Huge experience in managing communities and strategies ICO. Previously worked for EverMarkets, VeriME and IATokens.
Shabir Yunos Investor
Relations and Community Manager Previously worked for Delta Airlines and Yamaha. An experienced analyst and community manager. Previous experience includes the following Exchange, VeriME and EverMarkets.
Mandy Picolin
Project Manager Games 8 years experience in several roles in the gaming sector. He worked at bwin, Poker Strategy, Asian Logic.
Jessica Lee Green
Head of operations in the casino More than 10 years of experience in several managerial roles in the gaming sector. He worked for Bet365, Ladbrokes Coral Group.
Berater:
Joshua Scigala
Berater des Generaldirektors von Vaultoro, BTC / Gold. Frühe bitkoyin-Investor. Serienunternehmer
Todd Preis
Berater Wallet Systems, Cryptocurrency Advocate, arbeitete an wystoken.org
Anastasija Plotnikowa
Legal Counsel Ein in Gibraltar und Vilnius ansässiger Wirtschaftsanwalt mit Spezialisierung auf internationale Wirtschafts- und Steuerfragen.
Roadmap:
Januar 2016
Die erste Idee eines Casino Slimming Clubs.
April 2018
Launched mvp: winiota ist das erste Unternehmen auf der Welt, das ein Spiel in einem Casino entwickelt, das die Iota-Flash-Channel-Technologie nutzt.
Juni 2018
Der Anfang des vorläufigen ico.
Juli 2018
Starte ico.
August 2018
Entwicklung weiterer Spiele im Casino. Umfassende Entwicklung der Sportwettenplattform und des Deep-Study-Modells. Listing Exchange. Wir werden uns an die führenden Kryptowärter wenden, um eine Liste mit Witz zu bekommen. Nach dem Ende von ico wird die digitale Währung für eine öffentliche Auktion verfügbar sein.
November 2018
Start der folgenden Casino Spiele, wie Blackjack, Roulette, Video Poker, etc. Der Start der Sportwetten Sektion in der bestehenden Spieleplattform.
März 2019
Volles Angebot an Spielen online.
Mai 2019
Integration des Modells künstlicher Intelligenz in die Sportwettenabteilung von Winiotas.
Bounty-Kampagne
TELEGRAMM Moderation – 2% – Join – Teilnehmer Tabelle
Airdrop & Referral – 7% – Join – Teilnehmertisch
Instagram – 4% – Beitreten – Mitglieder Tabelle
Facebook – 14% – Beitreten – Mitglieder Tabelle
Übersetzung – 5% – Beitreten – Teilnehmer Tabelle
Unterschrift – 21% – Beitreten – Teilnehmer Tabelle
Reddit – 16% – Join – Mitglieder Tabelle
Twitter – 14% – Join – Mitglieder Tabelle
Inhalt – 16% – Beitreten – Mitglieder Tabelle
Was ich schließlich sagen kann, ist das enorme Potenzial dieses Unternehmens. Allround-ICO ist sehr auffällig. Dies ist eine große offene Straße, um die ICO-Welt zu betreten.
Wenn Sie wissen, wie Sie unsere Gemeinschaft verbessern können.
Wenn Sie wissen, wie man Informationen über uns in dieser Welt verbreitet.
Wenn Sie Ideen für andere Verbesserungen haben, ist das ein Privileg
Wenn Sie alle an unserem Kopfgeld teilnehmen.
Für weitere Informationen zu diesem Projekt, besuchen Sie bitte den folgenden Link:
Webseite: https://www.winiota.com/
WhitePaper: https://www.winiota.com/assets/winiota_whitepaper_official_deutsch.pdf
ANN-Thread: https://bitcointalk.org/index.php?topic=4216831.msg38386356
Kopfgeld-Thema: https://bitcointalk.org/index.php?topic=4232351.0twitter: https: //twitter.com/WINIOTA
Twitter: https://twitter.com/WINIOTA
Facebook: https://www.facebook.com/WINIOTA/
Telegramm: https://t.me/winiotaofficial
Medium: https://medium.com/@WINiota_42868
Reddit: https://www.reddit.com/r/WINiota/
Autor
Bitcointalk Benutzername: Atorise
Mein Bitcointalk-Profillink: https://bitcointalk.org/index.php?action=profile;u=1556338
Meine Ethereum-Adresse: 0xf965Dba274143a294c045fF15CaD1cB1D1DE4d77