WINNEST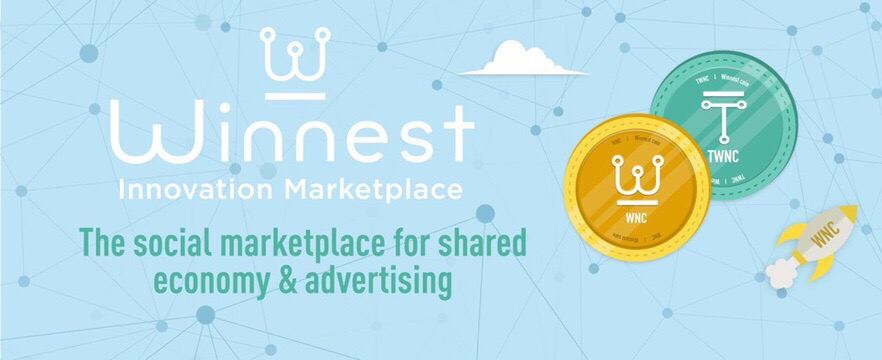 Winnest is a social market that offers a global market that is supported by a social economy that allows everyone to get rewarded for their contribution and visibility. Still confused? OK, let me explain in more detail. 
So the way this platform works in addition to online buying and selling winnest platforms also functions as social media. Now in this platform you can contribute and take 10% profit by way of being a sponsor of the items sold. So it's not just sellers and buyers who benefit but you.
Please see the video below:
Token and ICO information
Token – WNC

Platform – Ethereum

Platform Type – ERC20

Price – 1 WNC = $ 0.005

Total Sales: 5,000,000,000

Soft Cap: $ 3,500,000

Hard Cap: $ 20,500,000

Start ICO – 11/15/2018

Completed ICO – 10/01/2019
The best offer to enjoy now offers in preview. Starting October 2018, the sales of Winnest, WNC tokens will be launched, the problem of which will be limited to the amount of 5,000,000,000 WNC during the initial token offer (ICO)
Token broadcasts will last 12 weeks and will be broken into 3 phases. The first phase is the emission of 1,000,000,000 tokens for 4 weeks presales divided into 2 phases each 2 weeks. The second phase is the issue of 4,000,000,000 tokens for 8 main sales weeks.
The duration of each phase will depend on two criteria:
The time of 




each phase will have a limited duration. At the end of this term all tokens have not been sold, the remaining tokens are withdrawn.

The number of tokens available 




on each issue, if all tokens are sold, the current phase will end and other sales will begin, opening a new phase until the end of 12 weeks.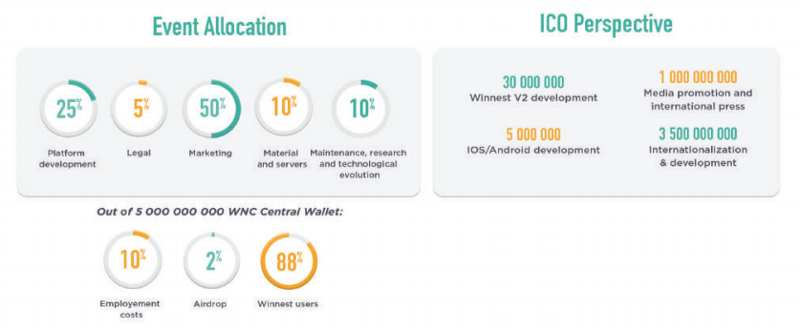 Roadmap
February 2017 – Feasibility study of market studies

March 2017 – Workflow & Mokups Project

April 2017 – Entertaining concept of business games

May 2017 – Survey users

June 2017 – Specifications

August 2017 – Creation of a technical team

October 2017 – Creation of back office and commercial team

November 2017 – Alpha Winnest function

December 2017 – Creation of WNC cryptocurrency and tokens

January 2018 – Integration of digital wallets

January 2018 – Creation of the ERC20 digital wallet

February 2018 – Fundraising

October 2018 – WNC presale

November 2018 – WNC Main Sales

December 2018 – Winnest Beta A / B Testing

Integration of Q1 2019 – WNC on the exchange

Q3 2019 – Winnie's social market launch
Team
Thibault Miglior – Chief Digital Officer

Clément Houde – Chief Technical Officer

Thomas Kautzsch – Exclusive Supreme Officer

Angelo Galuppi – Financial architect

David Aragones – Chief Analytics Officer

Thomas Gedon – Chief Strategies Officer

Nicolas Brun Sourit – Scrum Teacher

Tidiane Coulibaly – Chief Marketing Officer

Anthony Fabri – Chief Product Officer

Fabio Galli – Head of Finance

Lucas Buffard – Chief Development Officer

Anthony Ruffo – Chief Information Officer

Melody Abdelnour – Chief Design Officer

Vanille Abdelnour – Leader of the Digital Project

Mathieu Robin – Managing Editor
Conclusion 
This project is very beneficial for all parties.
Important Link: