WORLDOPOLY: New gaming era unlike it's kind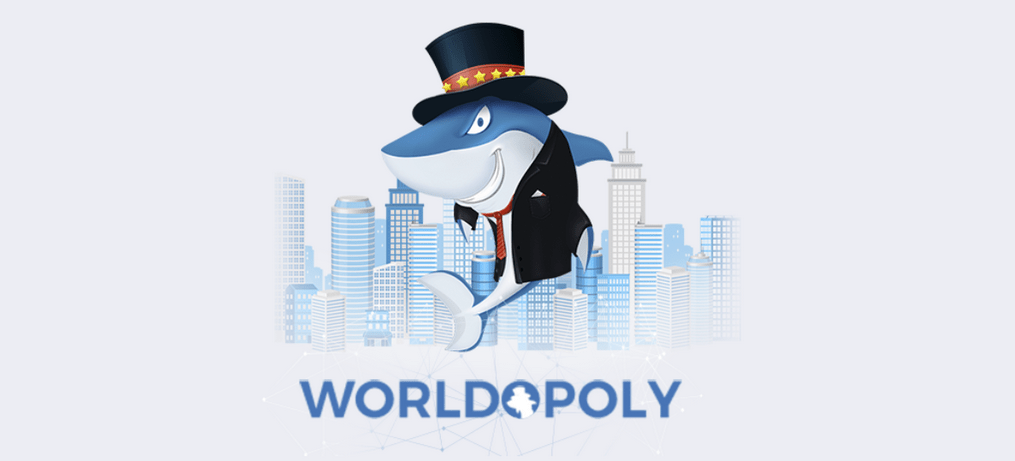 Who doesn't love games? Be it real games, computer or mobile games. The gaming industry holds vast potential for investors who are able to recognize opportunities when they see it. It's one step to recognize an opportunity, it's an even more important step to make the right decisions and take the right crucial steps with the best platform capable of bringing large returns on Investments.
According to current statistics the mobile game industry has a market share of over 40%, which makes it by far the most profitable sector in the gaming industry and a competitive investment sector generally. Dominating the gaming industry as a whole, mobile game generate as much as 75% of the revenue in the iOS App Store and 90% of the Google Play Store. In 2017 mobile Apps brought in over $ 46 billion in revenue, expanding their market share from 39% (2016) to 42%.
With that fact established, an investor with an eagle eye will quickly grasp how lucrative an investment in the mobile game sector would mean. Who doesn't love playing games. But imagine if you invested in the best of the best, the very first of it's kind, a gaming platform that has successfully done what no other mobile game platform has done. This revolutionary mobile game has brilliantly combine Augmented Reality Gaming technology (AR), implementation of the world famous Blockchain / DAG technology and Geopositioning into one awesome mobile game – WORLDOPOLY
MEET WORLDOPOLY
Worldopoly is a real-time multi-player strategy game that implements Blockchain / DAG and augmented reality into a world building simulation. It provides an economic incentive as well compelling gameplay through the implementation of its own cryptocurrency WPT. Combining AR, Blockchain / DAG and Geopositioning Worldopoly provides a unique gameplay experience that enhances mobile gaming from its current limitations.Worldopoly purposefully integrates all technologies into one.
Compared to other mobile games, Worldopoly is by far superior with the ability to combine Real time – real world scenarios with the RTS + AR + Blockchain / DAG technology. More so, the mobile game offers risk free introduction to cryptocurrencies for players to earn cryptocurrency without investing real money. Having a unique advantage of launching in an environment where AR is being actively promoted by Apple and Google, Worldopoly sits comfortably on top of the list of best gaming investment platforms for wise investors.
WHY INVEST IN WORLDOPOLY?
Total revenue of game apps in 2016 was $ 33.6 billion of which a majority ($ 23 billion) was contributed by iOS games. Worldopoly is available on iOS and Android platform being the best of the best on both platforms, it is no gainsay that this project would be a ground breaking one for wise investors.
The most profitable iOS games in the US as of November 2017 were:
• Candy Crush Saga by King Digital Entertainment PLC
• Golf Clash by Playdemic Ltd.
• Pokémon GO by Niantic Inc.
• Madden NFL by Electronic Arts
• Slotomania: Vegas Slots Casino by Playtika
• Clash Royale by Supercell
• Homescapes by Playrix
The most profitable Android games in 2016 were:
• Pokémon GO by Niantic Inc.
• Mobile Strike by Machine Zone Inc.
• Game of War by Machine Zone Inc.
• Candy Crush Saga by King Digital Entertainment PLC
• Clash of Clans by Supercell
All listed games are "free to play", which means that the profitability of these games does not depend on the number of downloads but rather on the amount of microtransactions happening within the game. The "free to play" model has several advantages compared to the classic "pay to play" systems. Worldopoly adopts "free to play" game model which means profit will be raked in regardless of the number of downloads, either ways there will be massive return on investments.
Main advantages in comparison to the competitor
• Most other games that implements Blockchain / DAG technology do not provide very engaging gameplay. They are either targeting very specific niche like basic casino games or item collecting games. Worldopoly seeks to change that by catering for a larger mainstream audience of casual gamers in the market.
• Worldopoly unlike other games has yet again uniquely utilize cutting edge technologies (AR, Blockchain / DAG, geopositioning) in away that enriches the gameplay experience instead of providing placeholders which by far provides better experience to the players against it's competitors.
• Instead of creating a new gaming model that has to be learned, Worldopoly provides the player with an easy to understand real world economic simulation. This has numerous advantages among them providing an easy entry point for people who want to understand Blockchain / DAG and cryptocurrencies in a risk free environment.
Early Investors benefit from a wide range of investment opportunities, such as classic advantages of ICOs: special token deals and lower prices on WPTs. Furthermore they can use the early entry into Worldopoly to obtain streets and buildings that can be sold later for a profit.
WORLDOPOLY TOKEN
Tokens are the digital asset investors buy from a company for money. Blockchain / DAG technology is implemented in accounting for tokens in the database and access to them is done through special applications using electronic signature schemes. The Worldopoly Token (WPT) is the in-game currency that exists along with Gold and Coins. All transactions with WPT will occur through Blockchain / DAG technology.
By purchasing the WPT tokens during Worldopoly token sale, the participant will be able to receive not only in-game resource at a reduced price (compared to the price for WTP tokens will be available after Token sale ends), but also to exchange tokens for real money through an internal auction or stock exchange in the future. This will allow the participant to gain advantages at the game's initial stages while investing less money.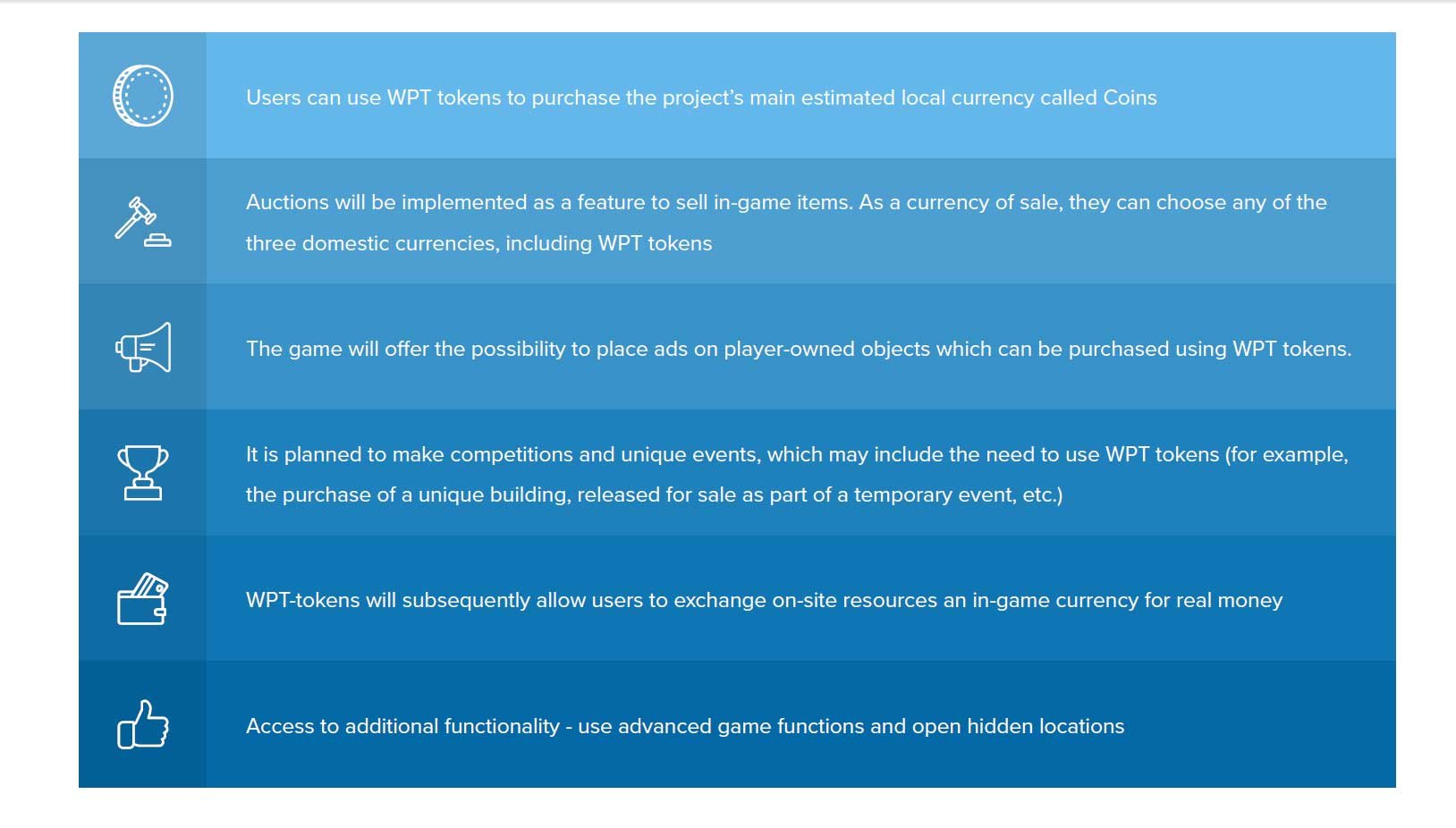 ICO DETAILS
ICO will be held under Swiss jurisdiction. Swiss authorities are known for their positive attitude towards ICO-companies that fulfill the mandatory requirements of the regulator.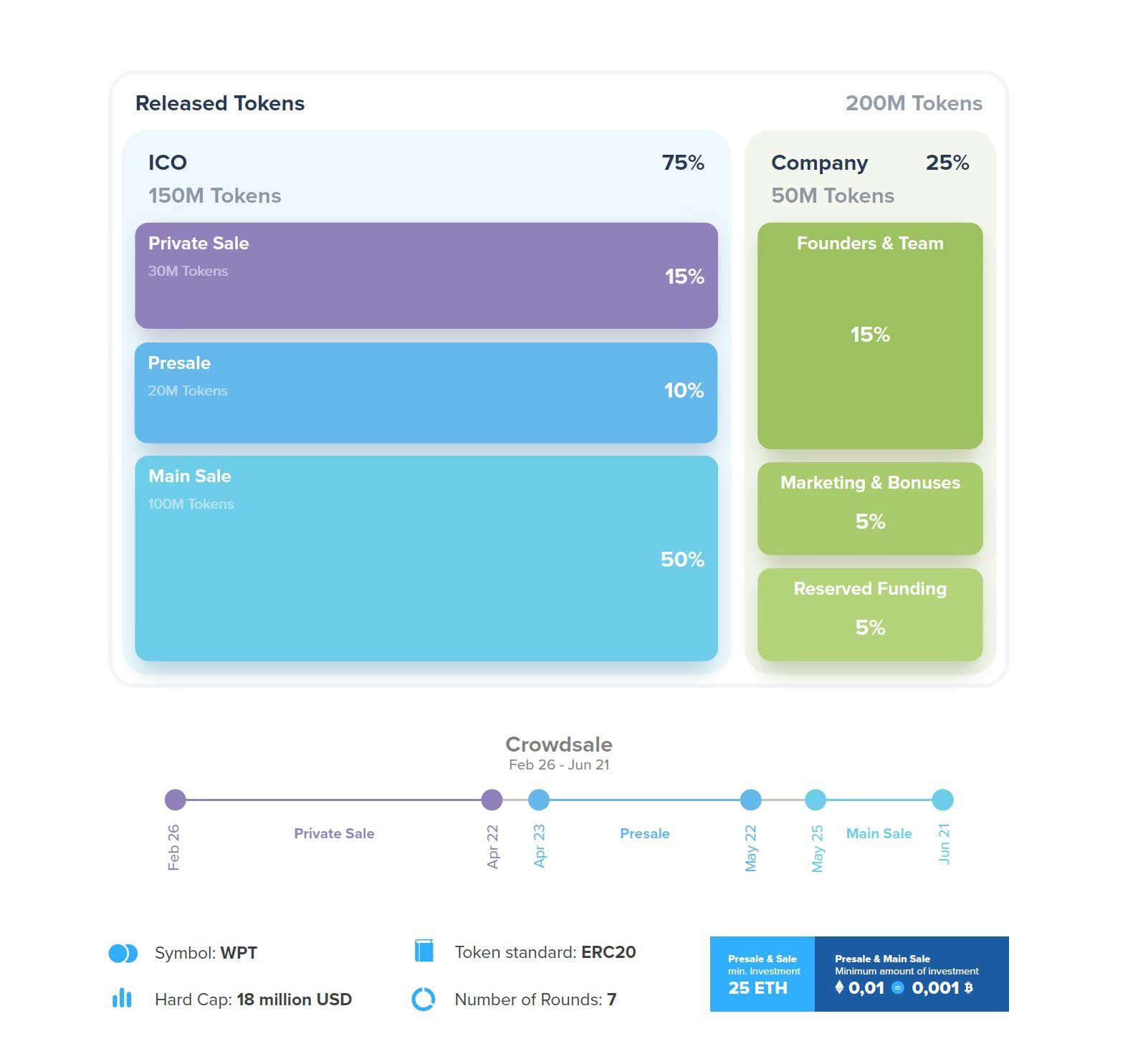 Symbol: WPT
Token standard: ERC20
Number of Rounds: 7
Hard Cap: 18 million USD
Presale & Sale min. Investment: 25 ETH
Presale & Main Sale Minimum amount of Investment: 0.01ETH 0.001BTC
Private Sale: 26 Feb, 2018 – 22 Apr, 2018
Private Sale: 30M Tokens (25% bonus for ICO on ByteBall)
Presale: 23 Apr, 2018 – 04 Jun, 2018
Presale: 20M Tokens (20% bonus for ICO on ByteBall)
Main Sale: 06 Jun, 2018 – 08 Jul, 2018
Main Sale: 100M Tokens (5% bonus for ICO on ByteBall)
To participate in the token sale, visit Website: https://ico.worldopoly.io
Token Economy
Founders and Team 15%
Marketing & Bonuses 5%
Reserved funding (trust) 5%
Distribution of collected funds for expenses:
IT Development 30%
Marketing and Promotion 40%
Acquisitions and Partnerships 15%
Operating and administrive expenses 10%
Legal expenses 5%
---
ICO [06 Jun, 2018 – 08 Jul, 2018]
For more information on this wonderful project,
Twitter: https://twitter.com/Worldopoly
Facebook: https://www.facebook.com/worldopoly
Telegram: https://t.me/worldopoly
Instagram: https://www.instagram.com/Worldopoly.de
Whitepaper: https://worldopoly.io/Worldopoly-Whitepaper-ICO.pdf
Website: https://ico.worldopoly.io
Website: https://worldopoly.io
Email: invest@worldopoly.de
Authored by Tymix12
Bitcointalk Profile: https://bitcointalk.org/index.php?action=profile;u=1366638