XCRYPT: CRYPTO EXCHANGE WITH A DIFFERENCE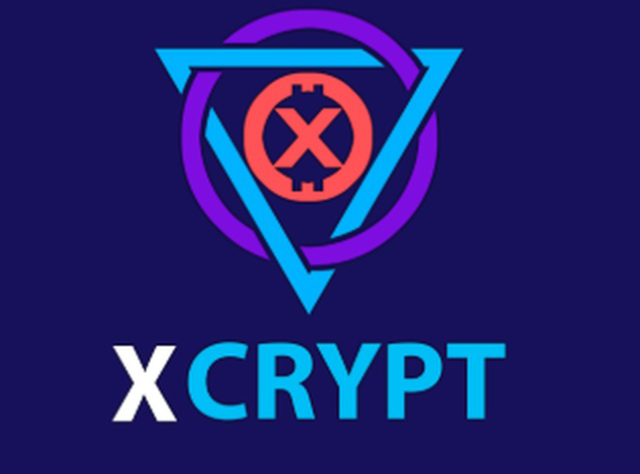 WHAT IS XCRYPT ALL ABOUT?
XCRYPT is a peculiar cryptocurrrency exchange in the sense that it possesses the attributes of both a centralized and a decentralized exchange. I'll break down the difference between these two types of cryptocurrency exchanges subsequently in this write up. But for now, it will delight me to let you know that the Xcrypt team has introduced a good security measure to counter the security issues such as adoption of encrypted wallet with AES-256 which are secured offline. XCrypt is a trading platform designed to exchange and trade coins in peer environments. Xcrypt is the first crypto ecosystem with extraordinary added value with their core focus on their unique exchange; a hybrid exchange , equipped for securities and for a marketplace built for the ERC-721. With Xcrypt exchange traders can easily relax and forget the issues of hacks and attacks. This security will be achievable through the introduction of blockchain technology and other corresponding technologies that will involve the use of smart contract to bring full automation into the platform and at the same time increase the transparency of the platform; a feature which users and traders have been clamoring to have for a long time.
The team has developed an end to end system which comprises of a debit card and a social platform for users to interrelate and build a robust community. The xCrypt ecosystem is built in order to make sure that all of its segments can function both as an individual and autonomously. Their core purpose is to revolutionize the world of cryptocurrencies by means of their network. With the help of their network, various services will be accessible by users to take advantage of, providing noteworthy ecosystem for growth.
XCRYPT is the first crypto ecosystem with an high added value with the heart in its exchange. Hybrid, ready for STO and for a marketplace made for the ERC721. We created this end to end system which includes a Debit Card and a Social Media Trading system which is an advanced investment solution, which enables trading on one account managed by a skillfull and experienced trader using his own funds and joint funds invested by other traders in his SMT account. This ecosystem is made to be at the same level as the world's big players, and even surpass them, for we are already suitable in this field's future.
PROBLEMS & SOLUTIONS
The current exchanges are focused on the ERC20 and the Cryptocurrencies, without any gaze towards this system's evolution. xCrypt decided to prepare itself to the immanent future, that is to say it has a market for the ERC721 (besides having one for the cryptocurrencies and the ERC20) and it's ready to list STO, since it is compliant with the security tokens.
xCrypt ECOSYSTEM
What makes our trading platform stand out?
Fully compliant trading operations
Trading + Social Trading Platform
Withdraw FIAT from cryptocurrencies | Store FIAT and cryptocurrencies – Custom built Bot Trading | Airdrop Ranking System
Erc 20 | Erc 721 | Memberships
ZERO fees | Securities token
Dependable digital wallets | 100% encrypted platform
Multi Language Platform | Fast deposits and withdrawals
Exchange FIAT and Cryptocurrencies
Make payments with FIAT and cryptocurrencies
Providing tutorials and webinars from expert traders
User friendly website interface and mobile app
AIRDROP RANKING SYSTEM
We created a method for giving benefits to our XCT HOLDERS, improving to the whole ecosystem in general, bringing revenues to our exchange and adding value to our community and to our token holders. The ICO with erc20 usually has 3 problems:
the fundraising during the ico phase. Investors are often difficult to be found, as well as having access to actual investors pools.
The visibility in the exchange before the listing's start. It happens too often that tokens loose value once they're listed, as a consequence of the lack in communicating their intrinsic added value to the investors.
Too often the token holders don't have actual advantages in owning them.
The solution: We have experimented an equation which created a point based rank, connected to an airdrop method to incentivize the token holders to keep on the exchange and to conserve them for a long period of time. This valorizes a RC system which brings value to our partners ICO.
XCRYPT TOKEN
This is an exchange token that will be used in XCRYPT platform as a transaction fees, trading fees, withdrawal fees and access to all form of incentives to holders and traders in XCRYPT platform.
TOKEN INFORMATION
Token supply 200,000,000
Token Symbol => XCT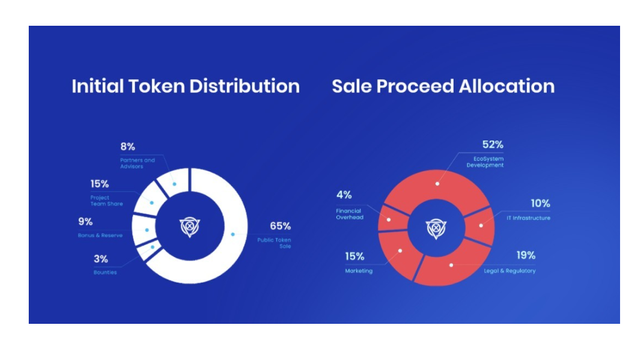 TOKEN DISTRIBUTION
65% Allocated to token sales
8% Allocated to Partners and advisors
15% Allocated to project team share
9% Allocated to bonus and reserves
3% Allocated to bounties
FUND DISTRIBUTION
52% Allocated to Ecosystem development
4% Allocated to Financial overhead
15% Allocated to marketing
10% Allocated to IT infrastructure
19% Allocated to legal and regulatory
TEAM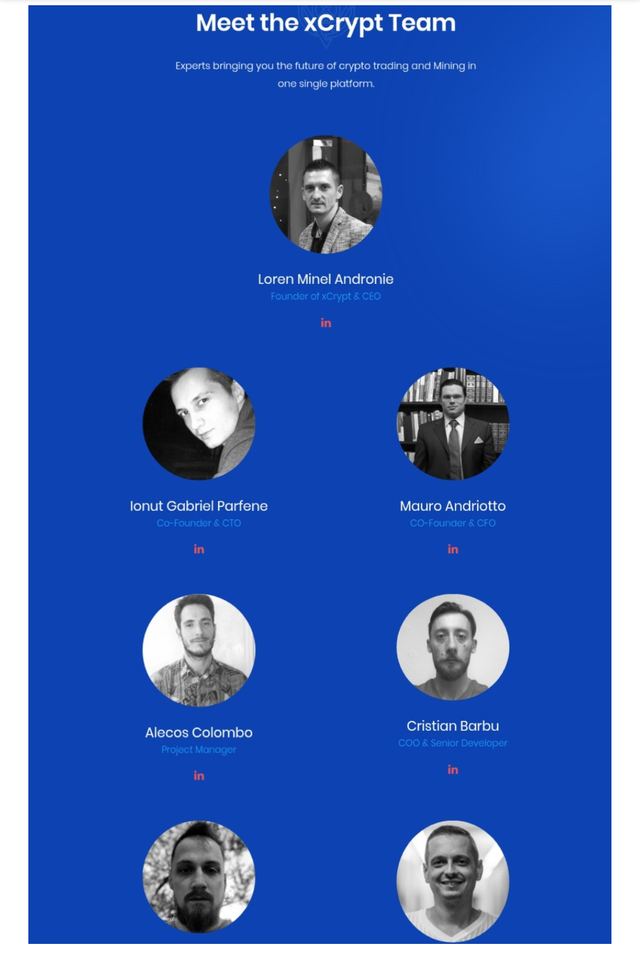 PROJECT TIMELINE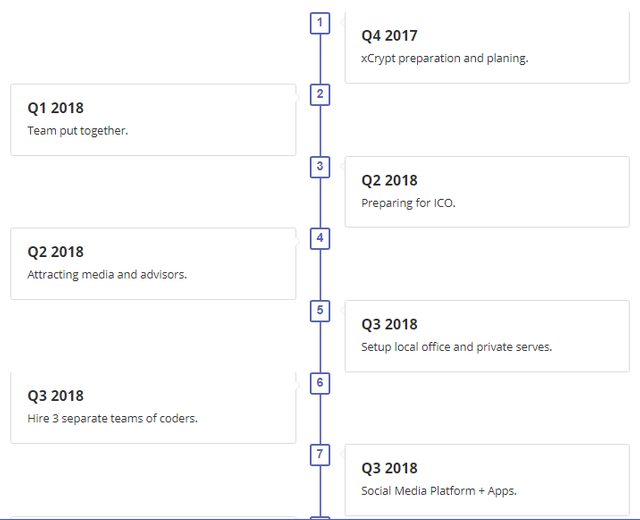 Please do well to follow this project via the channel and links below. Thanks!
Website => https://www.xcrypt.club
Whitepaper => https://www.xcrypt.club/whitepaper.pdf
Facebook => https://www.facebook.com/xcryptclub/
Twitter => https://twitter.com/xcryptclub
Telegram => https://t.me/xcryptclub
Instagram => https://www.instagram.com/xcryptclub/
Youtube => https://www.youtube.com/channel/UCSTVlIYw7fj9PrVu9FYKKVQ
Github => https://github.com/xcryptclub
author:
rivaldo2020
BTT Profil link:
https://bitcointalk.org/index.php?action=profile;u=2051385
0x320f6344D4BE878C96e77AD580e2EE132C4BF6F8