xDAC Platform — Place To Start and Manage Decentralized Companies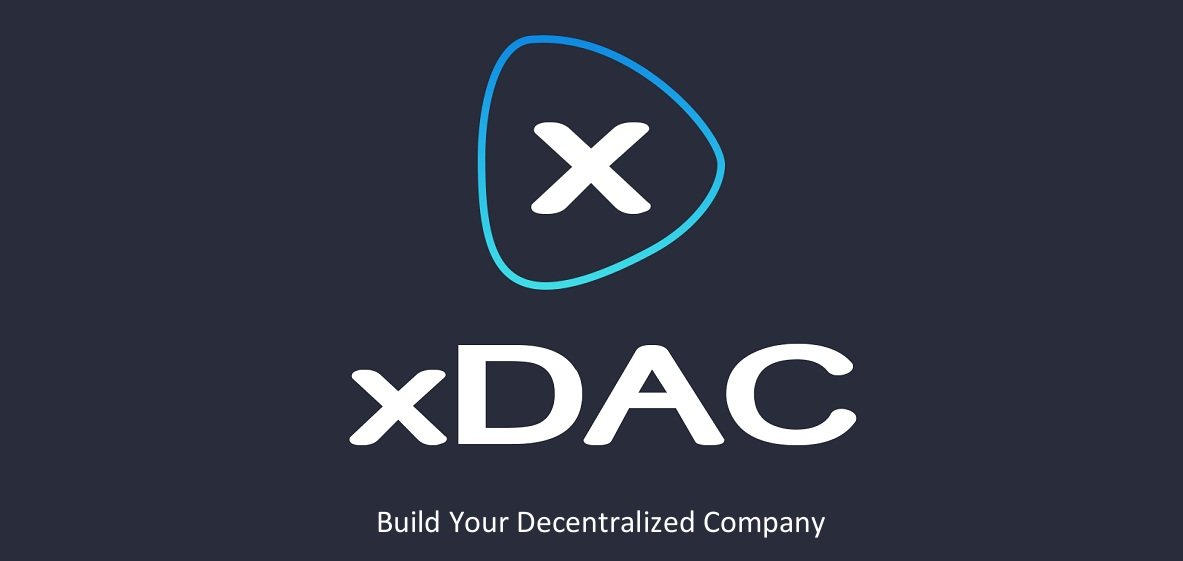 Website: https://www.xdac.co
xDAC Platform aggregates three components together in one place, automates them, so system is beneficial for company and their customers. Companies have control over their governance, finances and their respective team. Business partners have confidence that companies they deal with are reliable and solvent by using a transparent system of governance and dispute resolution. An xDAC Platform is focused on creating a comprehensive framework for entrepreneurs, teams, autonomous agents or investors in crypto space who can benefit from decentralization.
xDAC helps owners to operate a transparent decentralized company in front of their investors. Company owners can manage their team, tokens and financials, and securely store data on a decentralized ledger. Automated governance and dispute resolution will add to the speed of business evolvement and reward systems will make companies and their teams more productive, efficient, and motivated.
xDAC is an entity created and operated on decentralized digital ledger by one or multiple human or Autonomous Agent owners or a mixture of both that share a common purpose and unites in order to focus their various talents and organize their collectively available skills or resources to achieve specific, declared goals.
Decentralized company owns capital and other, primary digital, assets. It can also collaborate with other partners or businesses inside and outside of decentralized network – making it a highly versatile entity.
Such a company exists as long as it is able to self-update its most basic components and continue being recognized as the same entity or until it decides to terminate its existence.
For customers
Fast and automated dispute resolution: xDAC provides arbitration system for any given dispute between two parties which allows arbitrators to resolve dispute based on documents provided by applicant and defendant very quickly.
Liability fund that can cover company's debts or liabilities: Liability Fund is liability coverage in case of the xDAC's debts or liabilities. It is created as percentage from received payment that is stored on separate wallet until
certain limits are reached.
Transparency: Ownership in public xDAC organization is transparent and transferable. Voting token holdings are public, and owners have the right to transfer ownership to another party. There are four transparent functions of
ownership built into public xDAC:
(a) List all voting token holders (and their holdings)
(b) Issue tokens, arbitrarily or with parameters
(c) Sell or transfer tokens
(d) Issue new non-voting tokens
For businesses
Same governance across entire platform
Control over teams and finances
Easy fundraising
xDAC platform profits distributed back to xDAC's, not to other projects
No local government registrations and interference
Less administrative adherence, more time to focus on business
Architecture
Ecosystem can be viewed as several distinct technological layers strategically connected together.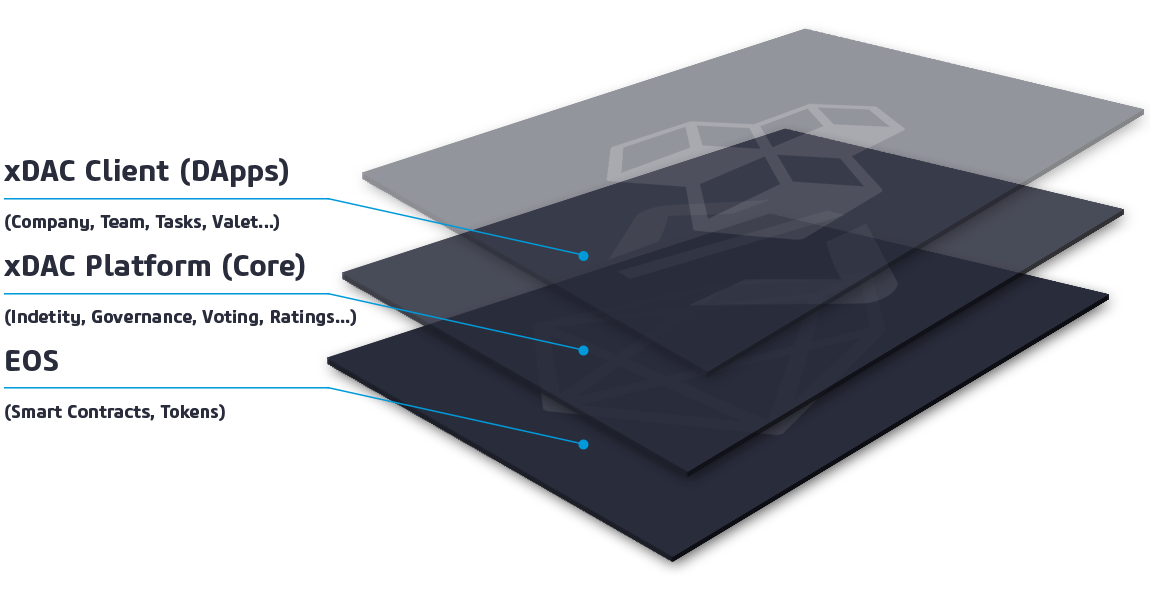 EOS Platform
Among the decentralized smart contract platforms, EOS is the most advanced, feeless, blockchain platform. Only in its testing phase, the growing developer community is in the midst of testing on top of the EOS platform, creating a vibrant ecosystem of second layer protocols and projects.
Scalability in a secure blockchain environment has become a hot topic in the industry and one that must be addressed. EOS is scaled to perform tens of thousands of transactions per second while other blockchains are seemingly congested with smaller projects.
xDAC Platform (Core)
xDAC Platform is the public's smart contracts layer which provides an open-sourced implementation of the key components creating not only an environment but the governance for decentralized applications (DApps) and Autonomous Agents to be built on.
The xDAC platform will be generating revenue from fees that will be used to reward the most productive xDACs based on their PoW performance rating to incentivize their productivity on xDAC platform.
Account Types
Three types of accounts will exist on xDAC Platform:
New xDAC: By creating an xDAC, owners will create a new company and are permitted to add team members, set their privileges, issue tokens, and other functions related to xDAC management.
xDACs can make their information public and distribute tokens to the public through ICOs or any other public offering. xDAC will become an automatically transparent to investor accounts. Investors will have full access to review company processes and may vote from their investor account which, in turn, makes future ICOs more secure.
Team Member: This account is design for company employees, contractors, freelancers or autonomous agents looking to join a specific xDAC team or any other team looking to hire new members into their team.
Investor: From access to the database of public xDACs to information about their teams, productivity, financials, investors have the power to vote from their xDAC account.
xDAC Ownership and Token Issuance
With creation of xDAC, owners have option to issue a certain number of voting or non-voting tokens and distribute tokens between the owners/public through ICOs or token sale. Issuance of tokens will be performed through smart contract on the EOS platform.
Wallets and Payment Processing
xDAC platform will provide xDAC with two hot wallets as well as two hot wallets for each team member for XDAC Tokens.
xDAC Wallets: One wallet is for operational transactions accessible to xDAC owners or to authorized team members. The second wallet will be liability fund.
More wallets can be provided to xDACs to store their own company tokens or other tokens they receive as payment for their goods or services.
Team Member Wallets: Primary wallet team members use for receiving payroll salary whereas the second wallet will be retirement fund.
xDAC Payment Processing will be automatically available within each xDAC wallet. Every time xDAC receives payment, payment to liability fund will be subtracted from proceeds.
xDAC Liability Fund
An xDAC Liability Fund is coverage in case the xDAC's debts or liabilities exceed a certain debt-to-equity ratio. It is calculated as a percentage of received payments stored in a separate wallet until certain threshold is reached. Liability fund is not accessible to owners during the company's existence and is available for transfer 90 days after the company is ceased or transferred to new owner. Default settings on percentage and limits will be specified later; however it can be changed by xDAC owners and it is entirely in their power to establish a liability fund limit based on their business type. When setting up liability fund it is advised to set higher limit to avoid company freeze when small disputes are initiated.
xDAC Client
xDAC Client is a user interface that aggregates all available DApps and Autonomous Agents in one place. The initial plan is to build website and desktop applications for easier interaction with xDAC Platform.
Listed applications might not be available with initial releases and could be added in different order as work on project progresses. Here are some of DApps features:
Company Overview
To maintain xDAC culture across all owners and team members, it is important to specify xDAC name, company vision, social profiles, contact information, targeted customers, brand identity and other important company information related to brand and company goals.
Voting, Bylaws and Company Assets
Each xDAC will have the option to issue specified amount of voting or non-voting tokens at creation and split tokens between owners or launch token sale or ICO. All issued tokens are compliant with the ERC23 token standard
which means that stakeholders' addresses can be linked to a name or tag or fetched by a secure identity provider.
Voting
Each owner of xDAC issued voting tokens have right to vote for ideas or important company decisions. In case of voting, new task is assigned to token owners in their account where each owner of voting token can vote. Voting is governed by a DAO concept.
Bylaws
Owners are able specify their own bylaws as the rules of an xDAC, established by the board of owners during the process of starting an xDAC.
Company Assets
List of company assets and their value can speed up a company sale, acquisition or liquidation. The list will be
available to all xDAC owners.
Team
xDAC team consist of team members (employees, contractors, freelancers or autonomous agents, etc.) that can work from same or remote locations. Initially, the company can hire team members after signing up for a membership account.
Designed for xDAC team members, managers will add each company's personnel to hierarchy. With placing team member into xDAC hierarchy, each employee will get privileges allocated to specific xDAC functions tailored to their responsibilities.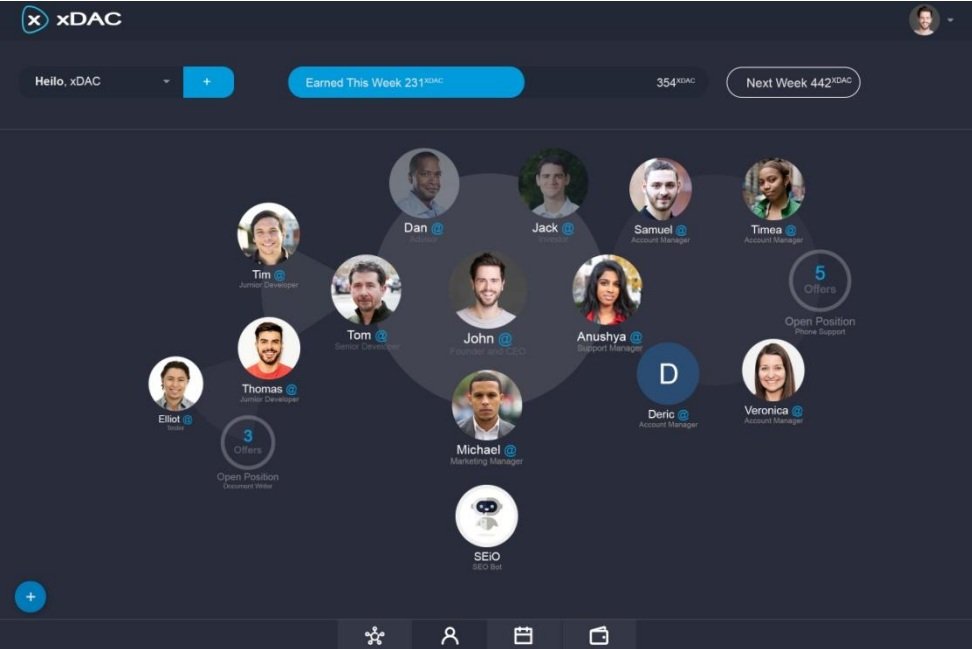 Furthermore, the user interface will let owners choose the amount to pay, the frequency, the tokens to reward, and the parameters. This is to safeguard the company in case xDAC doesn't want to pay certain employees based on assigned tasks. Team members are paid in XDAC tokens.
Project management
Project and task management is an important part of xDAC DApp ecosystem. It is the productivity DApp that forces leaders to manage their team effectively. Each assigned task has price options in XDAC tokens which keeps the team motivated while increasing token usability. Project management DApp provides the option to create projects, task lists and tasks and assign tasks to any team member.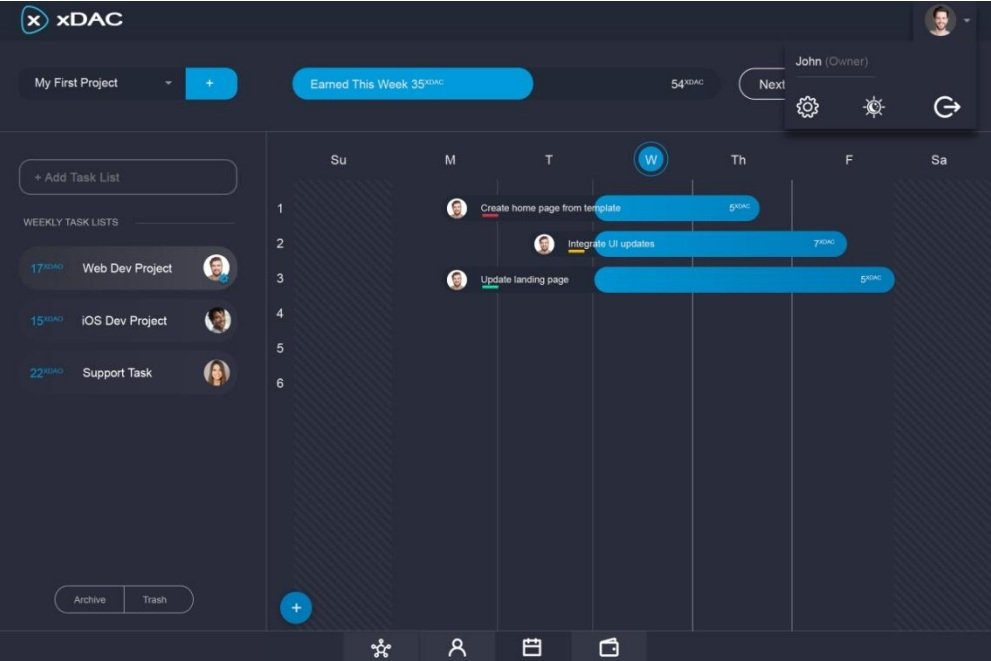 Wallet
The most important part of each company is payment processing and digital wallet. xDAC Platform will create wallet for each xDAC upon company establishment. Wallet will contain merchant features like a "Buy Now" button and streamlined billing. The "Buy Now" button can be placed on the company's website and billing options allow for the creation of invoices.
New xDACs will have to establish a liability fund from received payments used to back disputes resolutions and/or fraud.
Payments can be accepted in different crypto currencies and converted by using third party services like ShapeShift or atomic swaps. The third party payments can be easily integrated for currencies that support this option.
The most important feature of Wallet is keeping track of all financial transactions, dates, and notes in key financial reports.
xDAC Foundation
xDAC Platform and xDAC client is developed by xDAC Foundation – the current team responsible for development and deployment of the xDAC project. xDAC Foundation initiates fund raising through XDAC Token and proceeds will be transferred to the foundation to finance further development.
XDAC Token
XDAC token is a platform currency representing value and wealth in the decentralized economy used for exchange of values between xDAC companies, employees, customers and other third-party entities.
The token will be used on the xDAC Platform for dispute resolutions, pay team members, accept payments for services, profit distribution, and incentivize development.
XDAC tokens are ERC-223-compatible tokens distributed on the Ethereum blockchain pursuant to a related ERC-223 smart contract. Ethereum tokens distributed in the ICO phase are pre-existing tokens and will be migrated to another protocol on the EOS platform.
The Ethereum XDAC Tokens do not have any rights, uses, purpose, attributes, functionalities or features, express or implied, including, without limitation, any uses, purpose, attributes, functionalities or features on the xDAC Platform.
XDAC COIN SALE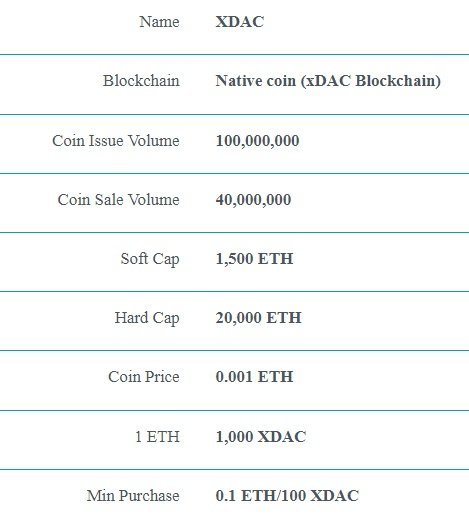 Early Investors

Buy XDAC Coins: https://xdac.co/buy
COIN DISTRIBUTION & USE OF FUNDS
A coin sale will distribute 40% of coins within investors and 20% of coins will be used to incentivize early adopters of the platform. The remaining 40% will be retained with the project team. Proceeds from a coins sale will primarily be used for R&D, operational expenses and marketing.
XDAC Coin Distribution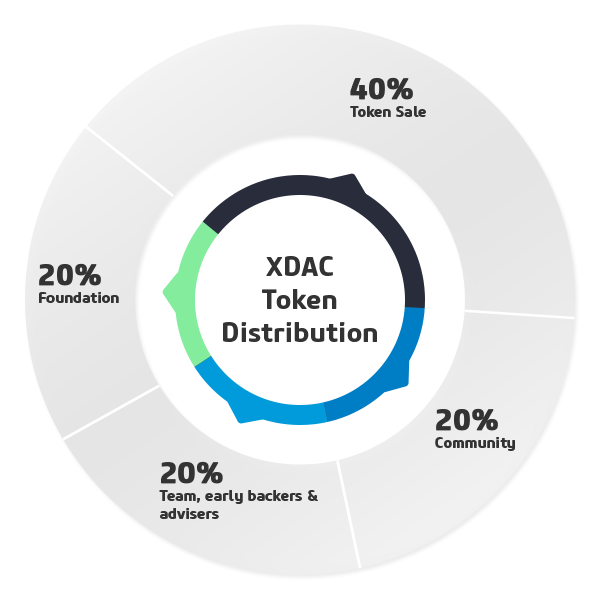 40% Coin Sale (Pre-Sale and ICO, post-ICO)
20% Community (Airdrop, xDAC Team Members and Arbiters)
20% Team, Early Backers and Advisers (Vested 6 months)
20% Foundation (Vested 1 year)
Use of Funds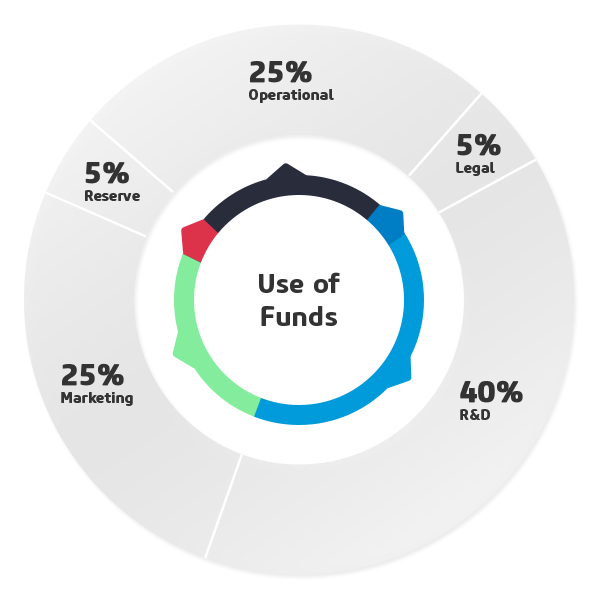 40% Research & Development
25% Marketing and Community Management
25% Operational
5% Legal & 5% Reserve
ROADMAP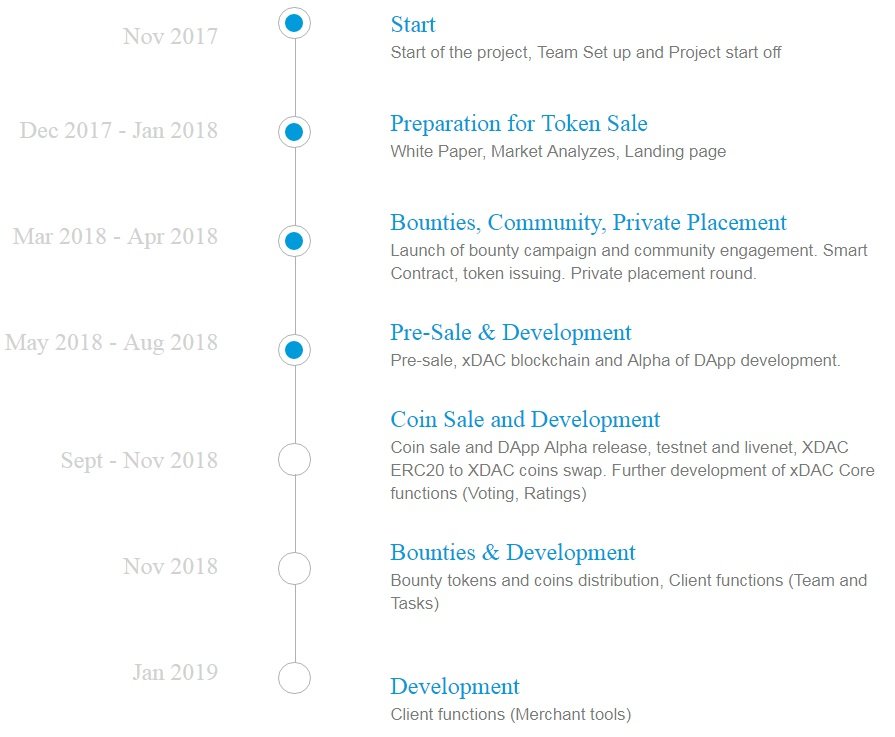 Links:
Website: https://www.xdac.co
Whitepaper: https://web.xdac.co/docs/xDAC-Whitepaper.pdf
Twitter: https://twitter.com/xdacco
Telegram: https://t.me/xdacco
Telegram group: https://t.me/xdacgroup
Reddit: https://www.reddit.com/user/xdacco
Reddit: https://www.reddit.com/r/xDACplatform/
Medium: https://medium.com/xdac
Github: https://github.com/xdacco
=====================================
Account Name: criptocripto