XERA
XERA : Dynamizing Cryptocurrency Trading – Designed and developed by traders, for traders!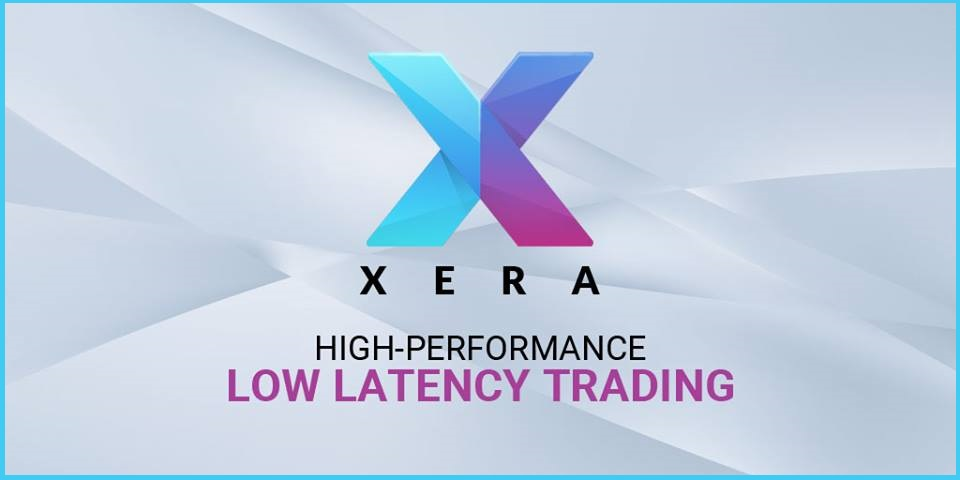 What is Xera?
XERA challenges traders facing with cryptocurrency exchange platforms while providing an integrated solution for traders and investors who are interested in the cryptocurrency market. XERA will provide the professional tools and resources that traders require for precise trade execution. XERA is currently establishing partnerships with professionals from various industries to assist in the development of a robust trading platform.
Liquidity Improving liquidity on crypto trading platforms is one way to encourage mainstream adoption. To make it one of the priority solutions, we will dedicate 10% share from profit generated from trading fee and put that in a reserve liquidity pool. This will ensure that liquidity remains healthy all the time.
Highly Secure Xera experienced security team is backed by a rigorous set of audits and the latest innovations in cybersecurity. Not only are we committed to handling your crypto and fiat, but also ensure that personally identifiable information (PII) should be completely secure from theft and unapproved accessibility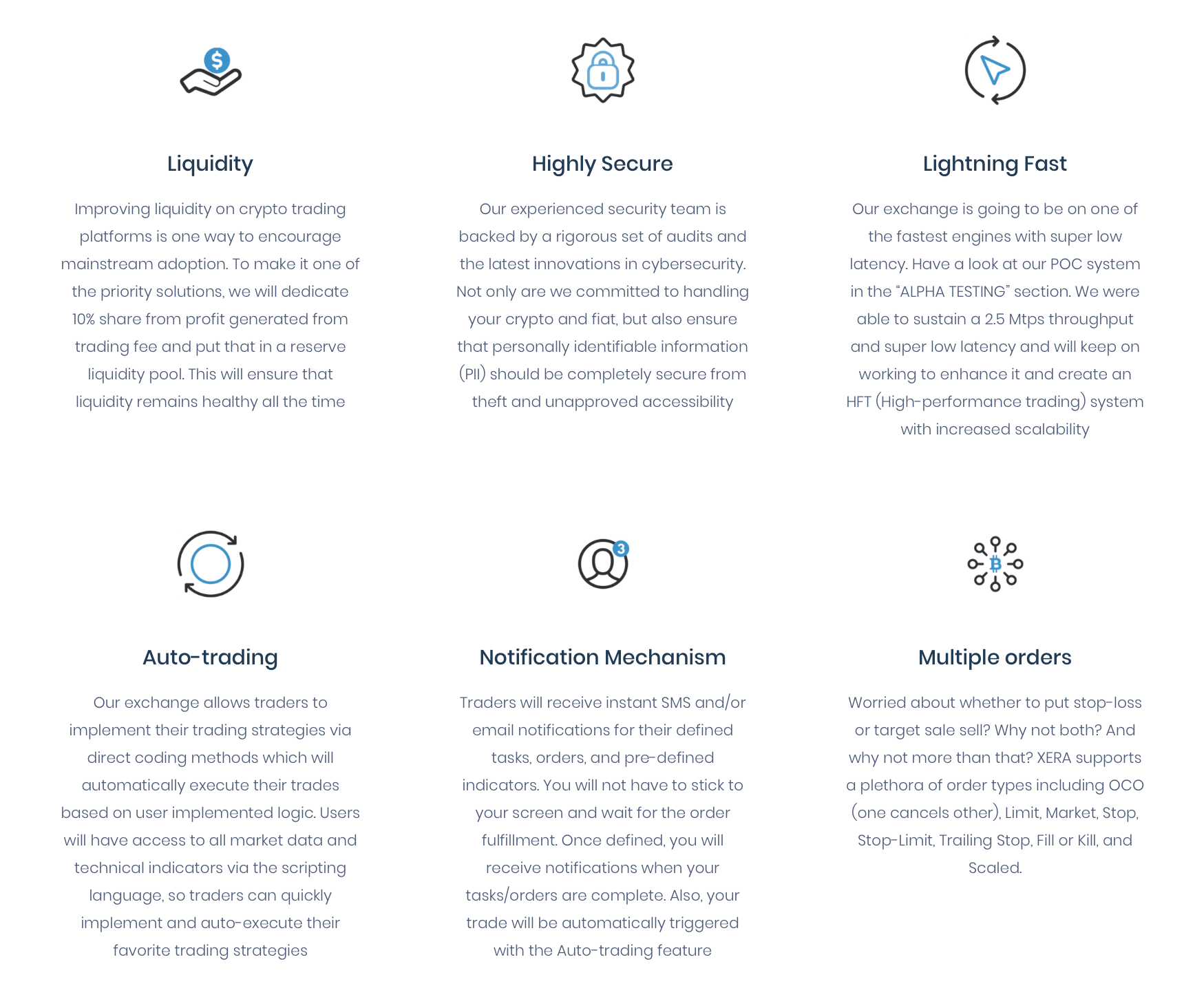 Lightning Fast Our exchange is going to be on one of the fastest engines with super low latency. Have a look at our POC system in the "ALPHA TESTING" section. We were able to sustain a 2.5 Mtps throughput and super low latency and will keep on working to enhance it and create an HFT (High-performance trading) system with increased scalability
Auto-trading Xera exchange allows traders to implement their trading strategies via direct coding methods which will automatically execute their trades based on user implemented logic. Users will have access to all market data and technical indicators via the scripting language, so traders can quickly implement and auto-execute their favorite trading strategies
Project Team:

The XERA team is comprised of traders who have gained decades of experience in the banking and information technology sectors. As such, we have identified the functions that should be non-negotiable in a quality cryptocurrency exchange. Many traders currently have to use third-party and other paid tools to fulfill their full spectrum of cryptocurrency trading requirements via exchanges. XERA will be a fully integrated cryptocurrency trading exchange that resolves the key issues and challenges that traders are facing with current exchanges. To fund the development of XERA, an ICO will be launched to sell the XERA token and provide traders with access to a platform that incorporates all of the components that investors need at one place.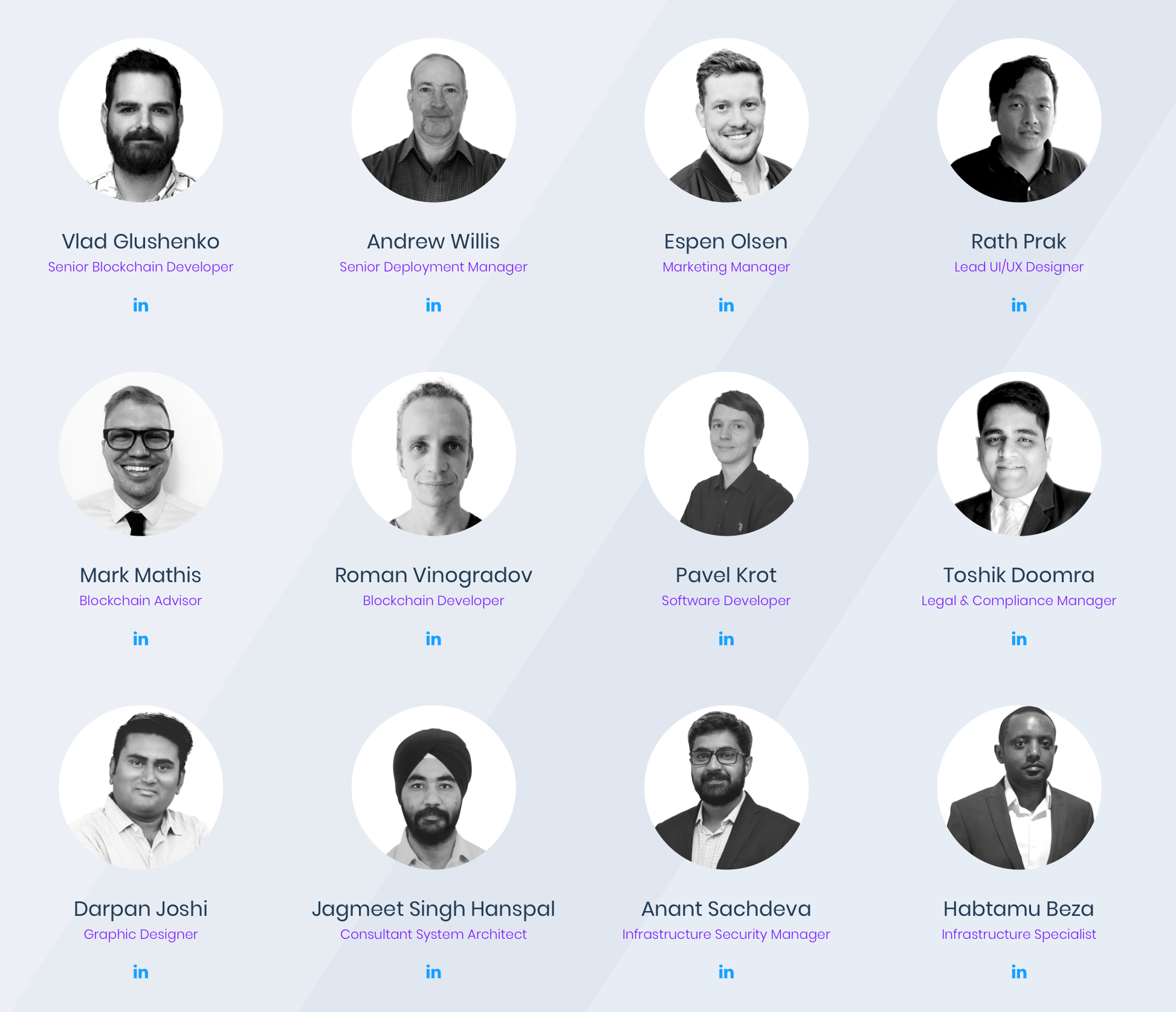 Token Details:
The Xera token is developed on the ERC20 standard and is going to follow the Ethereum platform. Xera token can be used by traders to reduce their trading fees, and through our token buyback monetary policy, continue to generate additional value for their cryptocurrency portfolio. The token will be the native currency for XERA and will be priced at $0.50 per token. XERA token sale will start on October 1, 2018 and conclude on November 27, 2018. Funds raised from selling 70% of the token supply during the ICO will be used to establish the decentralized XERA exchange that will be launched in Quarter 2, 2020.

Token Symbol XERA
Token Protocol Ethereum, ERC20
Token Sale Start 1 October 2018
Token Sale End 27 November 2018
Max circulating supply 95,000,000
Tokens for sale 65,500,000
Token Price0.50 USD
Payment methods ETH
Softcap 11,172,000 USD
Hardcap 29,260,000 USD
Verdict:
Centralized exchanges are prime targets for hackers and other nefarious agents; the truth of this statement has been demonstrated by incidents involving XERA provides a scripting environment for trade automation that allows traders to imple- ment their trading strategies via direct coding so that the trades get executed autoomatical- ly based on user implemented logic. Users will have access to all market data, technical indicators, account balance, open orders & trade history via scripting. The exchange will also provide a simpli ed interface for users to con gure indicators, set up certain conditions, and perform trades automatically. While we plan on conforming to current regulations which are focused on knowing your customer (KYC) and Anti-Money Laundering (AML) protocols, we also understand the bene ts of launching a decentralized exchange:
Important links: