Many labor markets in high-income economies face structural changes (rising labor costs, shortage of suitable workers, etc.) caused by demographic and educational changes in communities nowadays. Therefore business owners are looking ways to automate repetitive and redundant tasks.These problems are especially acute in the service sector, where personnel fluctuation and the lack of trained employees is almost overwhelming.
The newest and most popular option being the implementation of customer-facing robots, which are meant to help or replace human workers who perform this kind of tasks. As customer-facing robots are being deployed by numerous businesses, some of the industry's segments are falling behind in productivity and innovation due to the lack of economically viable service robots available.
Robolab, the aptly named company that specializes in service robotics, has already built a prototype robot for the task. Dubbed Yanu, this "bartender" robot comes with snake-like flexible arms that can grip glasses, pour drinks and take payments.
More about Yanu, let's find out in this brief review!
ABOUT YANU
Yanu is a blockchain-based bartender service powered by artificial intelligence. Robolab represents a robotics platform operating in food and drinks industry. Robotics unit is faster and more capable than human and it knows a lot of beverage recipes. The service is aimed to promote robots integration in various areas including medicine, transportation, etc. Basically, Yanu is designed to do everything it does far more efficiently as compared to the average human bartender.
Blockchain technology implemented helps to protect users' data and enables transparent transactions. All robots are made of high quality components produced by major companies. Robots implementation is essential because of increasing need of automation in all industries. It is more profitable for companies to use robotic units as it cheaper, more efficient and only needs regular maintenance.
Yanu also comes equipped with a chatbot technology, which enables it to communicate with people. It is programmed to remember a customer's previous drink orders, offer local sightseeing tips and perform a range of add-on functions, which may include cracking occasional jokes.
Without delving into the technical nitty gritty, Yanu hosts a disembodied cybernetic arm inside its body (a kiosk, basically). This arm, powered by Robolab's homegrown AI system, can serve up to 150 to 200 drinks an hour. Comparing that with the ability of an average human bartender, each unit of Yanu is capable of replacing up to four bartenders made of blood and flesh.
While it is obvious that a robot CANNOT replicate some of the intricate parts of the human bartender experience (at least not yet), Yanu may prove itself very helpful in popular pubs, clubs and lounges with high turnouts. Robolabs has reportedly already entered into agreements with five airports in Europe and two beverage companies whose flagship cocktails will be among Yanu's specialty following its launch.
WHY YANU?
Considering the huge rise in automation, the increasing market share of the service industry and the issues on today's labour market, our company has decided to step in and help out businesses with breakthrough solutions in service robotics.
Behind the fancy design there is a tireless workforce of artificially intelligent robots designed to work with and for humans. The new YANU bartending unit will help you as a bar-owner serve more clients considerably faster, with no errors and much lower expenses.
As a customer the benefits are obvious: besides being cool to watch, YANU never forgets anyone, gets your drink in half a minute, communicates with you via an app, treats you as a VIP if you pay in tokens from our ICO and even acts as a personal assistant of sorts.
YANU BENEFITS
The Yanu benefits are obvious:
-A leaner serving process
-Reduction of manual work
-Advanced safety
-Increased operantional availability
-Increased security and limited errors
-Decreased labor costs
-Much higher productivity
-25% increase in weekly operation hours
-Better quality of production
-10-15% less material loss
-Lower rent fees because of compact size
YANU TOKEN ICO
Starting this August, Robolab is launching an initial coin offering (ICO) with the hope that the venture will help the company raise enough funds to unveil a full prototype of Yanu by the end of the year.
The ICO, scheduled to run till Nov 11, will award all token holders with a number of benefits such as free entry to lounges and pubs featuring Yanu, VIP status and much more. In fact, the official Yanu ICO page says that Yanu "even acts as a personal assistant of sorts" for people who pay using tokens from the ICO.
They token has built-in characteristics to increase demand and liquidity, limiting supply and providing downside protection.
Demand for the token is created by discounts, which invite clients to purchase tokens from the open market and pay with tokens. Robolab is offering up to 50% discounts on units.
2% of the revenues worth of tokens will be burnt on each transaction thus decreasing the number of tokens in circulation constantly.
Conversion rate for purchases is the initial ICO price (0.1 Euro) or the market value of the token (whichever is higher). – – – This is downside protection. They investors can be sure that there is always a market for tokens since they offer real products.
Tokens are always usable in the Yanu robotic bars. You can always spend your tokens in bar for at least the initial ICO price. Tokens will always have the value for what you bought them at ICO.
Token Information
Token Ticker: YANU
Platform: Ethereum
Type: ERC20
Total Token Supply: 400 million YNU
Token for Sale: 100 million YNU
Acceptable currencies: ETH, BTC
Price in ICO: 1 YANU = 0.1 EUR
Soft cap: $1 million
Hard cap: $10 million
Registration Country: Estonia
Website: https://yanu.ai/ico/
Token distribution
50% – Escrow and Future Expansion
25% – Public Offering
20% – Bonus and Referral Program
5% – Team Members and Advisors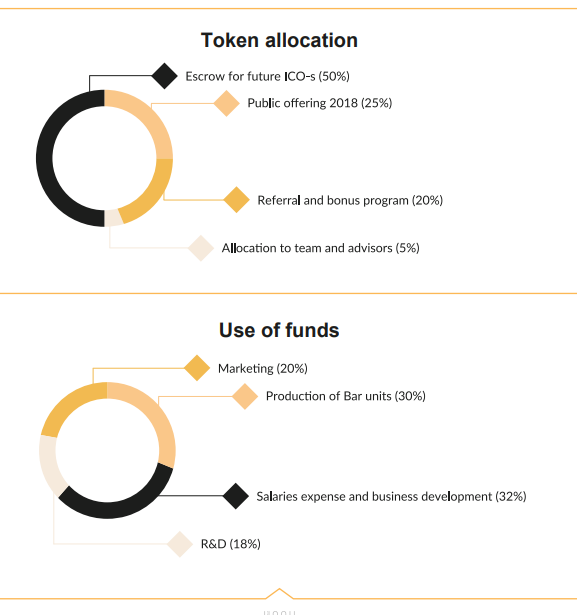 MORE INFORMATION CLICK LINK BELLOW:
author:
rivaldo2020
BTT Profil link:
https://bitcointalk.org/index.php?action=profile;u=2051385
0x320f6344D4BE878C96e77AD580e2EE132C4BF6F8