What is Yayproto?
Basically. YayProto is the world's first multipurpose binary protocol built with a decentralized technology in mind.
Goal
To create a decentralized cryptographic-resistant messaging system for private transactions.
Features
International and local money transfer: Users can enter the recipient's address directly into their wallet and send quick transfers to anywhere in the world.
Wallet: YayProto Wallet is an alternative to traditional banking with a better way to spend, save and share money. It is absolutely fee-free and straight from mobile application!
P2P Exchange: YayProto platform allows to connect a large number of individuals to trade cryptocurrencies across the globe.
Card: The virtual and physical cards will be issued with the function to connect virtual assets in the finance sphere.
Lending: P2P Financing & Investing Platform which enables a single individual or group of people to issue loans. YayProto tokens will be used to determine the credit score and are considered as important part of the system.
Built-in encrypted messenger: A full-feature decentralized private, secure and encrypted messaging app. It is also capable of sending multimedia, and also support live encryption of all multimedia streams. The app enables to send money P2P.
Shopping Offline: A free online marketplace where people can securely and reliably buy and sell any items you wish using cryptocurrency. Like any regular marketplaces it will have all features you need to manage your stores.
Tokens use case
In-app payments
Offline payments
P2P-transfer
P2P and crowdlending
As well as having an ability to pay for YayFon main products suited for business, like Call Button and/or Cloud PBX(release date March 1)

Eve wants to send money to Faythe.
Faythe lives in the same city as Alice. Eve also lives in the city where Dan (step 1) lives.
Eve generates QR-code/Password and sends it to Faythe. Eve contacts Dan and provides him money. Faythe contacts Alice and Alice releases the money, minus the fee.
Eve's account now has a positive balance of currency(YFN, USD and/or etc)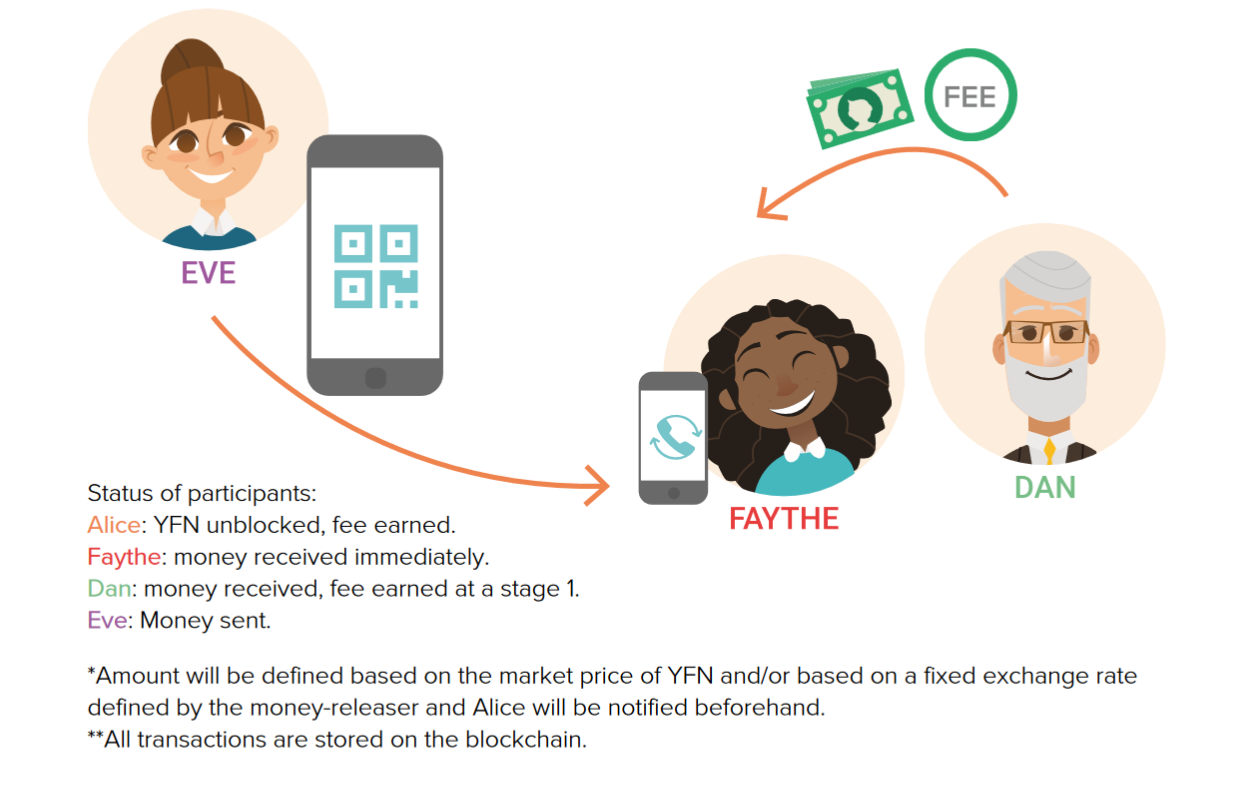 Additional features:
Ranking system
Ranking system will be applied for transfer, as well as lending platforms. Ranking system will be based on personal rating, performance/time efficiency, community feedback, response speed.
How it will work on Blockchain
Step 1
Alice wants to send money to Bob in another city or country.
Alice opens an app and sees a list of people, who are living in the same city/country as Bob and wish to provide the money with some extra fee.
Along with the money, Alice generates a QR-code/password and sends it to Bob via the messenger (this will lead to the money being paid out).
Bob, with a QR-code/password provided by Alice, contacts the nearest person (Dan) and, after providing him the QR-code/Password, receives his money, minus the fee.
For Alice, to start this operation the minimum amount* of YFN is required on her balance, which after QR-code/Password generation will be blocked.
Token Details
Name: Yayproto
Symbol: YFH
Price: 1 ETH=7500 YFH, 1 BTC=75000 YFH
Min. transaction amount: 1 ETH, 0.04 BTC
Accepted Currency: ETH, BTC
ICO


Token Distribution
ICO – 50%
Pre-ICO – 15%
Developers Community Bounty – 10%
Advisors/Contributors – 10%
Team – 10%
Marketing Community Bounty – 5%
Use of Funds
Platform Development – 45%
Developers Support/Bounty Program – 15%
Operational – 15%
Marketing – 13%
Other – 2%
Road Map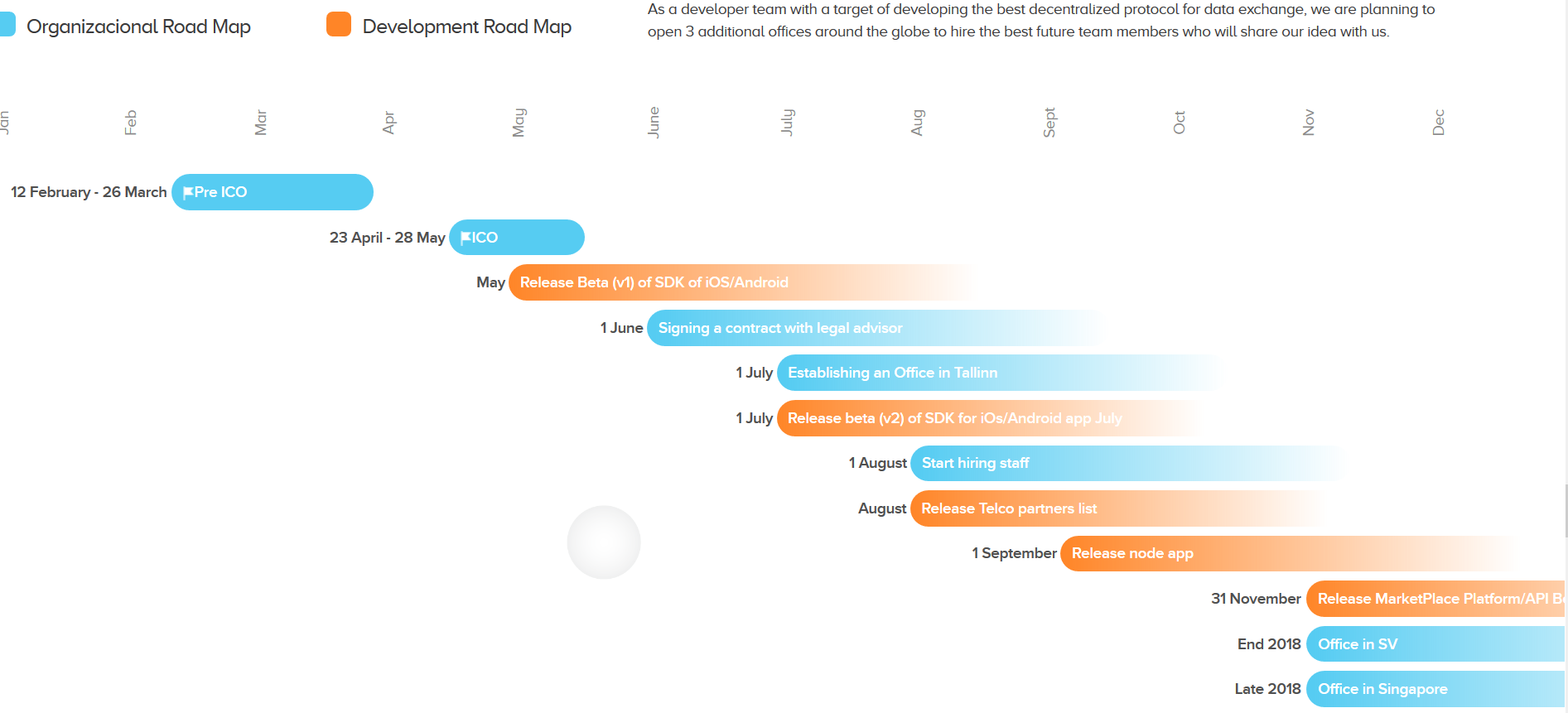 Meet the Team
Farid Amrahov: Co-Founder & CEO
Jamil Abdullayev: Co-founder, CTO
Nadya Lapkovskaya: Senior Core Developer
Sergey Klincevich: Senior Developer
Alex Kolonitsky: Product Development Director
Valery Shcherba: Project Manager
Anar Mahmudov: Co-founder, Business Development Manager
For more visit
Website: https://ico.yayfon.com
Whitepaper: https://ico.yayfon.com/whitepaper
Twitter: https://twitter.com/YayProto
Facebook: https://www.facebook.com/YayProto
Telegram: https://t.me/YayProto_ICO
YouTube: https://www.youtube.com/channel/UC17nf13s9jPvcwCKuNjTUsQ
Published By: Hurricanecol
BTT Profile: https://bitcointalk.org/index.php?action=profile;u=1576406