You want to be a star: be a part of Z-POP DREAM project
The Dreamer Problem: Aspiring artists do not get a chance to showcase their talents to the world.
The Fans Problem : Fans are left out of the process of creating a star.
The Music Industry Problem: A high hurdle to create stardom on a global scale.  It is rare for these artists to  conquer on a worldwide stage while there are indigenous artists with a strong core fanbase within individual countries.
The business model of the project Z-POP DREAM has both a star creating business and a global online monetization platform.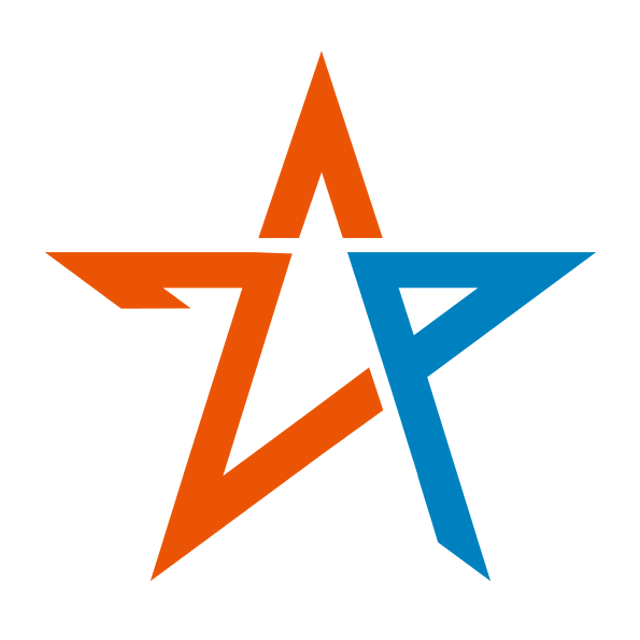 The project will create a global entertainment ecosystem for discovering the hidden talents of pop music, accelerate their growth to fame and create a global economy of tokens in the global music market. 
The company is founded by a team of professionals who created global music stars K-POP, such as PSY, Girls' Generation, BTS, EXO, and WannaOne.
Starting from the Asian scale, then to the rest of the world, and helping increase their popularity into pop music stars who join hands with hundreds of millions of K-POP music fans spread all over the world, and create a global economy in the global music market to detect $ 46 billion. Z-POP DREAM Founded by a professional team that gave birth to global K-POP music stars such as PSY, Girls' Generation, BTS, EXO, and WannaOne.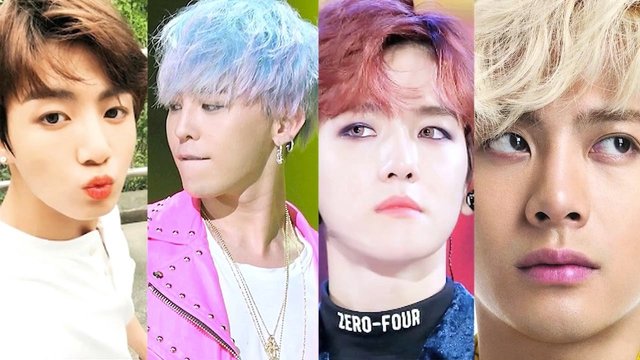 In this case, the Z-POP IMPIAN project was adopted by several approaches, including:
Find and support hidden stars
Strengthening admirers for the growth of stars
Grow a star to the world star
Throughout the process of opening and creating Stars, fans will be able to support their favorite stars and influence the outcome of events by voting through the use of the ZPOP coin available during the initial offer. Z-POP Dream ecosystem will not only give fans exclusive access to the goods and content, but also a rare opportunity to be an influential part of the process of creating the Star from the very beginning.
Business model:
The results from ITO will be used to accelerate the creation of infrastructure, and on the other hand that will create a global online monetization platform, which will validate revenue opportunities generated by star-making businesses, including ticket concerts, merchandise, online content and admission tickets to exclusive events.

This project is going to create a factory of stars, using all the qualities of a blockchain. 
Z-POP DREAM Project offers a solid business case and token economics model that the crypto exchanges are looking for.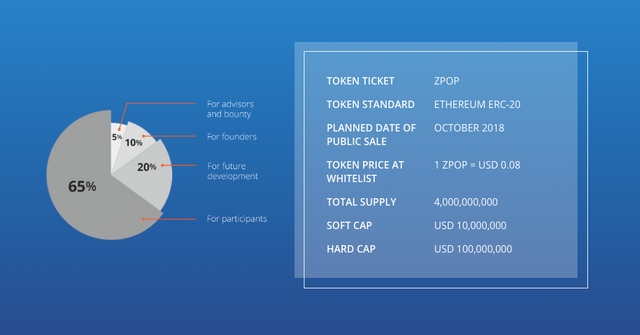 Token Name/Symbol : ZPOP
Platform : Ethereum ERC20
Planned date of public sale : October 2018*
Token price at whitelist : 1 ZPOP = USD 0.08
Total supply : 4,000,000,000
Soft Cap : USD 10,000,000
Soft Cap : USD 100,000,000
Accepted currency during the ITO : ETH, BTC, BCH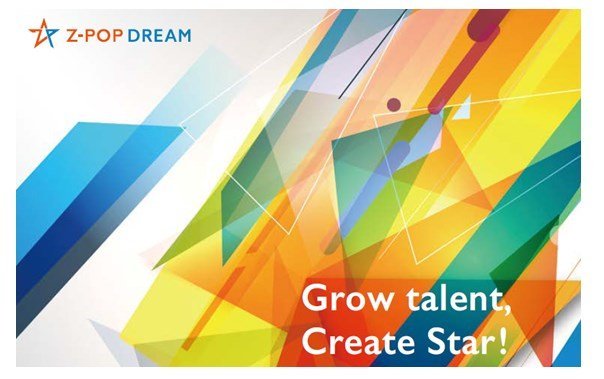 Building music stars and the creation of infrastructure in 10 regions and countries
Z-POP Star Academies
Z-POP Dream Audition
Organizing the production and promotion of Z-POP Global Stars
Z-POP Dream Global Audition
Z-POP Dream Live World Tour
Creating an online community platform integrated with Ethereum blockchain
Sale of concert tickets, merchandising, online contents
Features to empower fans to grow star
Features to return fans for support – gratitude points, personalized messages
Features to feed Z-POP and K-POP news to the global fan community
Features to help connect fans to fans
The project team includes reputable pioneers in the K-POP music industry, who collectively played a critical role in creating K-POP legends such as Psy, Girl's Generation, BTS, WannaOne, and EXO, to name a few.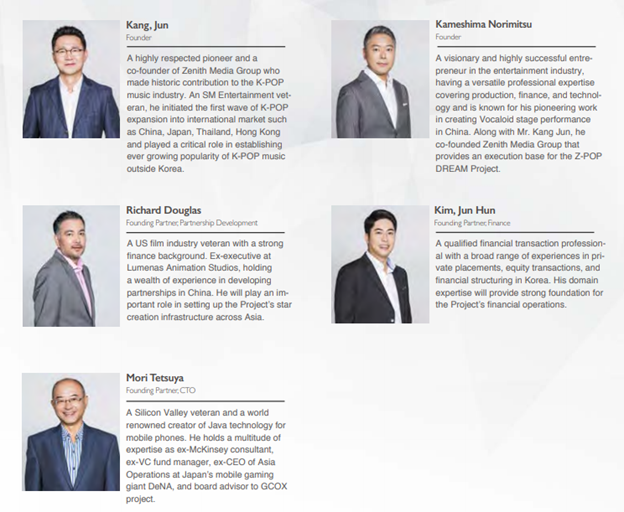 Roadmap: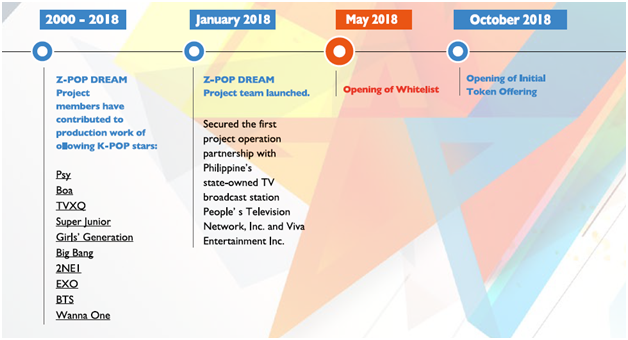 Follow links:
Website: https://z-popdream.io/#/
Whitepaper: https://z-popdream.io/docs/whitepapers/zpopdream-whitepaper-en.pdf
BitCoinTalk Bounty: https://bitcointalk.org/index.php?topic=4824059.0
Telegram: https://t.me/zpopdream
Linkedin: https://www.linkedin.com/company/zpopdream/
Twitter: https://twitter.com/zpopdream
Facebook: https://www.facebook.com/zpopdream
Reddit: https://www.reddit.com/user/zpopdream
jaywizzy
0xdAD91B2866195e538488A497fc8307c1B79468C4