Z-POP DREAM – "The Only Music Industry" Bringing Some Ethereum Into Your Wallet.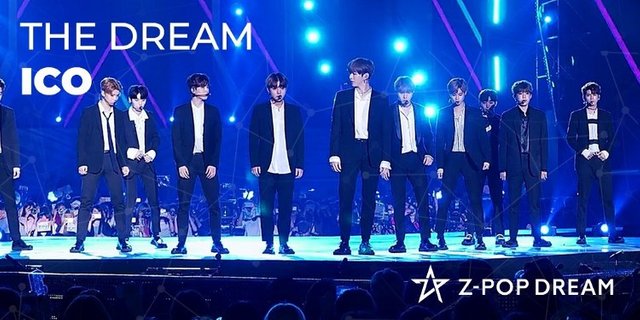 Hello.. Wellcome to my article today, through this chance, i would like to explain much about Z-POP DREAM to all of my dear readers, as we know together that the growt of Music Industry can not be avoided, now let me tell it deeper, The Project is Founded by a team of professionals who created global K-POP music stars such as PSY, Girls' Generation, BTS, EXO, and WannaOne, Z-POP DREAM Project will establish a global entertainment ecosystem to discover hidden pop music talents, accelerate their rise to stardom and create a global token economy within the $46 billion global music market, hand-in-hand with hundreds of millions of K-POP music fans spread across the world.
THE CASE WE FACE
The growth of the music it's self does not always work properly, there are many cases faced to get the top, The Z-POP DREAM Project faces the 3 main problems that occur frequently in the music industry yet sometimes go unnoticed to the vast majority of public.
Dreamer Problem: Hidden talents are not given a chance.
Fan Problem: Fans are left out of the process of creating a star.
Music Industry Problem: A high barrier to entry stardom on a global scale.
THE SOLUTION MUST WE TAKE
In facing these problems, The Z-POP DREAM Project Has been Taken several approaches, including :
Discover and nurture hidden Stars
The Z-POP DREAM Project will set up Z-POP Star Academies in 10 countries and regions outside Korea – Philippines, Vietnam, Thailand, Malaysia, Hong Kong, Indonesia, India, Japan, Taiwan and Singapore. Future stars will be created by Korea's tried and tested advanced star training methodology. The project gives talents a realistic chance to rise to stardom.
Empower Fans to grow Stars
The project will give fans the voting interest through our online platform. Fan votes will play a crucial role in decisive events such as auditions and award ceremonies. Adopting the Ethereum blockchain technology, the project makes the voting transparent and trustworthy. The Z-POP DREAM Project offers fans the opportunity to grow their favorite stars.
Grow Stars into Global Stars
K-POP is the fastest growing music sector in the world and breaking down global barriers, as first demonstrated by Psy's smashing hit 'Gangnam Style'. The legacy is carried forward by groups like Girl's Generation, BTS, and WannaOne. The project will create global stars using the successful K-POP music production formula blended with new cultural elements, K-POP's huge global fan base, and stadium-scale global audition event to be aired internationally by TV broadcasting stations.
The projects will not use their own blockchain, because using ethereum blockchain and a smart contract is enough to Issue and manage base currency in the ecosystem, making digital media licensing and tracking of content distribution and ensure trustworthiness of all transactions and fan voting.
Token Name/Symbol : ZPOP
Platform : Ethereum ERC20
Planned date of public sale : October 2018*
Token price at whitelist : 1 ZPOP = USD 0.08
Total supply : 4,000,000,000
Soft Cap : USD 10,000,000
Soft Cap : USD 100,000,000
Accepted currency during the ITO : ETH, BTC, BCH, fiat currencies
Unsold tokens during the public sale will be burned by smart contract
The Overview of the music industry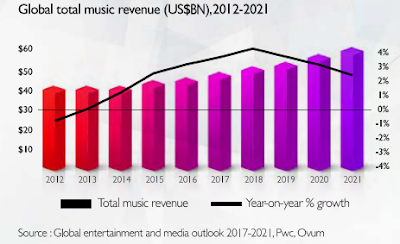 The global music industry currently generates $ 46 billion in revenues worldwide. Although it is one of the oldest forms of entertainment, it continues to grow, develop, and is supported by innovative technology. Filled, technological innovation has dramatically changed the production and distribution of accounts. However, social media and mobile internet have increased their influence – empowering fans and improving the way global hits are made.
Token Sale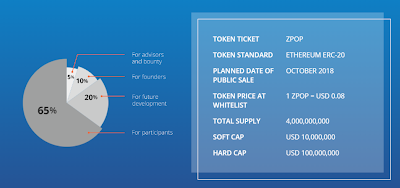 Roadmap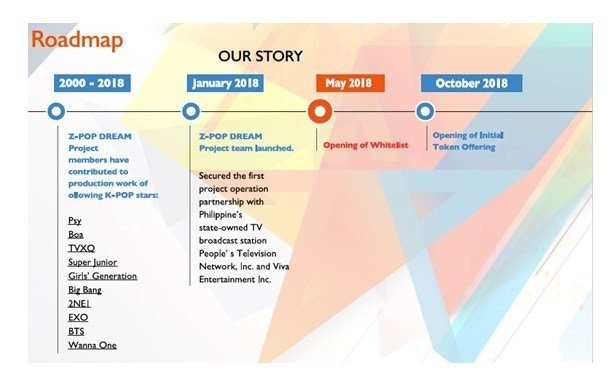 The Team

Fore More Information: 
WEBSITE | TWITTER | FACEBOOK | TELEGRAM | WHITEPAPER |REDDIT
Astrum2802
0x61177efb354baccC8D01015B0cdFdc555712601b