ZAPIT — The Only Blockchain Verified Product
In digitalized and globalized world, customer focus is more transferred towards online shopping; worldwide people order products from different regions and online retailers deliver their products to their homes, offices or wherever they want. About 190 million U.S. consumers — more than half the population — will shop online this year, according to Forrester Research, as reported by the Wall Street Journal. 
Zapit is a blockchain based application which reviews products. Currently, it is solely enabled for Amazon products. However, later its horizon is set to widen to include more online marketplaces. Amazon products can be reviewed on the Zapit website, or by installing Zapit plug-in for different browsers. The user can view reviews of the Amazon product he or she is viewing in the browser itself. Also, using the plug-in, users can post a review of the Amazon product they have used already. Zapit pays users for each review published.
It is hard to trust the reviews of products on the Amazon website. There has been evidence of fake reviews for products being posted on product pages on Amazon. It is easy to post fake positive reviews through dummy accounts. Alternately, competitors can just as easily post fake negative reviews using such dummy accounts. It makes trusting Amazon product reviews that much harder. Zapit is addressing these issues for Amazon shoppers. It is a lot smoother to shop for Amazon products after using the Zapit application.
We have identified that fake product reviews are one of the biggest problems faced by Amazon Sellers & Consumers today. In spite of various measures taken by Amazon to ensure the quality of reviews on their platform, there has been a significant increase in the number of fraudulent product reviews. Fake reviews are further classified into two parts:
1. Fake Positive Reviews: The practice of reviewing products and giving them 5-star ratings.
2. Fake Negative Reviews: The practice of giving negative ratings to competitor products.
Benefit Of Zapit
Zapit is a platform that provides legitimate user-generated reviews. While we discussed a lot of benefits that various entities get by using this platform, it is essential to summarize them all together to get a comprehensive overview of how the platform aims at creating a community where contributions are valued.
Consumers — Consumers get genuine reviews and as a result they will be able to make better purchase decisions.
Sellers — Zapit provides legitimate product reviews to sellers for the products that they decide to list and thus establish trust between the seller and the consumer. Sellers will also be able to link their Amazon Affiliate ID with us to earn extra profit on the sales of the products linked with Zapit.
Product Evaluators — Product Evaluators will become a part of the blockchainverified product reviews committee without having to invest monetarily.
Review Moderators — Moderators will be able to earn Zapit Tokens for every valuable contribution they make to the platform.
Reasons We Choose Blockchain
We designed this platform to run using blockchain technology as the basis for our platform development. Because from the first appearance, blockchain comes with the offer of fast and secure online transactions and supports all types of data and cryptocurrency. Blockchain technology uses a system, where every transaction is recorded and can not be changed forever, so transaction security and transparency can be maintained and reduce the chance of cheating data.
We prefer to use Blockchain technology because this technology is more secure than ordinary technology today. Unlike conventional technology, Blockchain technology does not require a third party, so it's safer and cost-effective. When data is recorded, it will be stored forever and can not be changed.
TOKEN SALES TERMS
An Initial Token Offering or an ITO is a decentralized method of raising funds for a new startup or a ventureZapit's Initial Token Offerings are offered to those who are interested in supporting Zapit's vision & platform. For each ITO Participant will be able to leverage their tokens to list their products on Zapit. Furthermore, they might also select to get a Zapit Moderator Account with those tokens.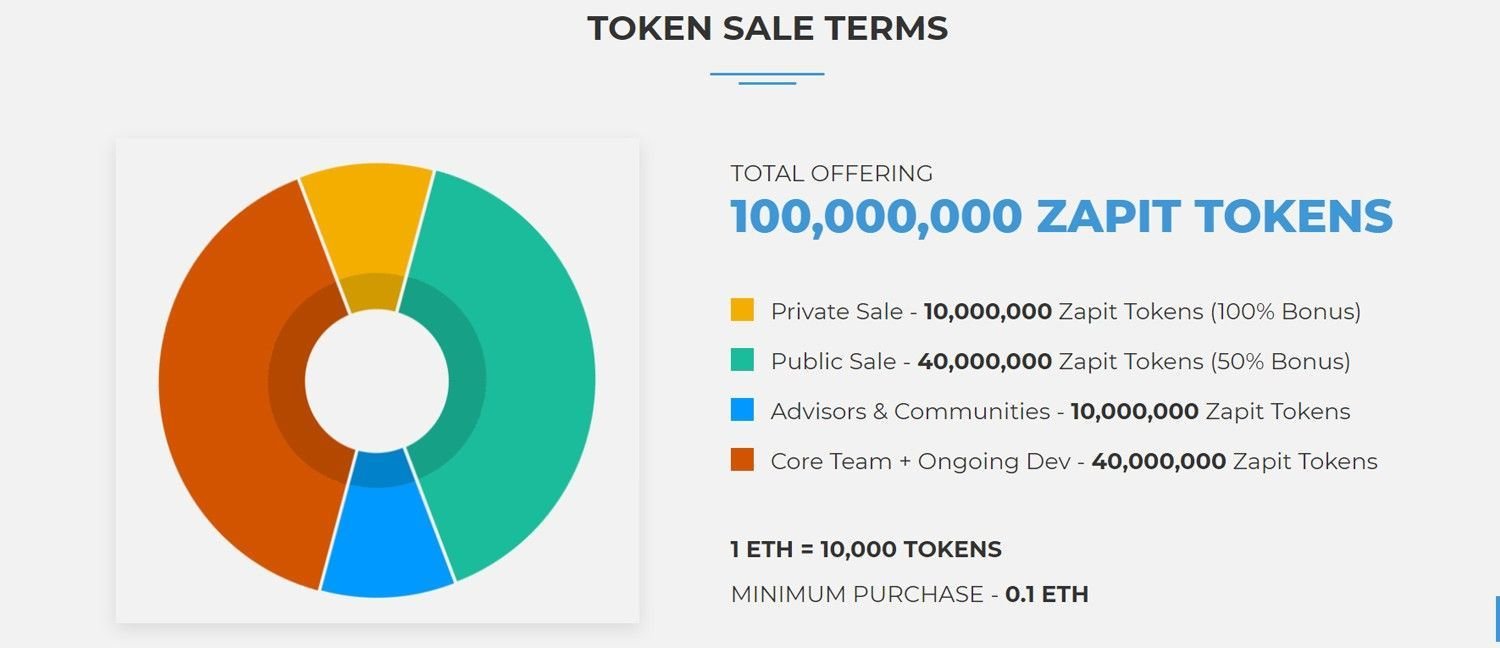 Zapit has offered 100,000,000Zapit Tokens.
1 Eth : 10000 Zapit
In its Private Sale 10%, Zapit will be offering a total of 10,000,000. 5,000,000 For Sale + 5,000,000 Bonus)
Zapit Tokens and ITO participants will be given a 100% bonus.
In the Public Sale 40% of Zapit Tokens, a total of 40,000,000. 26,700,000 For Sale + 13,300,000 Bonus
10,000,000 tokens will be distributed amongst the advisors and supporting communities.
40,000,000 tokens Core Team and for ongoing development of the platform. If you want to learn more information about initial token offering process please visit this web page.
Road Map

OUR TEAM
WEBSITE | WHITEPAPER | ANN | FACEBOOK | TWITTER