ZE.CASH: THE NEXT BITCOIN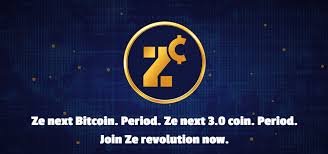 We all know of the benefits that blockchain, alongside cryptocurrencies, have brought to our world today. The benefits that it brings which includes decentralization, security, etc., has made its adoption and use irresistible that it has invaded many industries and sectors, most importantly the financial sector. As a matter of fact, the Bitcoin, very recently in 2017, saw a dramatic increase in value which consequently brought it to the fore of the public eye. However, even with the benefits that blockchain and cryptocurrency has brought plus the commendable adoption rate thus far, it is still laden with a lot of drawbacks which is, in huge part, the reason why the adoption rate isn't where it should be. Firstly, mining cryptocurrency has a lot of environmental effects which leads to the use of non-renewable energy. Also, slow transaction confirmation processes hamper the use of cryptocurrencies in our everyday activities such as shopping and other transactional needs. Cryptocurrency holdings are meant to be used anonymously, backed by blockchain technology, but how true is this today considering the fact that all your holdings are viewable by merely having your wallet address. These and many more are some of the issues that go against the very idea of the use of cryptocurrencies, hence a stagnation in its adoption and growth. No doubt, efforts have been made to tackle these issues, but at best, they have only raised dust in the air without any meaningful outcome.
Wouldn't it make sense to tackle the issues surrounding cryptocurrency mining? Where the increased power required to mine cryptocurrencies and validate transactions will be rectified, making it more attractive for potential miners to come into the scene, thereby protecting the future of e.g Bitcoin mining, from centralization? The thing is, if crypto-minting and validation becomes increasingly expensive, small scale miners will be pushed out as there will be less and less profit to make from the process, hence only a few who are capable will be in the game which will mean centralization in the system, thus going against the very idea behind blockchain technology. Also, it would make a lot of sense for issues of user privacy to be dealt with as it was another major selling point that drove the adoption of cryptocurrencies to the level it is today. Even with exchanges, KYC/AML require personal data of customers and the security of these data cannot be guaranteed. A hack effort can reveal the identity of a customer once their wallet address is known.
All these, and much more are some of the issues that ZeCash wants to remediate. ZeCash is a novel digital solution for cryptocurrency transactions. Essentially, ZeCash is a next generation coin with new protocols to Secure Proof of Stake, new Staking concept, new anonymity features, lightning network processing, etc. ZeCash will provide its asset holders with services like:
• PoS security with ZeProtocol, which contains ze Chain trust, and ze Delegated Shuffle.
• Anonymity with "ZeAnon" protocol, which allows ze transaction re-mixing and ze ring signature.
• ZeCash Proof of Chain/Stake that creates fair equity returns through ze Coin Age Based Selection.
• Optimal transaction speed over ze Lightning Network with no pending transactions, guaranteed.
• Mint/Mine token assets and earn fixed interest with low fees.
So, what are you waiting for? Make no delay. Hurry now and join in on the ZeCash token sale. For more details on ZeCash, please visit the website at https://ze.cash/ .
FEATURES OF THE ZECASH PLATFORM
• Staking
• Decentralized
• Zeanon
• Zewallet
• Fast processing
• Zeprotocol
• Proof of stake
• Controlled supply
REASONS TO CHOOSE ZECASH OVER BITCOIN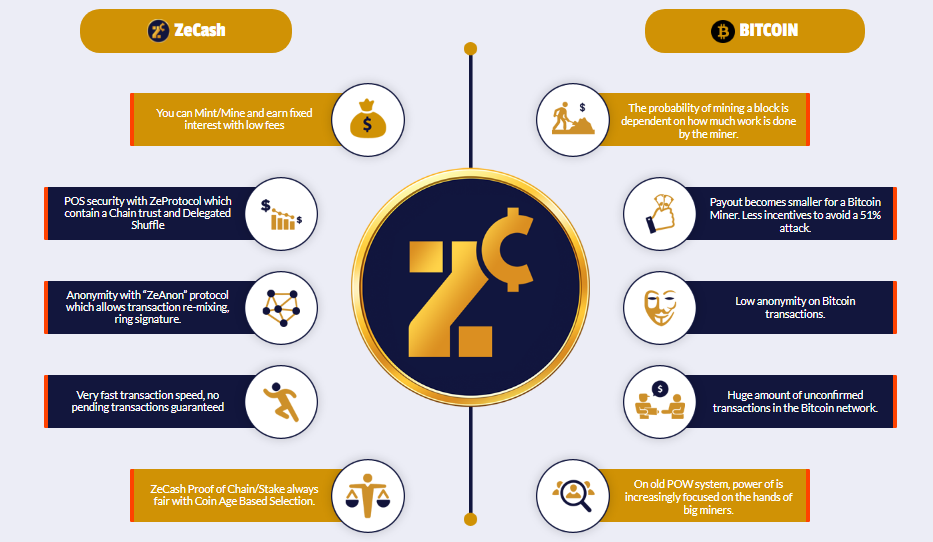 ZECOIN TOKEN AND DETAILS OF ITS SALE
ZeCash tokens -ZCH are a utility token that is ERC20 compliant on the Ethereum blockchain. The ZCH token can be used for various transactions on the ZeCash platform. The following currencies are also accepted on the ZeCash platform: BTC, ETH, LTC, XMR, DASH and BCH. Here are details on the token sale: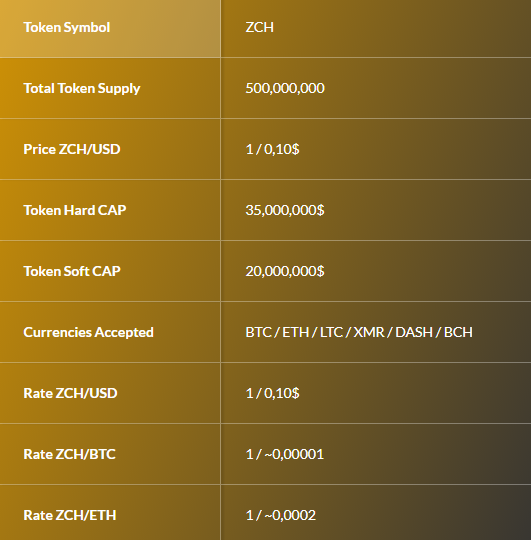 ICO start date: 31st of March 2018
ICO end date: 31st of December 2018
Total supply: 500 million
Price: $0.10 per token
Softcap: $20 million
Hardcap: $35 million
For more information on the token sale, please visit the website at https://ze.cash/ . You can also click on this link to purchase your ZCH tokens https://ze.cash/tokensale/register .
TOKEN DISTRIBUTION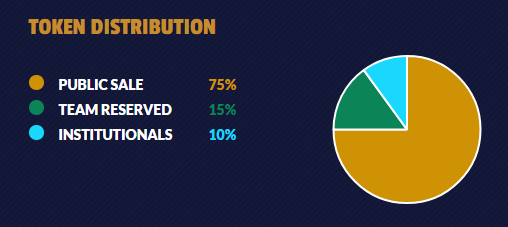 10% – Institutionals
75% – Public Sale
15% – Team Reserved
FUND ALLOCATION



5% – Legal
65% – ZeCash Dev
20% – Marketing
10% – Operations
ZE.COIN ROADMAP



Q3 2018- Zecash token launch, VIP pre-sale public sale bounties/ marketing campaign
Q4 2018- listing in token exchange, Dev Zeprotocol, Dev ZeAnon, Dev Lighning network
Q1 2019- ZeCash own exchange, Dev ZeWallet, Windows/Linux, Dev ZeWallet mobile Dev, ZeCash.io online wallet.
Q2 2019- ZeProtocol Beta AeAnon Beta, Testnet Integration, ZeCash Coin first block generation
Q3 2019- Staking/Mint start, ZeCash full POS Release, Listing in Coin exchange, Integration to popular ledgers.
Q4 2019- ZeCash Card, Staking on mobile, Coin Payment, Top 20 Coin capitalization
ZECOIN TEAM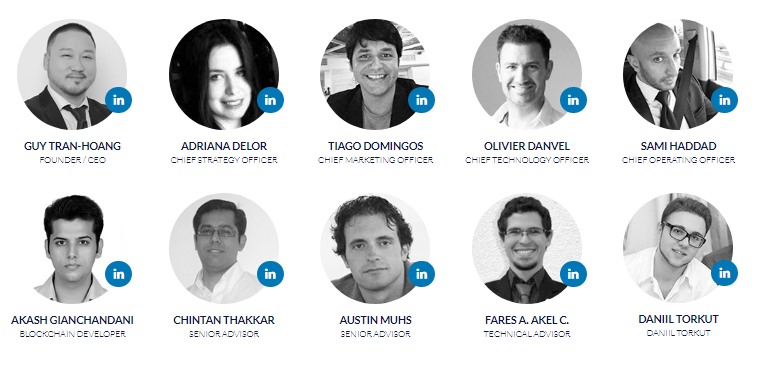 Guy Tran-Hoang – Founder / Ceo
Adriana Delor – Chief Strategy Officer
Tiago Domingos – Chief Marketing Officer
Olivier Danvel – Chief Technology Officer
Sami Haddad – Chief Operating Officer
Akash Gianchandani – Blockchain Developer
Chintan Thakkar – Senior Advisor
Austin Muhs – Senior Advisor
Fares A. Akel C. – Technical Advisor
Daniil Torkut – Daniil Torkut
ZECOIN PARTNERS



Coinhills
TrackICO
ICOListview
ICOSLOT
ICOHOLDER
A new lease of life has come to the cryptocurrency ecosystem. I recommend that everyone joins in on the token sale event so as to become a part of the ZeCash community today.
Should you require more information on this project or want to connect with other unique participants across the globe, please feel free to click on any of the following links:
Website: https://ze.cash/
Whitepaper: https://ze.cash/assets/docs/Zecash_Whitepaper.pdf
Ann thread: https://bitcointalk.org/index.php?topic=3229753.0
Telegram: https://t.me/ZeCash
Twitter: https://twitter.com/ZeCash_official
Published by: charleyles
Bitcointalk URL: https://bitcointalk.org/index.php?action=profile;u=1344011
Ethereum wallet: 0x69C516900e939e97C7c60Ca59bdaF15295556838