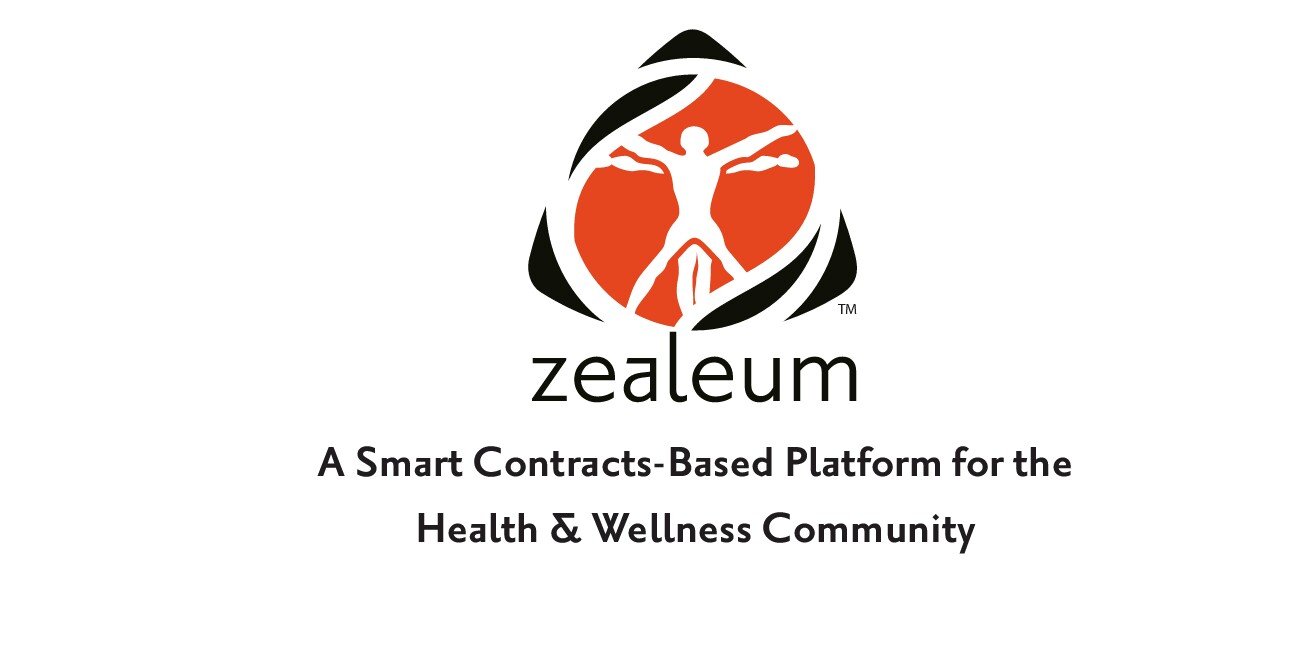 Zealeum is a Smart Contracts-Based Platform for the Health & Wellness Community.
The Zealeum Platform will create, store and constantly update every users' digital profile which will include metadata and data that paints a full picture of who each user is in terms of their identity, their health and their fitness profile. What will result is a valuable asset in the growing global data marketplace; a complete profile of an individual participating in a global ecosystem. The potential for individuals as well as health insurance companies, health care providers, doctors, fitness trainers, nutritionists and several other network participants to be positively benefited in such an ecosystem is what drives the Zealeum project.
Why Blockchain Technology?
A blockchain is a continuously growing list of records, which are linked and secured using cryptography. The distributed ledger which records and stores transaction records, in a sense makes it impossible to alter the content of the transaction once it is recorded.
Each block is stored in the ledger and chronologically linked to another block after the transaction records are verified by a distributed peer-to-peer network.
End-to-end encryption makes an interaction like storing, exchanging and viewing information possible without established trust between the parties.
Avoiding one central authority, blockchain relies on an anonymous network of participants preventing privacy and confidentiality breaches. Blockchain-based smart contracts represent contracts that can be fully executed when contract conditions are met. Until now, intermediaries played a crucial role in exchange of value situations, thus earning from their role. Smart contracts enable end users to enter a trusted relationship without any other authority. Individuals are also empowered to selectively share data through the use of private keys or smart contracts which provide additional layers of security.
THE ZEALEUM PLATFORM – PRODUCTS & SERVICES
The Zealeum community ecosystem fueled by user-generated & controlled health and wellness data will enable the exchange of value and data through the introduction of Zealeum Tokens (ZEAL), which are ERC20 tokens on the Ethereum blockchain. The Zealeum utility token is to be utilized within the Zealeum ecosystem primarily as a means of reward and payment for a wide variety of health-enhancing products and services in all segments of the multi-trillion-dollar health and wellness industry.
Blockchain technology and a native cryptocurrency is an effective solution because the Zealeum wallet and Ethereum blockchain allow for an incentivized, rewards-based ecosystem which serves to "gamify" everyday aspects of people's lives. Zealeum's main goal is to monetize and incentivize data and healthy living through the Zealeum Token. On top of the rewards mechanisms, data generated by and manually input by customers will automatically be securely stored through industry standard encryption methods and can only be accessed through the use of smart contracts enabled by the Zealeum platform.
Users will be able to earn token rewards for healthy lifestyle choices. They can earn Zeal Tokens by visiting health and wellness centers in their region, by purchasing online services or services in real-life fitness establishments, by purchasing meal or workout plans provided by fitness professionals on the Zealeum platform, and much more. Zealeum foresees its platform to be the market gateway tool for the user-generated, data-powered healthy lifestyle community ecosystem which will expand quickly with more and more partners accepting Zeal Tokens and using them as a means of exchange of value and data.
The Zealeum digital health & wellness wallet and user reward mechanism is at the heart of the Zealeum community ecosystem. The wallet functions as a gateway to the ecosystem and allows its users to create their own personal profile, input and track their health and wellness data and connect it to their favourite fitness and health tracking apps.
The personal data submitted via Zealeum health & wellness wallet will be accessible to its user and can be viewed or shared by "storing a permission" on the blockchain which complies with data privacy laws making it a powerful service for data-driven companies which will not have to develop their own system including user's consent for their data usage.
Zealeum Ecosystem Participants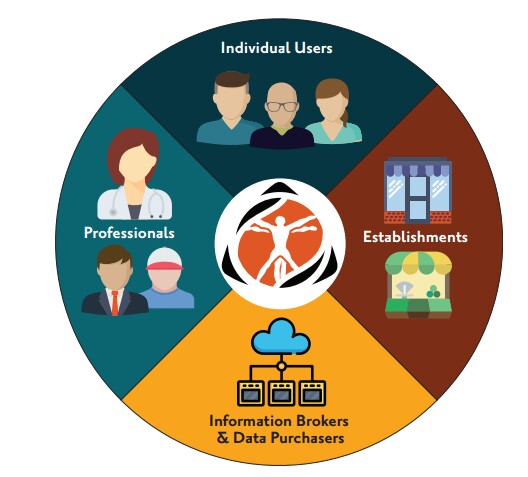 The Zealeum ecosystem participants include, but are not limited to:
Individuals
Those tracking health-related data to monitor chronic illnesses.
Those tracking their fitness and wellness goals.
Those documenting and planning meals.
Those interested in taking control of their healthcare.
Professionals
Fitness trainers wishing to offer specialized packages to individuals based on their fitness and wellness profile
Nutritionists offering services including personalized meal plans given a specific users' profile and characteristics.
Lifecoaches and other lifestyle gurus offering customizable and personalized packages based on their consumers' needs.
Establishments
Fitness centers rewarding users with Zeal Tokens in exchange for visiting and/or purchasing products or services from their establishment.
Institutions or establishments offering massage services, martial arts classes, or therapy.
Insurance companies offering insurance products to customers based on their medical records and health profile.
Big-Data Purchasers
At the core of the Zealeum platform is the user-generated and controlled health data. Upon approval from individuals, information will be analyzed, aggregated and neatly packaged to sell to big data purchasers in order to fund further developments and community initiatives on the platform.
The Zealeum ecosystem is fueled by individuals wishing to lead healthier lives, professionals and establishments willing to provide services and products that those individuals desire, and Zeal Tokens which serve to reward individuals for participating in the network.
INITIAL TOKEN OFFERING
Initial Token Offering Details
The Zeal Token (ZEAL) is an ERC20 standard token built on the decentralized Ethereum blockchain.
The Zealeum Token's initital token offering will support the continued development and expansion of the Zealeum Platform and its many protocols and functionalities. Those who wish to support the Zealeum project will be able to do so by sending accepted funds to the designated address during the token sale periods.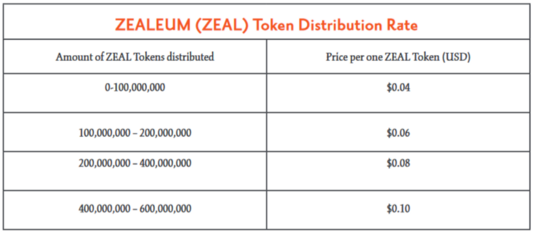 A total of 1,000,000,000 (1 billion) ZEAL will be pre-mined during the initial token generation event. Of the 1,000,000,000 ZEAL in circulation, 600,000,000 will be made immediately available to the public through the pre-sale and initial token offering periods.
Token Offering Overview
Blockchain: Ethereum
Token Name: Zeal Token
Token: ZEAL
Total Token Supply: 1,000,000,000 ZEAL
Available to Public: 600,000,000 ZEAL
Hard Cap: $50,000,000 USD
Soft Cap: $5,000,000 USD
50% of unsold tokens will be distributed to participants through the Zealeum Community Fund
50% of unsold tokens will be burned.
Token Allocations (% of 1,000,000,000 Total Supply)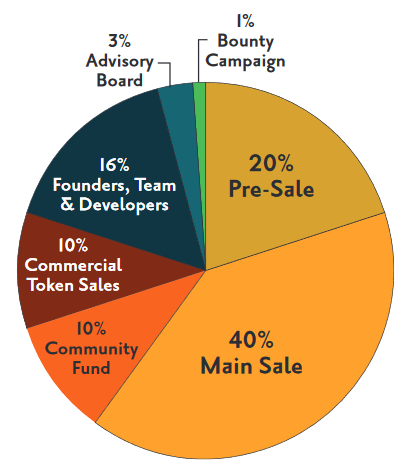 Allocation Of Funds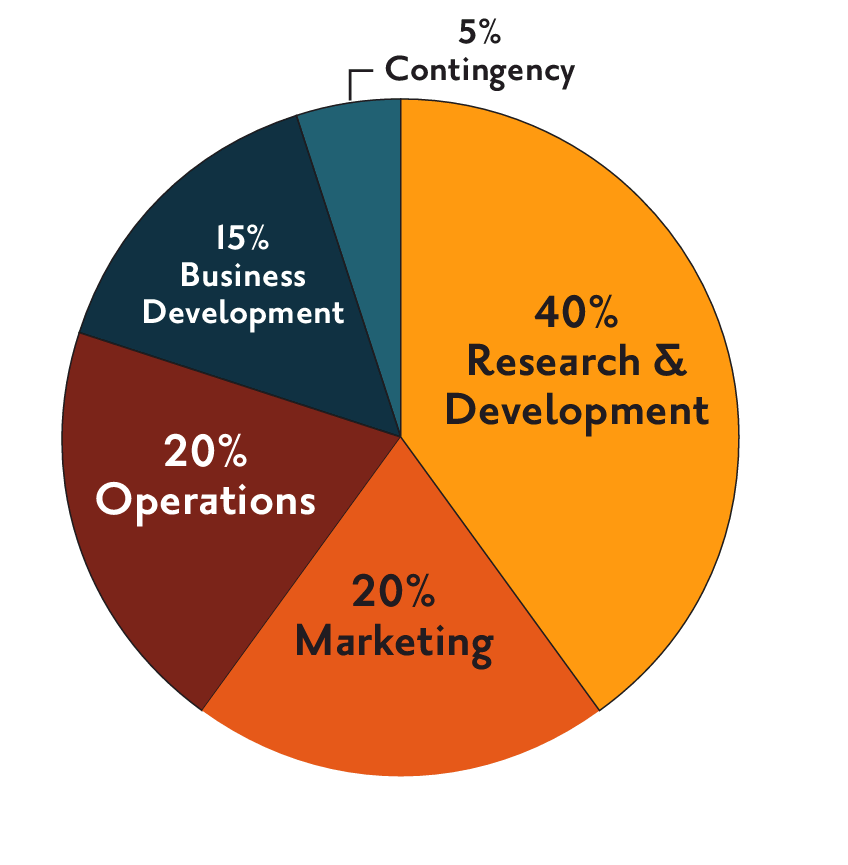 ROADMAP
Q4 2017
Zealeum concept research and development.
Whitepaper completion. Begin attracting partners to the Zealeum project.
Q1 2018
Development of the Zealeum Platform begins.
Promotional efforts to increase awareness of the project. Pre-sale begins and concludes, raising initial funds towards the soft cap. Zeal Token is developed.
Q2 2018
Initial token offering main sale begins and concludes. If successfully funded, development of the Zealeum Platform and wallet continues.
Q3 2018
Team expansion. Marketing campaigns held to attract users and businesses to the platform and encourage adoption.
Q4 2018
Continued business development in order to attract several partners to the platform. ZEAL Tokens offered to institutions in order to incentivize participants to complete tasks or check in at their establishments.
Q1 2019
Beta release of the Zealeum Wallet, with complete token functionalities. ZEAL can be earned through successful execution of smart contracts.
Q2 2019
Beta release of the Zealeum Platform including core functionalities such as data marketplace, healthy living product and service marketplace, rewards and contests.
Q3 2019
Improvements and bug fixes to the platform and wallet.
Optimization of big data services and the Zealeum marketplaces.
Q4 2019
Complete wallet integration with community ecosystem partners and the Zealeum platform.
Further optimization of the interface and functions of the platform.
TEAM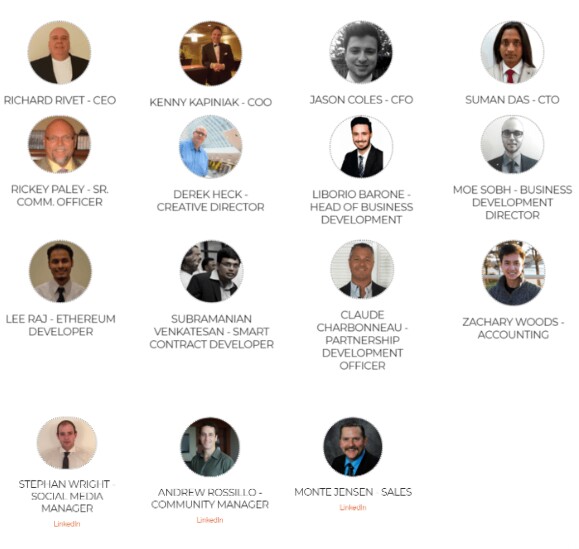 For more information, please visit:
Website: https://zealeum.life/
White Paper: https://zealeum.life/wp-content/uploads/2018/04/zealeum_white_paper_apr8.pdf
Facebook: https://www.facebook.com/Zealeum/
Twitter : https://twitter.com/_zealeum
Telegram: https://t.me/zealeum
Instagram: https://www.instagram.com/zealeum/
Author: Crator Touch
My Bitcointalk Profile: https://bitcointalk.org/index.php?action=profile;u=1612381