Zealeum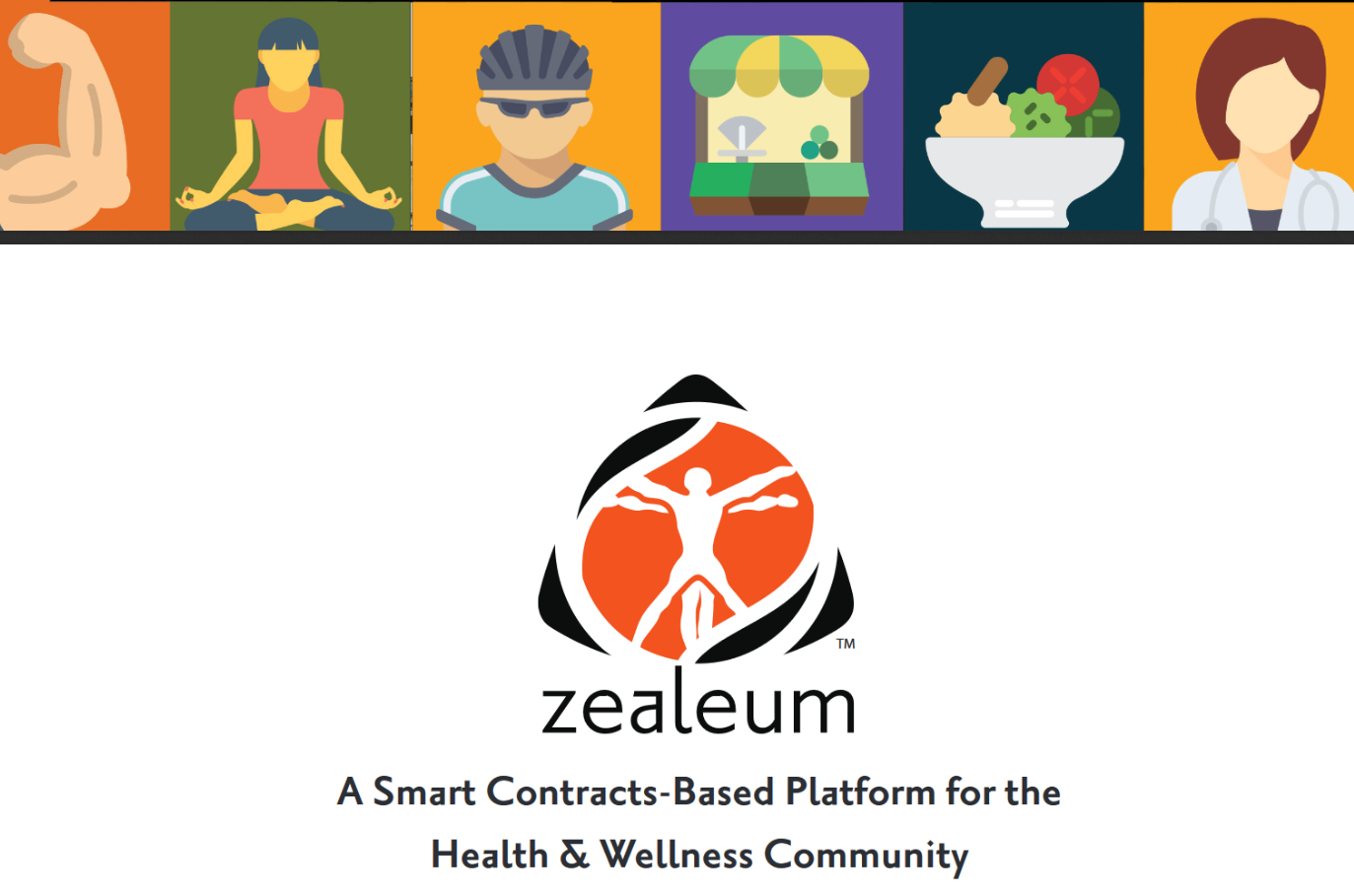 ZEALEUM AND BLOCKCHAIN TECHNOLOGY
Blockchain technology is a transparent digital ledger of transactions and records that are immune to change or deletion. Offering additional traits of increased security, lower costs, time efficiency, and error resistance, blockchain has risen, fluctuated in 2017. The utility of blockchain technology is limitless, sparking the growing list of companies, industries, and government exploring its potential adoption. The blockchain is an immutable public ledger that records digital transactions.
Blockchain technology has the potential to disrupt the global wellness sector by making user-generated data the principal commodity and the core of the healthcare community platform. It can achieve this by increasing the security, transparency, and interoperability of health data. It is said that blockchain has the ability to drastically improve the global wellness industry in the following ways: improving data security, data sharing, interoperability, patient engagement, big data analytics, health information exchange, fghting counterfeit drugs, R&D diagnostics, AI-based diagnostics, and more. It has also been predicted that within five years, blockchain-based healthcare systems will be the new norm for the sector.
Zealeum wallet and Ethereum blockchain allow for an incentivized, rewards-based ecosystem which serves to "gamify" everyday aspects of people's lives. Zealeum's main goal is to monetize and incentivize data and healthy living through the Zealeum Token. On top of the rewards mechanisms, data generated by and manually input by customers will automatically be securely stored through industry standard encryption methods and can only be accessed through the use of smart contracts enabled by the Zealeum platform. The personal data submitted via Zealeum health & wellness wallet will be accessible to its user and can be viewed or shared by "storing a permission" on the blockchain which complies with data privacy laws making it a powerful service for data-driven companies which will not have to develop their own system including user's consent for their data usage.
ZEALEUM ECOSYSTEM
The Zealeum ecosystem participants include, but are not limited to:
INDIVIDUALS
Those tracking health-related data to monitor
chronic illnesses.
Those tracking their fitness and wellness goals.
Those documenting and planning meals.
Those interested in taking control of their healthcare.
PROFESSIONALS
Fitness trainers wishing to offer specialized packages to individuals based on their fitness and wellness profile.
ESTABLISHMENT
Insurance companies ofering insurance products to customers based on their medical records and health profile.
BIG DATA BUYERS
At the heart of the Zealeum platform will be stored health data generated and controlled by the user. Following the approval of individuals, this information will be analyzed, aggregated and carefully packaged to Big Data buyers to fund new developments and initiatives on the platform.
ZEALEUM MARKETPLACE
The Zealeum Platform includes a marketplace which allows users to spend tokens they've earned or previously purchased in order to receive healthy lifestyle goods and services. The marketplace will contain the very best beauty and ftness products, health & wellness services, health food and supplement providers, dieticians, yoga instructors, organic restaurants, gyms, nutrition, etc.
ZEALEUM WALLET & The ZEAL TOKEN(ZEAL)
The Zealeum Wallet will be implemented in multiple steps. In order to bring the product to the market as soon as possible, Zeal tokens will function as a utility token granting access and certain privileges on the Zealeum platform. The wallet allows users to store their tokens securely as well as grant them access to buy services and products offered on the platform by professionals.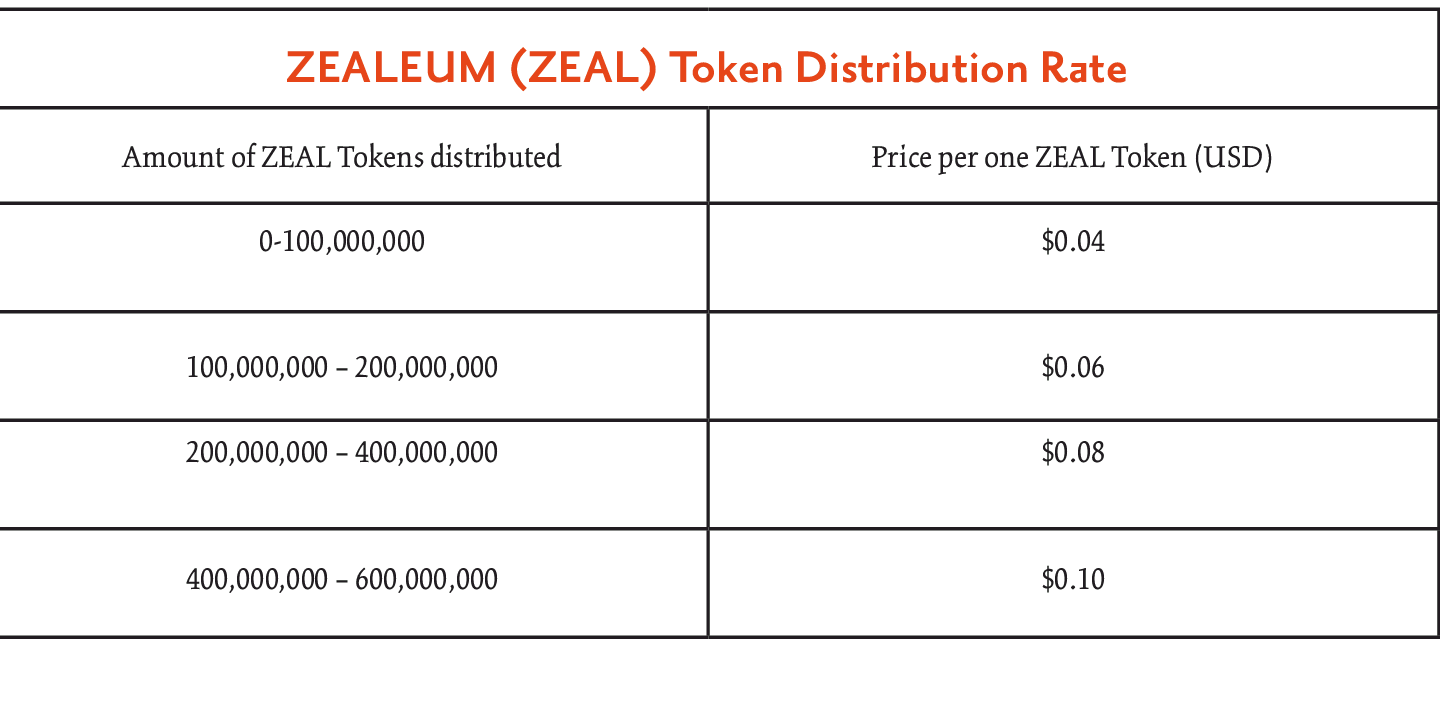 DATA PRIVACY & SECURITY IMPLEMENTATION
The Zealeum team is aware that security is a key necessity for its users sharing their healthy lifestyle data. Zealeum is committed to ensure the highest-level security measures mirroring the latest developments in cybersecurity best practices.
INITIAL TOKEN OFFERING DETAILS
The Zeal Token (ZEAL) is an ERC20 standard token built on the decentralized Ethereum blockchain.
Blockchain: Ethereum
Token Name: Zeal Token
Token: ZEAL
Total Token Supply: 1,000,000,000 ZEAL
Available to Public: 600,000,000 ZEAL
Hard Cap: $50,000,000 USD
Soft Cap: $5,000,000 USD
50% of unsold tokens will be distributed to participants through the Zealeum Community Fund
50% of unsold tokens will be burned.
Pre-Sale Supply: 200,000,000
ZEAL Public Sale Supply: 400,000,000 ZEAL
DISTRIBUTION OF TOKENS: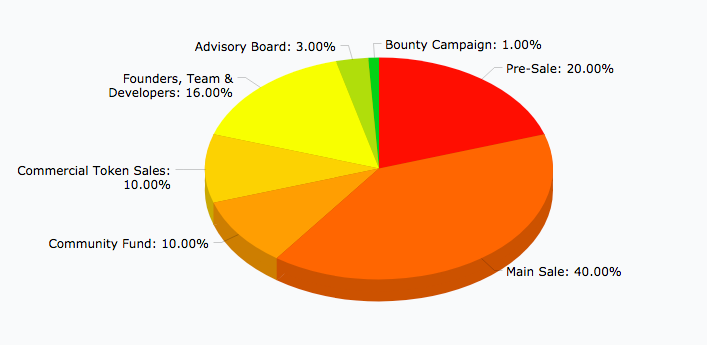 ROADMAP;
Q4 2017
Zealeum concept research and development. Whitepaper completion. Begin attracting partners to the Zealeum project.
Q1 2018
Development of the Zealeum Platform begins. Promotional efforts to increase awareness of the project. Pre-sale begins and concludes, raising initial funds towards the soft cap. Zeal Token is developed.
Q2 2018
Initial token offering main sale begins and concludes. If successfully funded, development of the Zealeum Platform and wallet continues. Team expansion.
Q3 2018
Apply for the Zeal Token to be listed on at least two exchanges by the end of Q3.
Q4 2018
Continued business development in order to attract several partners to the platform. Zeal Tokens offered to institutions in order to incentivize participants to complete tasks or check in at their establishments.
Q1 2019
Beta release of the Zealeum Wallet, with complete token functionalities. ZEAL can be earned through successful execution of smart contracts.
Q2 2019
Beta release of the Zealeum Platform including core functionalities such as data marketplace, healthy living product and service marketplace, rewards and contests.
Q3 2019
Improvements and bug fixes to the platform and wallet. Optimization of big data services and the Zealeum marketplaces.
Q4 2019
Complete wallet integration with community ecosystem partners and the Zealeum platform. Further optimization of the interface and functions of the platform.
TEAM;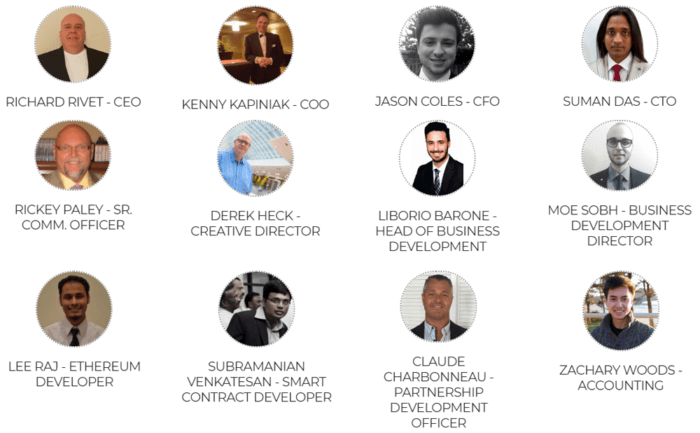 For more news and updates please visit:
Website: https://zealeum.life/
White Paper: https://zealeum.life/wp-content/uploads/2018/03/zealeaum_white_paper_mar1318-1.pdf
Facebook: https://www.facebook.com/Zealeum/
Twitter : https://twitter.com/_zealeum
Telegram: https://t.me/zealeum
Created by: Chinedum
Bitcointalk profile link:https://bitcointalk.org/index.php?action=profile;u=2010004