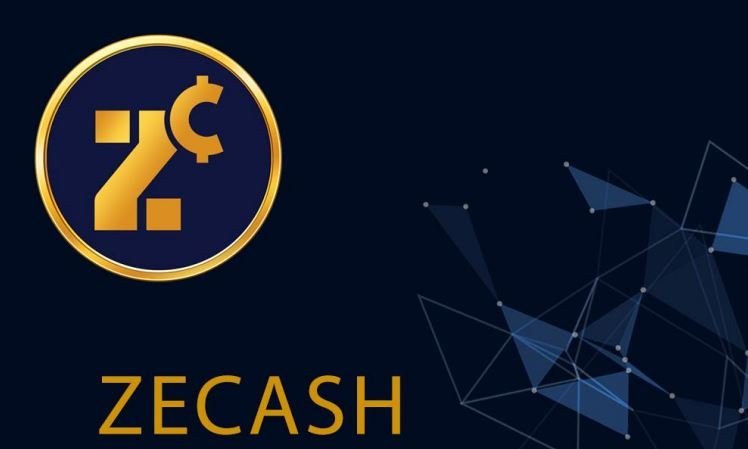 Hello everybody! Today I will like to take you on a crypto-ride, shedding light on a very innovative project called ZECASH. As you all know, the financial industry has not, and probably will never recover from the storm of cryptocurrency since 2017. As time goes by, it now seemed to be the beehive for the media with new inventions springing from it every day; the blockchain technology being the utmost of it all. Despite its popularity and potentials, the crypto community has a number of challenges plaguing its efficiency. One of those is the fact that power or requirements needed to run crypto mining is quite monumental and the limitations of the ledgers being too slow in facilitating transactions, even becoming more difficult to validate. User Privacy which seemed to be the icing on the cake from the onset has now gone quite sour. And then a team of innovative minds and crypto experts decided to dwell on the limitations and challenges of the crypto ecosystem in order to subscribe a solution if possible. Well, they did come up with a revolutionary solution in the name of ZECASH.
Zecash is a revolutionary cryptocurrency based on the PoS algorithm. It has been called a "breakthrough" digital solution relative to cryptocurrency transactions. Employing innovative features including Secure Proof of Stake, new Staking concept, lighning network processing etc., ZeCash is out to be the next generation of Coin. With a fixed mindset to practical application, ZeCash was birthed to alleviate the integration of crypto assets in e-commerce, private payments and exchange conversions.
As against the majority of crytocurrencies that are used for the mere purposes of speculations, this project is so devoted optimizing their "tokenomics" for seamless integration into both existing point of sale protocols and the expanding world of crypto securities. More interestingly, ZeCash is undoubtedly the eco-friendliest crypto asset presently, thanks to its Proof of Stake protocols.
Features of ZeCash
• Fast processing: Zecash will offer Lightning Network system to process Instant Payments and rapid issuance.
• ZeProtocol: Cutting hedge proprietary protocol to process Pos transactions on High security Level.
• Proof of Stake: Environmentally efficient than Proof of Work. Miners/Minters get more profits as just need regular computer to process Zecash coin transactions.
• Controlled supply: ZeCash will have a Cap of supply in order to constantly keep a rising price and not occur dilution of ZeCash holders in future.
• Staking: Get rewarded just holding ZeCash coin in your Wallet for validate transactions. Fair staking with CABS and RBS protocols.
• Decentralized: Global network of computers — not a single network — manage the database jointly, thereby recording the ZeCash transactions around the world.
• ZeAnon: ZeAnon proprietary features will allow to process full anonymity using technics such as Transaction Re-mixing and Ring signature.
• ZeWallet Windows / Linux / Mobile wallet. Auto-exchange to major like bitcoin / eth from wallet.
The proof of work is used by the first currency of the crypto-type Bitcoin. It uses puzzles, not just puzzles, but intricate puzzles that are consistent with cryptography for transaction authentication done and even mine-create new blocks. The cryptographic currency known as the use of Pow is the coins Bitcoin and Lite. Proof of work uses miners to demolish blocks and Cola proof uses mints to create coin blocks.

The ZeCash Vision
To make their product a utility token that transcends the exchange trading loop and become an actual utility for society in the way that first generation crypto tokens could not.
ZeCash Mission(s)
• Mint/Mine token assets and earn fixed interest with low fees
• PoS security with ZeProtocol, which contains ze Chain trust, and ze Delegated Shuffle
• Anonymity with "ZeAnon" protocol, which allows ze transaction re-mixing and ze ring signature
• Optimal transaction speed over ze lighning Network with no pending transactions, guaranteed.
• ZeCash proof of Chain/Stake that creates fair equity returns through ze Coin Age based Selection.
Staking with ZeCash
ZeCash has organized an incentive process to reward those that mint their ZeCash into their wallet for transaction validation. Mining does not occur in staking, rather new blocks are minted. The Minter makes sure that transactions are authenticated after creating new blocks in the system. What actually happens is that the owner of a new block is chosen on its stakes, and the stakes translates to the extent of the user's wealth i.e. amount of of ZeCash coins in its possession. The more time a ZeCash holder will keep their coin, the higher the reward.
Advantages of ZeCash
Implementation of the ZeProtocol to ensure security for the holders and traders
A much lower processing power required to mine and mint
Reward programs and/or interests for everyone holding the ZeCash coin
Allows low initial capital platform users the opportunity to participate
Easy and reduced costs of mining equipments
Etc.
ZCH Token Details
Token Symbol: ZCH
Total Token Supply: 500,000,000
Token Hard CAP: 500,000,000
Currencies Accepted: BTC / ETH / LTC / XMR / DASH / BCH
Rate ZCH / USD: 1 / 0.10 $
Rate ZCH / BTC: 1 / ~ 0,00001
Rate ZCH / ETH: 1 / ~ 0.0002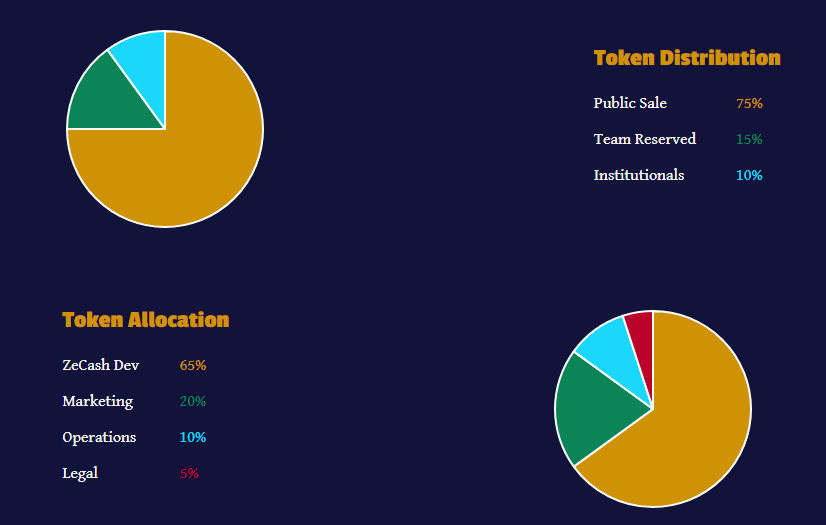 Token Distribution
General Sales 75%
Team Owned 15%
Institutional 10%
Token Allocation
ZeCash Dev 65%
Marketing 20%
Operation 10%
Law 5%
Roadmap


The Team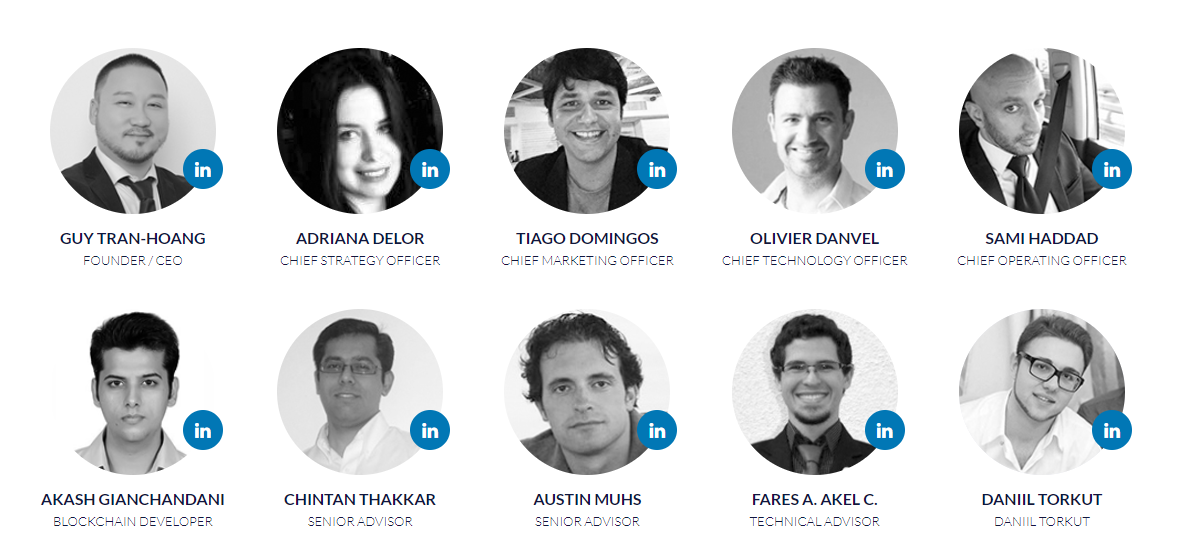 Conclusion
Now if you will forget anything discussed in this content, you shouldn't forget that ZeCash is a "BREAKTHROUGH" digital solution in the crypto world, to close all the loopholes of inefficiency and limitations in the crypto ecosystem. With undeniable and numerous benefits with ZeCash, waste no time further to join this revolution. To do that, and for more information, please do well to follow the links provided below.
Reference Links
Facebook: https://www.facebook.com/ZeCash-178476346280771
Twitter: https://twitter.com/ZeCash_official
Telegram: https://t.me/ZeCash
Reddit: https://www.reddit.com/r/ZeCashOfficial/
GitHub: https://github.com/Ze-Cash/
Bitcointalk: https://bitcointalk.org/index.php?topic=3229718.0
Authored by: Davison
Bitcointalk url: https://bitcointalk.org/index.php?action=profile;u=2075838
Wallet: 0xcd3AA411AAF6Ab5017394e00Ad49eCF6B39Ee84B