ZEUX – First in the world mobile application for payments and investment crypto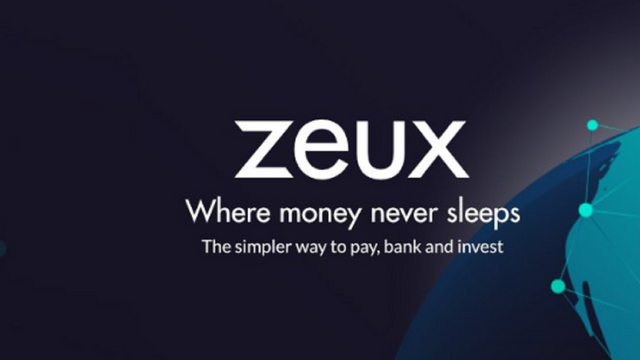 Cryptocurrency is a topic that is currently covered in the media and discussed in the world.
World leaders know the potential of the blockchain and the cryptocurrency market in the development of various sectors of the economy.
Despite the rapid development of cryptocurrency, the only source of pricing and liquidity right now is cryptocurrency markets. Cryptobirds themselves currently act as brokers, exchange offices, exchangers and liquidity providers.
How good it would be if you could use a cryptocurrency like a fiat. This opportunity gives the project ZEUX https://www.zeux.tech/. Zeux will transform existing complex financial services and combine everything you need for Fiat and Crypto finances to help you achieve financial freedom.
The Zeux project is licensed by the British regulator FCA; Soft-launch of the product for a limited audience has already taken place, and in 2019 the company's activities will be launched in the European Union. The goal is to launch project services worldwide by 2020. With your support, we can speed up the development process and give millions of users worldwide access to the best product in their segment.
On the Zeux platform, customers can easily manage their financial portfolios. All transactions in Zeux Wallet will meet the highest security standards and use the most advanced cyber security protocols. Thanks to Zeux, all operations will be performed in just a few clicks.
It should also be noted that Zeux is also a convenient investment platform that combines the best traditional investment opportunities and a wide range of crypto-investments. In addition, the Zeux platform will also reward users who choose to invest in crypto projects by giving them a lower investment commission.
The service is intuitive and easy to use, so almost any user can easily learn Zeux services. The platform interface gives access to all savings and investment user accounts in just a few simple steps. Various banking and investment products are conveniently displayed on one home screen, so that the user can quickly complete the necessary financial transactions. Clients send instructions through the Zeux interface and simultaneously receive information and messages from various providers.
The Zeux project will be the first integrated investment platform in the world where various cryptocurrency products and funds will be collected; thus, even technically unskilled users will be able to take advantage of the optimal investment opportunities presented on the market. To purchase crypto funds, Zeux users will not even need to have a cryptocurrency in their accounts: they will be able to finance their investment by converting the fiat currency into Zcoin in the application in just one click.
ICO details:
Token Skill: ZeuxCoin (ZUC)
Total released: 750,000,000 ZUC
Soft cap: 10,000 ETH
Hard cap: 50,000 ETH
CoinScribble Media In-Article Ad
Price: 1 ETH = 5,000 ZUC
Benefits for tokens holders – Reduced transaction fees for investment projects; – Access to the free account opening service; – Cashback for all payments in cryptocurrency; – Loyalty rewards.
The official website: https://www.zeux.tech/
White Paper: https://www.zeux.tech/assets/PDF/ZEUX-White-paper-Eng.pdf
Linkedin: https://www.linkedin.com/company/zeux/
Facebook: https://www.facebook.com/ZeuxApp/
Twitter: https://twitter.com/ZeuxApp
Youtube: https://www.youtube.com/channel/UClArtpPddqrhzCrXTwtFFnQ
Telegrams: https://t.me/zeuxapp
Reddit: https://www.reddit.com/user/ZeuxApp
Medium: https://medium.com/zeux
Bitcointalk Username: cryptomadam
Bitcointalk URL: https://bitcointalk.org/index.php?action=profile;u=2457579;
Adress ETH: 0x5F3C84D6538f98CDc2E2932cCae5dD5A82c70353