ZEUX ICO REVIEW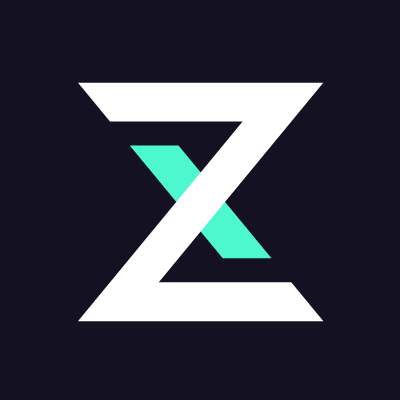 Our global financial ecosystems serve billions while moving trillions of dollars each day. However, these systems are rife with problems with frequent delays and additional fees. Not to mention, the onerous paperwork and fraud cases you frequently encounter. The only positive is that the evolution of blockchain technology is proving to be a remedy for these shortcomings.
But there is also a downside to cryptocurrency as a mode of transaction given their high volatility. Such a situation calls for the creation of a financial ecosystem within the blockchain to acts as a central authority and sustains the currency. The following venture is on course to create its financial ecosystem with its very own low volatile cryptocurrency. In this sea of inovation and new technologies i will be introducing you to a visionary project that come to life in the form of ICO's and today i am going to present you with one of the most promising ones on the market which is ZEUX Aims to help customers to protect and gain full control of their personal data while facilitating access to all personal financial services and making it more accessible for the everyday user to invest, to monitor different investments and to spend and invest in the crypto world.
ABOUT ZEUX
ZEUX project is a FCA-registered entity that presented its product and officially presents its activities in Europe in 2019. It has a primary goal for deploying services to the world in 2020. At ZEUX, a client can handle all their financial portfolios. Each transaction using a ZEUX wallet will be executed in an atmosphere that uses cyber-system security protocols. With ZEUX, everything can be done with just a few taps.
In addition, the ZEUX platform is a digital money startup based in London, which deals with the release of mobile investing and payments in the digital money world.
ZEUX will act as an aggregator and implement investment products with available investment products and details listed in the application.
The ZEUX platform is an integrated system, thus this platform provides an excellent image of users' financial activities. Therefore, the ZEUX platform will use AI and data analytics to recommend suitable and targeted investment objects based on investment preferences, financial profiles, risk appetite, and all other monetary information captured by the ZEUX platform.
Using the ZEUX application, customers can instruct the ZEUX platform to open the latest investment account with the right asset management provider. The ZEUX application will provide insight into consumers' investment portfolios with psychiatry about investment actions and risk indicators.
The mission of Zeux is to transform existing financial services by making complex, expensive and burdensome financial management processes simple, convenient and affordable for the customer, thus making the best services accessible to everyone.
The Solution Offered – WHY ZEUX IS IMPORTANT IN TODAY'S CRYPTOSPHERE
ZEUX will provide a solution that offers a platform that offers a platform that gives you access to each of your financial products. ZEUX uses block technology that is safe, decentralized, distributed and provides its own digital money to facilitate opening and transactions that are safe, unchanged, open. This will be fast, safe, comfortable and reliable.
THE UNIQUENESS OF ZEUX
Secure KYC Service
Keep in control of your private key for storing your personal data
Open multiple financial accounts with verified KYC information on the blockchain
Investment Platform
Get access to several investment products in a combined platform
The first investment platform that offers crypto fund products
Pay Cellular Payments with Apple Pay / Google Pay / Samsung Pay to spend your fiat and crypto currencies anywhere
Decentralized Money Transfer
Transfer money to anyone, anywhere instantly with a few simple clicks
The process is easy and safe using blockchain technology
Personal Data Encryption Technology & Security
Encrypted personal data for the KYC (Know Your Customer) process is stored in the Personal Data Warehouse.
KYC verification history is stored in the blockchain using hashes.
Private keys are stored on the customer's cellphone and are controlled by the customer.
Bank Level Security
The Zeux technology team has extensive industry experience in system security in financial services and in-depth knowledge on the blockchain.
Zeux uses multilayered security measures to ensure the safety and security of the system.
Regulations & Compliance with PSD2
PSD2, also known as Open Banking, supports the main Zeux offer.
It provides a regulated platform from which we can obtain customer data to process financial services.
The features ultimately make it easier and more convenient to make payments and reduce delays for our customers.
Regulations & Compliance with FCA
Zeux adheres to strict financial rules and regulations to ensure the security and security of transactions and financial data of our customers.
Zeux is currently authorized as an EMD agent by the FCA, which gives him permission to conduct electronic money agency activities.
How it Works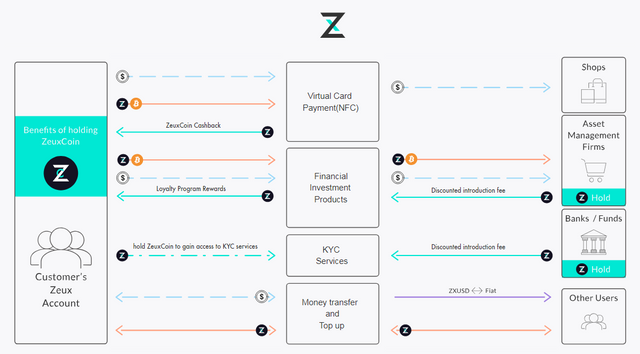 The Advantages
Secure controls – by creating your own data warehouse and user account, each user will receive a private private key
Zeux platform developers focus on using all the unique blockchain features, hackers are barely able to sabotage or steal user information and assets.
This project uses PSD2, a platform to help collect customer transaction data, if a problem arises, it will be resolved quickly, reducing stagnation for customers to use.
The Zeux platform provides access to a number of safe and promising investment websites for users to generate revenue.
Make cash transactions and profit with almost zero commissions
Zeux helps transfer money quickly and easily between fiat and crypto, you don't need to go through an intermediary to solve problems.
With partners, COBINHOOD has experience in exchanging for qualifications to develop Zeux as a global financial solution through smart phones.
Zeux is currently authorized as an FCA EMD agent, they have a license to prove the activities of electronic organizations.
Zeux uses ZeuxCoin to make system fees, by maintaining it you can enjoy all token payments, investment discounts, and quick access to safe KYC services. Zeux also gives incentive gift customers and events to hold their coins.
ZeuxCoin
Zeux gives their customers a gift that encourages active management and tracking of their assets and investments. By holding ZeuxCoin, you can enjoy cashback on all crypto payments, get your crypto investment fee discounts and instant access to your secure KYC services.
ICO Details
Token Symbol – ZUC
Token Type – Utility Token
Further Token Token – No
Accepted Currency – BTC and ETH
Funds Allocation
20% – Technology Development
20% – User acquisition operation cost
20% – Licenses and Compliance
10% – Exchange Listing Cost
10% – Marketing
5% – Infrastructure
5% – Operational Staff
5% – Business Development
5% – Other Cost
ROADMAP
2018
April: Beta version complete
May: The main payment partnership agreement is signed
June: Ten asset management partners signed
Sep: FCA Authorization for AISP, PISP Investment arrangement
Nov: Product launch in UK
2019
February: Integration with investment providers through blockchain-based KYC
March: Official launch in the UK and soft launch throughout the EU
June: Official launch in the EU and soft launch in the US
Nov: Official launch in Europe and US
2020
February: Connect to more than 50 financial service partners on the platform
October: Expand to Asia, Africa and all of America
For more information, please visit the links i have provided below;
Website: https://www.zeux.tech/
Whitepaper: https://www.zeux.tech/assets/PDF/ZEUX-White-paper-Eng.pdf
ANN Thread: https://bitcointalk.org/index.php?topic=5074181.0
Reddit: https://www.reddit.com/ user / ZeuxApp
Facebook: https://www.facebook.com/ZeuxApp/
Twitter: https://twitter.com/ZeuxApp
Telegram: https://t.me/zeuxapp
Author: BrainerdPaul
BitcoinTalk profile link: https://bitcointalk.org/index.php?action=profile;u=1680409