Zoomex- creating a low fee cryptocurrency trading exchange
The cryptocurrency market has witnessed the creation of many cryptocurrency trading exchanges in the last few years due to the ever growing interest in the adoption of cryptocurrency and blockchain technology. However, the vast majority of the existing exchange to this date are inefficient. They lack the mechanisms and features needed for a smooth and convenient trading of cryptocurrency assets thus not providing a easy to use trading platform for their consumers.
Most of the available cryptocurrency exchanges are built with low end technical infrastructures which falter when the userbase eventually increases. The issue of security problem rampant in the cryptocurrency trading market has lead to loss of billions of users asset thereby giving the entire cryptocurrency market and the blockchain technology a black tint and a mockery to the security and transparent nature which the blockchain has been pride of.
The zoomex exchange is developed to restructure the entire cryptocurrency trading market by giving the crypto community the most comprehensive secure and easy to use cryptocurrency exchange. Zoomex will instill good vibes to the market byproviding users with a simplified yet secure trading platform that will safeguard the users with all the setbacks plaguing the existing trading platforms.
The exchange is being built with a lot of intuitive features and services that will promote exchange to user relationship. Making the users interest a top priority, the platform will give back to the community the opportunity to take part in decision making by enabling them give innovative decision that will bring positive changes to the platform. the exchange is not being built just to provide the developers with heavy profits rather it is a comprehensive trading platform to provide a bright future for the entire cryptocurrency market and blockchain technology.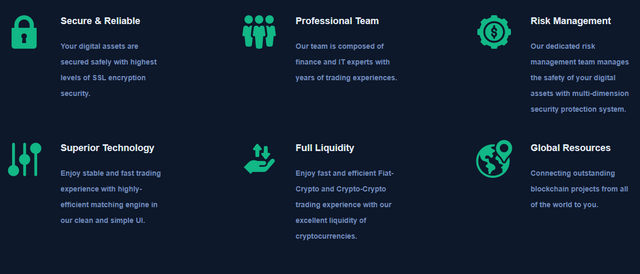 zoomex will provide the best trading solution for the entire crypto community by addressing the issues of lack of proper feedback, support, transparency and security which have been relegated. Zoomex will create a high efficient exchange with a strong technical mechanisms that will be able to process millions of transactions per second giving the platform a greater edge over the existing exchanges.
The team behind Zoomex exchange employs the services of the top developers available in the market to program the entire ecosystem of zoomex from scratch. The development of Zoomex started after the thorough studying and understanding the various problems and features lacking in the existing exchanges. The programmers handling the technical development have vast knowledge and experience as they've worked with hundreds of cryptocurrency and fintech related project.

CONTACT ZOOMEX

Website: https://www.zooomex.com/
Whitepaper: Dropbox – ZooomEx_WP – Simplify your life
Twitter: ZooomEx (@zooomexcom) | Twitter
Facebook: ZooomEx – Cryptocurrency Exchange
Written by :
Btt username : idrix1
Eth add : 0x32F1EF668ae62A10c000dBAE41909A7d9d8D4684